Bone Up on New I-9 Ortho Codes
By admin aapc
In CMS
July 13, 2009
Comments Off

on Bone Up on New I-9 Ortho Codes
Orthopedists who treat pediatric patients for fractures have three new ICD-9-CM codes to use come Oct. 1.
Report ICD-9-CM code 813.46 Torus fractures of ulna [alone] when the patient fractures only the ulna; and 813.47 Torus fracture of radius and ulna when the patient fractures both.
Don't confuse these codes with 813.45 Torus fracture of radius and other radius and ulnar fracture codes specified in the 813.xx Fracture of radius and ulna range, warns Coding News.
And for a dislocated elbow or "radial head subluxation," report  832.2 Nursemaid's elbow for services rendered on or after Oct. 1.
As for now, ICD-9-CM directs you to 832.0x Dislocation of elbow; closed dislocation for this condition, says Leslie A. Follebout, CPC, COSC, PCS, coding manager at Peninsula Orthopaedic Associates in Salisbury, Md.
Latest posts by admin aapc
(see all)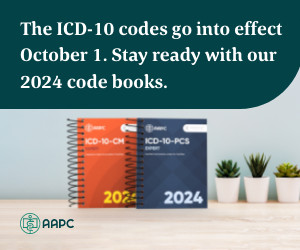 No Responses to "Bone Up on New I-9 Ortho Codes"