Medicare Solvency Tied to Pay Cuts and Tax Increases
By admin aapc
August 16, 2010
Comments Off

on Medicare Solvency Tied to Pay Cuts and Tax Increases
The Patient Protection and Affordable Care Act, as amended by the Health Care and Reconciliation Act of 2010, has served to "substantially improve" the financial outlook for both major trust funds supporting Medicare, say Medicare trustees in an annual report. To ensure the financial integrity of Medicare's Hospital Insurance (HI) and to reduce the growth rate in Medicare costs, however, "additional policy initiatives are needed."
Affordable Care Act provisions slowed HI trust fund spending by reducing payments to providers and increasing taxpayer contributions. The largest amount of projected savings comes from lower annual increases in the prices Medicare pays for services provided by hospitals, skilled nursing facilities (SNFs), home health agencies, and most other providers. Other provisions in the Affordable Care Act reduce Medicare costs through lower payments to private Medicare Advantage health plans. The additional contribution of 0.9 percent of earnings above $200,000 for single taxpayers or $250,000 for married couples filing joint returns also directly benefits the HI trust fund. The trustees report, however, that "the time gained by postponing the depletion of the HI trust fund should be used to determine effective solutions to the remaining long-range HI financial imbalance."
Projected costs for the Part B account in the Supplementary Medical Insurance (SMI) trust fund also are much lower as a result of the Affordable Care Act. However, the trustees report, "actual Part B costs are very likely to exceed current law projections because Congress is expected to continue to override an existing provision in the Medicare law that would," under the sustainable growth rate (SGR) formula, reduce physician payment rates by approximately 23 percent on Dec. 1, 6.5 percent on Jan. 1, 2011, and 2.9 percent on Jan. 1, 2012.
Read the Medicare trustee's annual report for complete details.
Latest posts by admin aapc
(see all)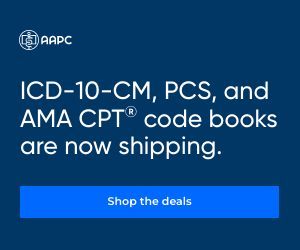 No Responses to "Medicare Solvency Tied to Pay Cuts and Tax Increases"