Leveraging Telehealth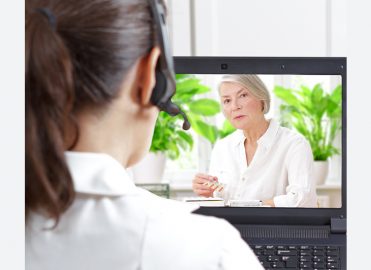 Stay on top of the latest telehealth risk adjustment requirements and guidance to ensure continued compliance.
It has been more than a year since the rapid expansion of covered telehealth services due to the public health emergency (PHE) for COVID-19. According to the Department of Health and Human Services (HHS), we can bask in the telehealth light at least through July 23, 2021, with discussion of expanded coverage and relaxed regulations lasting through the end of this year. The PHE has affected risk adjustment organizations and payers greatly.
In 2020, we saw a postponement of hierarchical condition categories (HCC) submissions for Calendar Year (CY) 2019 and a postponement of 2019 Risk Adjustment Data Validation (RADV) audits, as well. 2021 will pose a challenge to some organizations and plans as it will be a dual submission year. HHS has rolled out an updated RADV timeline for both CY 2019 and 2020 submissions.
With the postponement coming to an end, are you "in the know" on your telehealth risk adjustment requirements and guidance?
Medicare Advantage, Medicare Cost Plans, PACE, and Demonstration Organizations
According to a Centers for Medicare & Medicaid Services (CMS) letter regarding "Applicability of Diagnoses from Telehealth Services for Risk Adjustment," the agency expanded their telehealth services for Medicare Advantage (MA), Medicare Cost Plans, Programs of All-Inclusive Care for the Elderly (PACE), and demonstration organizations. However, diagnoses resulting from telehealth services must be "provided using an interactive audio and video telecommunications system that permits real-time interactive communication" to meet the risk adjustment face-to-face requirement. MA plans do not accept telephone-only visits as a valid risk adjustment documentation source as they do not fulfill the face-to-face requirement.
HHS-Operated Risk Adjustment Programs
CMS published Risk Adjustment Telehealth and Telephone Services During COVID-19 FAQs in April 2020 and updated the document in August 2020. CMS reiterates that a telehealth service must be "descriptive of a face-to-face service furnished by a qualified healthcare professional and is an acceptable source of new diagnoses." The FAQs go further to specify "telehealth visits are considered equivalent to face-to-face interactions, but they are still subject to the same requirements regarding provider type and diagnostic value." Table A breaks down allowable telehealth services.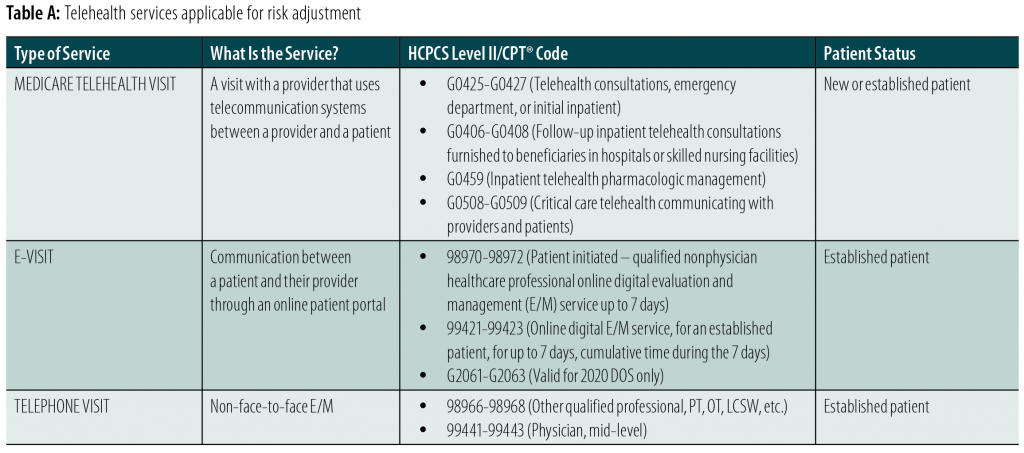 When submitting telehealth diagnoses for Medicare, the place of service (POS) in the EDS/RAPS system must be either "02" designating the visit as telehealth or modifier 95 with the applicable POS code identifying a telemedicine service was rendered via a real-time interactive audio and video telecommunications system or telephone service.
Will Telehealth Stay Around?
The expansion of telehealth due to COVID-19 opened the flood gates of technology use and advancements that will not be going away any time soon. The quick adaptation has resulted in a knowledge that, if chosen, things can be done differently. There will be some limitations and guidelines reinstated; however, the door of telehealth can never be fully shut again. Organizations and payers should research state and federal restrictions, ask questions, and develop their own telehealth sections for their risk adjustment audit and compliance plans to stay ahead of changes and auditing.
Resources
2019 Benefit Year HHS-RADV Activities Timeline
COVID-19 Emergency Declaration Blanket Waivers for Health Care Providers
Risk Adjustment Telehealth and Telephone Services During COVID-19 FAQ's – updated
Aug. 3, 2020
Medicare Telemedicine Health Care Provider Fact Sheet
Center for Connected Health Policy
Applicability of Diagnoses from Telehealth Services for Risk Adjustment
Latest posts by Jennifer Hill
(see all)