Success Comes From Looking Ahead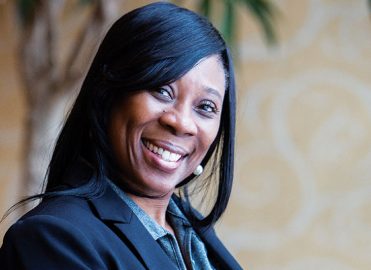 She did everything right and now she's a shining example for all members.
Many of you probably recognize Brenda Stevens, COC, CPC, CDEO, CPMA, CRC, CPC-I, CMC, CMIS, CMOM, who appears on this month's cover. She's been in the business of healthcare for a while and is no stranger to AAPC.
Got Her Foot in the Door
Stevens started her medical coding journey working for a large insurance carrier reviewing and adjudicating claims. Later, she went to work for a busy cardiology office as a biller and coder.
"It was working at this office I decided to pursue a career as a certified medical coder. After hearing about AAPC and reviewing all the information and help they offered to prepare me for certification, I decided to join the organization," Stevens said.
She studied for the Certified Professional Coder (CPC®) exam and passed on her first try in 2004.
Made the Right Connections
Realizing the importance of networking through AAPC local chapters, she decided to join forces with two other ladies to go through the process of forming a local chapter in Salisbury, Md. Their motto is "We are dedicated to healthcare … with our eyes on the future." She has since held several officer positions within the chapter (president, vice president, member development officer, and treasurer) and her reasons for being active in the chapter have evolved.
"I love helping others advance in medical coding, as well as helping those start a career in medical coding," Stevens said.
Helps Others Find Their Way
Her passion for teaching and helping others in this field led her to an opportunity for a position as a medical coding instructor at a community college in her area.
"I did not hesitate to apply," Stevens said. "I felt like this would be a great place to educate those coming into the field on accurate medical coding and billing and get the students excited about a career on the business side of medicine."
Never Stops Learning
Stevens wanted to expand her knowledge to other areas of the medical coding profession, so in 2015 she earned her Certified Professional Medical Auditor (CPMA®). Then, in 2017, she earned her Certified Risk Adjustment Coder (CRC™). A year later, she earned the Certified Outpatient Coder (COC™) credential and the Certified Documentation Expert Outpatient (CDEO®) credential.
"After taking these exams, I was certain I was finished, but then, in 2018, I decided to add the Approved Instructor certification," Stevens said.
Stevens currently works for a "fantastic" (her word) company as one of their lead coders. She also serves on the AAPC Chapter Association (AAPCCA) Board of Directors (BOD) as vice chair and is a Region 2 – Atlantic representative. We're happy to name Brenda Stevens as AAPC's Member of the Month!
Latest posts by Renee Dustman
(see all)
AAPC's annual salary survey gives a good understanding of the earning potential within the medical coding profession.
See what actually is going on in the healthcare business job market.