Unlock Value-Based Care Payment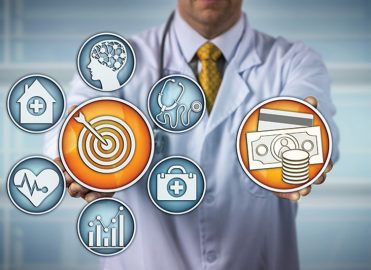 Improved documentation and HCC coding improve more than just performance.
The transition to value-based care is underway, but many primary care providers lack the tools, resources, and expertise to thrive in these new arrangements. For physicians, an essential element of success is being able to accurately assess and report a patient's clinical needs so that value-based payments will align with the necessary care delivered to that individual. Unfortunately, diagnostic coding with appropriate specificity and quality reporting is labor-intensive and is predicated on a complex set of rules, which frequently become a stumbling block for practices. This dynamic creates a powerful inertia, which can be overcome by understanding the ramifications of inaction and the availability of effective solutions.
Why Is Documentation and Coding So Important to Value-Based Care?
Provider organizations, through their documentation, tell their patients' medical conditions using the "language" of ICD-10-CM diagnosis codes. Robust and accurate documentation and coding provide a comprehensive view of the patient, supporting achievement of the quadruple aim. If documentation is incomplete, practices can incur significant shortfalls in revenue because medical expense benchmarks would be understated for the population. As a result, high-quality documentation and coding is no longer just good practice but an indispensable element of value-based care success.
Financial Impact of Accurate Documentation and Code Capture
The example below illustrates how no or partial risk adjustment coding can result in a $15,000 difference in payment under the Centers for Medicare & Medicaid Services-Hierarchical Condition Categories (CMS-HCC) model. Results are based on whether the provider captures these four diagnoses with maximum specificity: Type 2 diabetes mellitus with a manifestation of stage IV chronic kidney disease, long-term insulin use, and chronic obstructive pulmonary disease.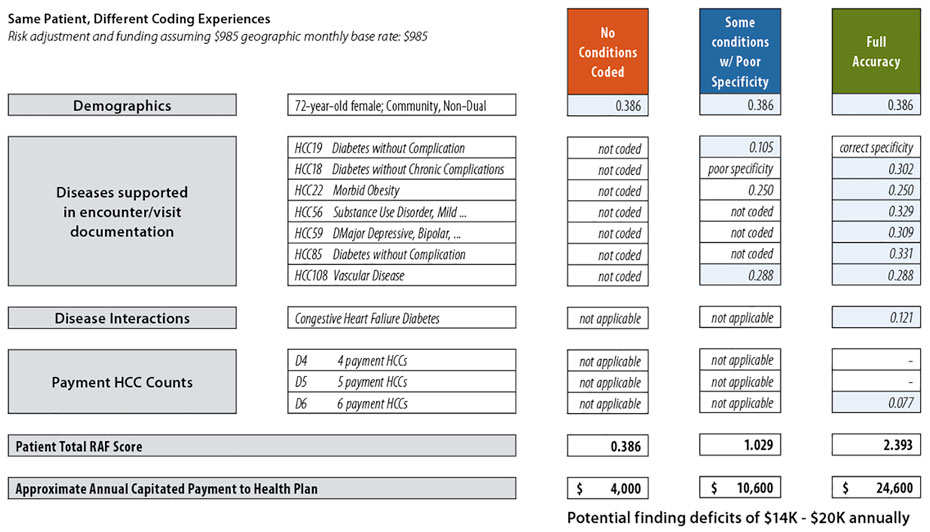 Improving Coding and Documentation Without Burdening Physicians
According to a 2021 national survey conducted by Medscape that included more than 12,000 physicians across 29 different specialties, 42 percent of physicians report feeling burned out.
Interestingly, 79 percent of physicians said this burnout started before the current COVID-19 pandemic, with the majority (58 percent) citing "too many bureaucratic tasks" as the number one reason. This presents a challenging dilemma for business leaders of health systems and physician practices to balance the reality of physician burnout with the necessity of improved documentation and coding.
Fortunately, there are solutions that help physicians improve coding and clinical financial performance. When looking for solutions to support better documentation and coding, healthcare leaders should remember the aim of value-based care and opt for holistic approaches. Outsourcing care to vendors that have no relationship with patients is not the answer. A physician-centric approach to improving documentation and coding, while minimizing the burden on physicians and their staff, is an important step in the right direction. When done correctly, with both embedded clinical support and easy-to-use technology, physicians will realize incremental revenue, better outcomes, increases in the utilization of preventive health encounters, and improvement in overall performance in value-based care arrangements.
Latest posts by Hassan Rifaat
(see all)