HEALTHCON Regional 2021 Brought a Wealth of Knowledge
October 6, 2021
Comments Off

on HEALTHCON Regional 2021 Brought a Wealth of Knowledge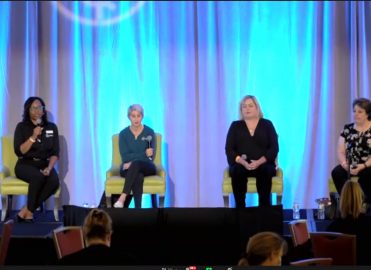 HEALTHCON Regional 2021 got off to a great start and the level of excitement remained high going into the third day. Many attendees, both in-person and virtual, began their day with the networking breakfast, while others greeted each other, shared pictures, sought advice, and posted rave reviews about their conference experience in the HCON Chat. Everyone was stoked about how much they had learned already and geared up to soak in more top-notch education and grow their network as day three commenced.
Diagnosis Coding Skills Sharpened
The last panel session of the conference Diagnosis Coding Insights from the Experts was highly anticipated. One virtual attendee commented, "I'm looking forward to this diagnosis coding session. For me, it's the hardest and most time-consuming." Panel members Jaci Kipreos, CPC, CPMA, CDEO, CEMC, COC, CRC, CPC-I, AAPC Director of Education and Auditing Advisory Committee Chair Leonta "Lee" Williams, MBA, RHIA, CCS, CCDS, CPC, CPCO, CRC, CEMC, CHONC, National Advisory Board Vice President Colleen Gianatasio, CPC, CPC-P, CPMA, CRC, CPC-I, and Marianne Durling, MHA, RHIA, CCS, CDIP, CPC, CPCO, CDEI, CIC, AAPC Approved Instructor, took the stage and spoke about the general guideline changes in the 2022 ICD-10-CM official guidelines that went into effect Oct. 1 before jumping into chapter-specific changes, cautioning coders to note the new language in some guidelines.
The laterality guideline, which now says that when a condition is not documented by a patient's providers, it can be based on medical record documentation from other physicians, was one such change. "It's been a long time coming," said Gianatasio. The panel then moved on to the coding updates for Chapter 1 – Infections and methodically went through the changes and updates in each subsequent chapter.
The Cough category saw quite an expansion, with 10 new codes added to help enhance specificity of diagnoses, including those without a definitive diagnosis of COVID-19. "This is going to be a teaching moment again for your provider," said Williams. Code U09.9 Post COVID-19 condition, unspecified was added as an update to Z86.16 Personal history of COVID-19, as well. Another change as a result of COVID is the addition of Z71.85 Encounter for immunization safety counseling. The code is to be used for counsel concerning the safety of a vaccine, not for providing general information regarding risks and side effects during routine encounters for the administration of vaccines. "I think you're going to see this used more specifically than COVID counseling," Williams said. "It's truly a counseling encounter."
Social determinants of health (SDOH), Gianatasio noted, has had a major push over the last several years to make sure we're capturing this important data. Instruct your providers on proper use of codes Z55-Z65, which cover specific SDOH, to fully capture patient complexity. "In my opinion, doing this right is going to be the way we change healthcare," Gianatasio said.
When the presentation was done and all the audience questions were answered, the takeaway for coders seemed to be, embrace the new guidelines, and educate your providers!
Something for Everyone
Attendees spent the remainder of the day in breakout sessions that covered the gamut — critical care documentation and coding, figuring out benchmarking, understanding radiology, and much more.
Family physician and advisor for the CPT® Editorial Panel Samuel Le Church once again lent his expertise as a doctor and a coder to the subject of complexity requirements and leveling for evaluation and management (E/M) codes 99202-99215 in his morning session Determining Condition Complexity. He began by pointing out that there are no longer two sets of rules for new and established patients under the 2021 evaluation and management (E/M) rules; the same documentation and coding rules apply to both. He went on to define the different levels of problem complexity and how you decide on the proper level for coding.
Through Church's explanations and examples and the attendees' questions (which came fast and furious), it quickly became clear that this was a popular topic of discussion. Many questions were answered with the initial caveat of, "it depends." While presenting with migraines and a lazy eye may constitute a level 4, for example, it might also constitute a level 5 depending on the onset of the two conditions. Subscribing over-the-counter medication could fall under low or moderate severity, depending on the situational specifics. However, stating that an ingrown toenail could lead to sepsis does not warrant assigning a level 4, said Church. You have to decide how risky the situation really is after reviewing the patient's symptoms and comorbidities.
Once the latest guidelines came out, "A lot of folks found that they were chronically overcoding or undercoding," said Church. His advice: Avoid the common pitfalls of overstating systemic symptoms such as fever and fatigue in minor illness and overstating the risk of threat to life or bodily function.
Carmen M Piccolo III, DO, FACS, FACOS, FSVS, RPVI, and Eva Alexander, RHIT, CPC, from McLeod Hearth & Vascular Institute, talked about complex vascular cases and how to code them. This was a fast-paced, advanced coding session in which Piccolo and Alexander covered an amazing amount of information in a relatively short amount of time. Piccolo started with covered repair of the aortic bifurcation and hybrid aortobifemoral bypass, illustrating standard treatments and providing a clinical example followed by Alexander's diagnosis and procedural coding. The pair ran through several more complex cases, including thrombotic May-Thurner syndrome with endovascular repair and two-vessel fenestrated endovascular abdominal aortic aneurysm repair with iliac branch endograft device.
Jennifer Swindle, CIC, CPC, CPMA, CEMC, CFPC, AAPC Fellow, spoke on how having an effective outpatient (OP) clinical documentation improvement (CDI) program is becoming increasingly important as more work is being done in the OP setting. Practices must have structures and processes in place to overcome the unique challenges OP CDI programs face such as having a higher volume and shorter stays, which makes concurrent review by CDI more difficult and leaves less time to query providers.
The success of your OP CDI program hinges on physician engagement. According to Swindle, the key to securing buy-in and support on the front line is provider education on the importance of documentation and the role of CDI. Emphasize the patient is at the heart of everything we do in healthcare, and the best way to serve them is by having an OP CDI program that focuses on quality and accurate capture of patient acuity and services provided. When the documentation supports all aspects of the patient and their management, our ability to provide comprehensive care is enhanced. Plus, it will also have a positive impact on reimbursement.
We all must work together and "let patient-centric, patient-driven, patient quality of care guide needs," said Swindle. Attendees were excited about the insight gained into OP CDI program goals, benefits prospective CDI activities provide, and query considerations and best practices. They left armed with the knowledge needed to develop their own successful and effective outpatient CDI programs.
Many Lessons Learned
Closing out the conference this afternoon was one more round of breakout sessions.
Dorothy Steed, CCS, CDIP, COC, CPCO, CPMA, CPC-I, CEMC, CFPC, CPUM, CPUR, CPHM, CPM, spoke on reporting requirements and how to avoid medical necessity denials in her afternoon session When Your Patient Has Both Medical and Behavioral Health Concerns. Many providers have seen an increase in behavioral health problems when patients present for medical-related encounters, and this needs to be fully captured in the documentation. Work with them on being mindful about identifying and addressing SDOH, which can affect management, compliance with care plans, and outcomes.
"Have policies in place," Steed recommended. They should address things such as what is done when staff detect a problem, how a patient exhibiting mental health problems is managed, options available if assistance is needed, and ways to protect staff from extreme harm. "Remember that safety is priority," she told attendees.
When behavioral health concerns are identified, providers need to notate them in the record. Stress to them that these issues often influence medical management and may require additional mental health services, Steed advised. Getting these individuals they help they need hinges on comprehensive documentation that reflects the complexity of the patient's case and enables reporting all applicable codes, including those for SDOH.
During the Mental Health & Opioid Crisis – What Do We Code? session, Heather Greene, MBA, RHIA, CPC, CPMA, CDIP, discussed quality initiatives, documentation goals, and coding guidelines as they pertain to mental health and substance abuse disorders (SUDs). What do coders have to do with ensuring quality care? "Everything," Greene said. Medical coding helps the government get resources to the right places. SDOH also play into this. In making sure your diagnosis coding is correct, "you're not just helping that patient, you're helping the community," she said. "We are truly moving from a world of quantity to quality, from how many patients you can see in a day to how many you can actually improve." Greene told the audience to start paying attention to risk adjustment and quality measures, too. "It's all written in CPT® and ICD-10 codes. Who knows them best? The coder!" she said. With that, Greene launched into an in-depth review of 2022 ICD-10-CM documentation and coding guidelines to prepare coders for the challenges they face.
Maryann Palmeter, CPC, CPCO, CPMA, CENTC, CHC, conducted an afternoon session on staying compliant during physician vacancies. She began by stating, "With today's busy healthcare environment, the absence of even one provider can negatively impact patient access and quality of care," and went on to say that some practices will "skip the rules" if they feel they need to. The current public health emergency (PHE) is certainly not helping, but while there are flexibilities in place for COVID-19 staff shortages at the present time, they will not last forever, and compliance rules still need to be followed.
Palmeter explained the difference between a "substitute" employee and a "supplement" employee. Locum tenens (substitutes) are billing physicians or physical therapists (PT) who fill in for regular physicians or PT when they are unavailable to provide services for a short period of time, typically 60 days or less. Supplement temporary staff are defined under Medicare as staff used when growing your practice, or when you need additional staff or to replace a physician or PT for more than 60 days. "Substitute means you have a vacancy that you're filling in, supplement means there is not a vacancy, it is additional," explained Palmeter.
She went on to explain what reciprocal billing is — an informal agreement between physicians to cover each other's practice when the regular physician is absent. "Your compensation is that someone is paying you back by filling in for you at a later date," said Palmeter. No money changes hands. "I fill in for you, you fill in for me." Palmeter spent the remainder of the presentation explaining how to bill for locum tenens providers, what to consider before auditing and monitoring, and answering the multitude of questions from the audience.
Until Next Time
Over the three days, in between breakout sessions, attendees networked via AAPC's Conference app, talked via the chat wall, and participated in various challenges — all for points to win prizes.
We hope to see everyone at AAPC's next boutique conference, AUDITCON, Nov. 1-2; and don't forget HEALTHCON 2022 in Washington D.C.!
Also read about Day 1 and Day 2 of HEALTHCON Regional!
Latest posts by Stacy Chaplain
(see all)