The Art of Setting E/M Pass Rate Thresholds
In Audit
November 1, 2021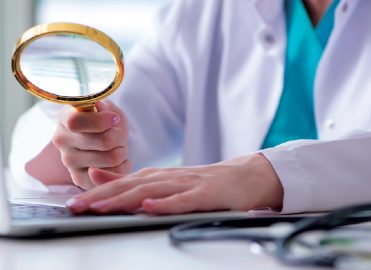 Achieve maximum coding accuracy through goal setting and acting when improvements are needed.
A common question that I get asked is, "What should I set my evaluation and management (E/M) pass rate threshold at for my organization?" I am sure, as colleagues in the healthcare compliance arena, you have all asked yourself this same question, especially with the recent 2021 E/M changes. To know the right answer, you must first understand what pass rates are and whether there are guidelines surrounding their use.
Pass Rate Threshold Defined
Pass rate threshold is the acceptable accuracy rate by which a provider or coder passes or fails their audit. Setting pass rates helps to create a standard of performance by which organizations can measure and monitor compliance. There is no federally sanctioned threshold of accuracy below 100 percent. We all know that achieving 100 percent is not always practical — E/M coding is far too subjective, which is one reason why many organizations do not set pass rates in the first place. However, if you don't set pass rate thresholds, how does your organization monitor improvement? With the new 2021 E/M guideline changes, setting pass rate thresholds is now more important than ever.
What Is the Industry Doing?
Healthicity performs an annual coding and documentation survey. They ask, "Does your organization have a defined pass rate threshold that is used for passing or failing a provider on their audit?"
As seen in Figure A, this year's results show that 70 percent of organizations conducting formal audits use pass rates. We can also see from the results that the 28 percent utilize a pass rate of 95 percent or greater, 19 percent utilizing a pass rate of 90 percent, and 16 percent utilize a pass rate of 80-89 percent.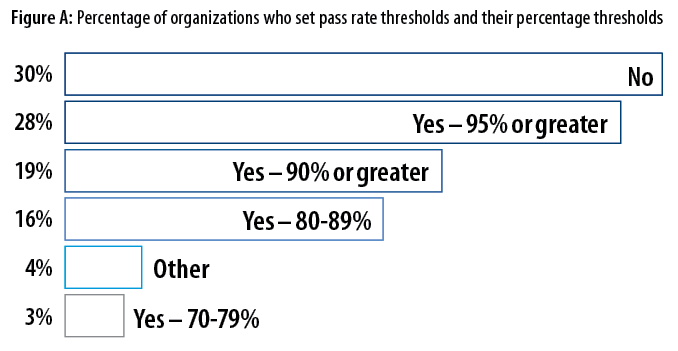 I wanted to find out what standards other auditors are using, so I reviewed AAPC's Auditing Forum and found many questions and comments regarding pass rates. Overall, the majority of auditors stated their organizations have a pass rate of 80 percent or that they felt 80 percent was a good starting point for baseline audits. Some said that re-audit or subsequent audit pass rates should be increased to 90 percent.
Review CMS Guidance
A review of the Centers for Medicare & Medicaid Services' (CMS') regulations and guidance manuals provides additional insight. The manual lists a "payment error rate of measure," or PERM. This measure states that a 95 percent confidence must be obtained with all claims. It goes on to define "error rate," pointing out that it is NOT a fraud rate but rather a measurement of payments made that did not meet statutory requirements.
Based on this regulation and guidance, we can deduce that CMS allows for a 5 percent error rate or a 95 percent pass rate threshold. Keep in mind that this is for the total dollar value of the claim, not code accuracy. This gets us a little closer; however, most audit scoring is based on code accuracy, which is not the same as total dollars.
Additional Considerations
In the article "Internal Audit Pass Rates" from Physician Practice, the author speaks about the impact of the audit sample on audit pass rates. For example, with a sample size of 10 charts, they most often see physician practices with an E/M pass rate of 80 percent, while practices that have mature audit programs typically see pass rates of 90 percent.
In comparison, audits with a sample size of 20 charts demonstrate scoring accuracy increases by an increment of five.
Sample size – 10 charts:
Baseline 80%
Mature compliance plans 90%
Sample size – 20 charts:
Baseline 85%
Mature compliance plans 95%
The American Health Information Management Association (AHIMA) published a great article, "Measuring Coding Accuracy and Production in Today's Value-Based Payment World." Although this article focuses on ICD-10-CM coding, I found it to be relevant. The author stated that for ICD-9-CM coding, which was implemented in 1979, there had been a long standard of 95 percent accuracy. The industry had 36 years to get to 100 percent accuracy on their audits (ICD-10 replaced ICD-9 in 2015).
The problem is that since the implementation of ICD-10-CM, the previous accuracy standard of 95 percent is still being used. The author suggests that this is too high and that new pass rate thresholds should be considered when there are industry changes, implying coders need time to work up to 95 percent. I couldn't agree more! We all know it takes coders and providers time to achieve 100 percent accuracy; therefore, it makes sense that pass rate thresholds should be reasonable and reevaluated periodically.
From all the research on what others in the industry are doing, it's clear E/M pass rate thresholds should be variable and based on industry changes and your organization's compliance audit program — the more mature an audit program is, the higher the pass rate should be set. Furthermore, the sample size of the audit can greatly impact the pass rate and should be adjusted accordingly.
How to Set Pass Rate Thresholds and Other Parameters
Now that we know that setting a pass rate is not a one-size-fits-all scenario, let's examine how to set pass rates. First, have a target in mind and ask yourself, "Where do I want my organization to end up?" Imagine a bullseye and the red center is 100 percent, as shown in Figure B. Being at 100 percent is ambitious. While we all want to be at 100 percent, that is not always realistic. Auditing E/M services is subjective, so your pass rate must allow for subjectivity.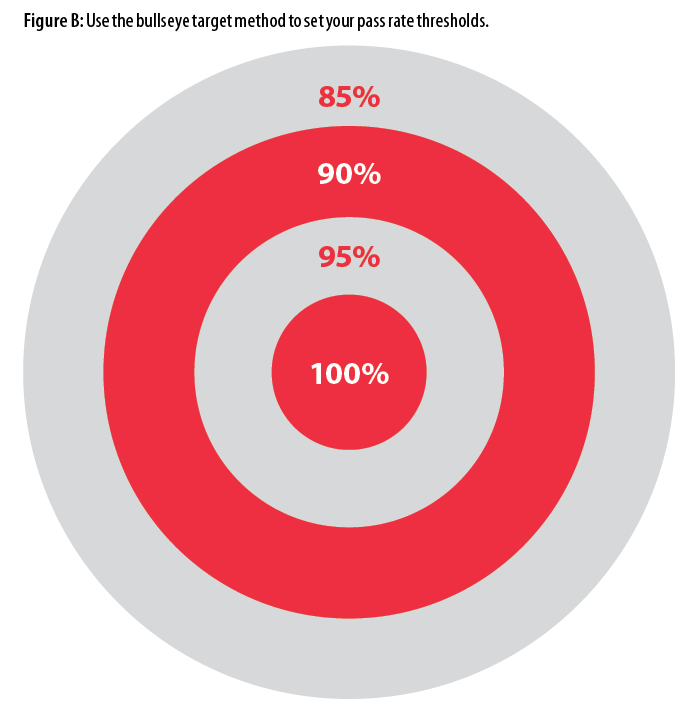 Ask yourself, "Is this target realistic based on my current accuracy rates?" and "Is this target realistic based on current industry changes?" If not, move out further. Based on the answers to these questions, you may want to aim for 90 percent, or lower.
Next, determine your sample size and how often you will be auditing. In general, the more frequent you audit, the smaller your sample size can be. If you are auditing less frequently, you may want to increase your sample size.
You also need to think about how you are scoring audits, as this will impact accuracy and pass rates. Are you using standard scoring (based on code correct/incorrect) or are you using a weighted scoring method? An example of weighted scoring is not counting an undercoded E/M as an error. Since there is no money due back to the payer, many organizations have adopted this method for compliance audits.
Based on what we reviewed in the industry, the type of audit definitely impacts the percentage at which you set your pass rates. It goes back to understanding your organization, where you are currently, and where you want to be. Different audits should have different pass rates.
For example, there are certain situations in which a 95 percent pass rate is appropriate. If you have a payback situation, you should perform an extrapolation audit. Do not just assume you need to pay back all claims. Do your due diligence and perform an audit. There may be instances when the level of service is supported and you do not owe money back, or perhaps you only owe partial payment back. CMS allows the payback to be determined by an extrapolation of the total claims. This process is outlined in the CMS manual.
Another type of audit uses a pass rate based on the claim value for services that may put your organization at risk. These are the audits in which you see high utilization of a particular code, high dollar amounts, or items in the Office of Inspector General's (OIG's) work plan. These audits can be performed for individual providers/coders or collectively to see how your organization is doing as a whole. Because these may put your organization at risk, you will want to consider setting your target as close to the bullseye as is reasonable. Most often, I see thresholds at 95 percent for at-risk audits.
Ensure Audit Plan Effectiveness
Newton's third law of motion states that for every action there is an equal and opposite reaction. This means that when two bodies interact, they apply forces to one another that are equal in magnitude and opposite in direction. What would happen if there was no equal and opposite reaction? Motion would stop, and we would all be in big trouble. The world as we know it would change.
You might be asking yourself, "How does Newton's third law come into play with audit pass rates?" Simply put, if you are not constantly watching the bullseye and readjusting your targets and outer rings, the motion of your audit plan will stop. You must have an equal and opposite reaction to your pass rate thresholds. Otherwise, the thresholds become meaningless.
Audit Pass Rates Need Equal and Opposite Reactions
Once you have defined your pass rates, you need to define the action that occurs for each rate after the audit is complete. This may include post-audit education, re-audit, or a bonus if scores are passing or no bonus if scores are below. Or perhaps consecutive low scores may result in a 100 percent prebill review.
Before defining the actions to be taken, consider the nature of the error. Undercoding errors are not the same as overcoding errors. Remember, E/M levels are subjective. One level could be subjective, whereas two levels, not so much. Consider who the person is that is being audited, such as a new provider or coder. And most importantly, consider the financial impact of the action.
For example, you have a provider that consistently fails their audits, and your action is that 100 percent of the provider's claims are to be reviewed prior to billing. You must understand that there will be a cost for this action, and someone will need to pay for this additional cost.
Actions do not always need to be punitive. On the contrary, they should be educational and team building in nature. Recognize when improvements are made and provide encouragement when results are not as expected. Here is an example of different pass rates and the associated actions:
95-100% – Provider is scheduled for re-audit annually
90-94% – Provider is scheduled for post-audit education
80-89% – Provider is scheduled for post-audit education and re-audit in 90 days
< 80% – Provider is scheduled for post-audit education and re-audit in 30 days
Three consecutive scores below 80% – Claims are put on hold for 100 percent review
An effective audit plan stems from having an active compliance program and should facilitate improvements in audit accuracy and finances. To do this, you must set pass rate thresholds. Know exactly where you are on the target and how far away you are from the bullseye. It's expected that improvements will be incremental and take time. The best way to make improvements is to measure performance based on the threshold targets you set. Set pass rates that make sense for your compliance plan and organization. Setting lower thresholds is perfectly acceptable and a good way to show improvement over time. Remember, achieving 100 percent on every audit is not realistic. It's the pattern of showing pass rate improvements over time that is the real winner!
---
Resources:
www.healthicity.com/resources/2021-state-medical-coding-auditing-report
Journal of Ahima
www.physicianspractice.com/view/internal-audit-pass-rates-nonphysician-credentialing
www.cms.gov/Regulations-and-Guidance/Guidance/Manuals/Downloads/pim83c08.pdf
Latest posts by Stephani Scott
(see all)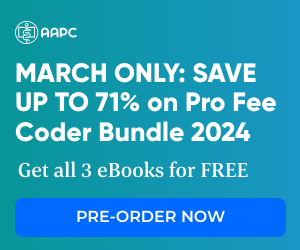 2 Responses to "The Art of Setting E/M Pass Rate Thresholds"