Don't Choke Over New Cough Codes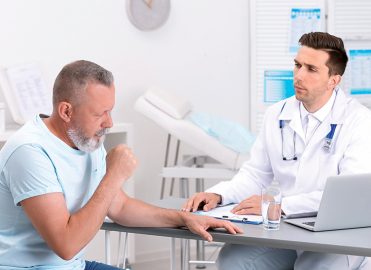 Documenting and coding coughs is much more complicated in 2022.
Remember the days when a cough was just a cough, coded simply with ICD-10-CM code R05? Those days are over. Effective Oct. 1, 2021, there are new codes added to Chapter 18: Symptoms, signs, and abnormal clinical and laboratory findings, not elsewhere classified (R00-R99) in the 2022 ICD-10-CM Official Guidelines for Coding and Reporting that every medical coder should commit to memory.
A New Way to Code Coughs
Cough symptom codes are expanded and now include the following:
R05.1 Acute cough
R05.2 Subacute cough
R05.3 Chronic cough, Persistent cough, Refractory cough, Unexplained cough
R05.4 Cough syncope
Code first: syncope and collapse (R55)
R05.8 Other specified cough
R05.9 Cough, unspecified
Question: Is it OK to report R05 without a fourth character?
Answer: No, payers will expect more specificity now that it is available.
In conjunction with the changes to R05, changes were also made to codes in category A37 Whooping cough to add paroxysmal cough due to Bordetella pertussis without and with pneumonia under A37.00 and A37.01, respectively.
Why the Change?
The American Thoracic Society (ATS) and the American College of Chest Physicians (CHEST) Clinical Practice Committee jointly championed the need for expanding the cough category.
"During clinical work-up, cough is initially classified by duration; different categories of cough duration have different diagnostic possibilities and thus different algorithms for evaluation and treatment," the ATS and CHEST Clinical Practice Committee wrote in their proposal to the ICD-10 Coordination and Maintenance Committee (Sept. 8-9, 2020).
Taber's Cyclopedic Medical Dictionary has numerous detailed cough descriptions under the cough term such as: Aneurysmal, asthmatic, brassy, bronchial, diphtherial, dry, ear, effective, hacking, harsh, moist, paroxysmal, productive, pulmonary, reflex, uterine, and whooping.
Coding resources are available to define cough variations and explain how the definitions differ between an acute cough (R05.1), a subacute cough (R05.2), and a chronic cough (R05.3).
The National Heart, Lung, and Blood Institute offers the following on this symptom:
A cough may be acute, subacute, or chronic depending on how long it lasts. Acute coughs last less than three weeks and usually are caused by the common cold or other infections such as sinusitis or pneumonia. Subacute coughs last three to eight weeks and remain after the initial cold or respiratory infection is over. Chronic coughs last more than eight weeks and can be caused by gastroesophageal reflux disease (GERD), postnasal drip from sinus infections or allergies, or chronic lung conditions such as asthma, chronic obstructive pulmonary disease (COPD), pulmonary fibrosis, and interstitial lung diseases.
Proper Coding Is Reliant on Clinical Documentation
This is great that data can now be collected about specific types of coughs. But of course, the documentation will need to be improved by providers to identify these different acuities and types of coughs. For example, cough syncope is a well-known entity in which there is loss of consciousness during episodes of cough. It commonly occurs in patients with severe COPD and asthma.
As stated in the introductory section of the Official Guidelines:
A joint effort between the healthcare provider and the coder is essential to achieve complete and accurate documentation, code assignment, and reporting of diagnoses and procedures. The importance of consistent, complete documentation in the medical record cannot be overemphasized. Without such documentation accurate coding cannot be achieved. The entire record should be reviewed to determine the specific reason for the encounter and the conditions treated.
Work Together for Proper Reporting
It's important for coders to review and get familiar with the changes for coding coughs. Take the opportunity now to educate providers about the coding updates and remind them of the importance of complete and accurate documentation of symptoms and the nature of presenting conditions for each encounter.
---
Resources:
2022 ICD-10-CM Official Guidelines for Coding and Reporting
Taber's Cyclopedic Medical Dictionary: www.tabers.com/tabersonline/MedicalDictionary
National Heart, Lung, and Blood Institute
Latest posts by Julie Pisacane
(see all)
2 Responses to "Don't Choke Over New Cough Codes"