Dissect Operative Reports Like a Pro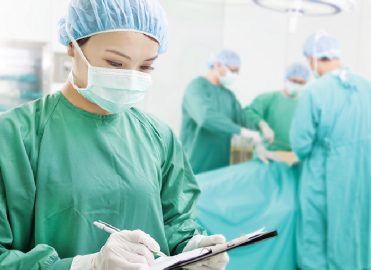 Sharpen your auditing skills through better understanding of surgical notes.
It's important for a well-rounded auditor to be able to audit both evaluation and management (E/M) services and surgical procedures. Surgical cases can be just as complex as E/M services if you do not understand the right approach. For example, with E/M leveling we are taught to read beyond the headers of a note. The same applies to auditing a surgical case. In this article, I will guide you through the best way to dissect an operative report for proper auditing.
Tools of the Trade
To start, make sure you have the right tools. Just like surgeons must have their surgical tools, we need to have ours, too. An auditor's primary tools are code books. The internet is one of my secondary tools, especially when looking up the definition of a word I don't know. Good coding software, such as Codify by AAPC or 3M's Encoder, is also great.
Having anatomy books or posters is very helpful when you are trying to locate a certain organ or structure. If you're auditing for a specialty, such as gastroenterology, urology, or cardiothoracic surgery, you might want to invest in specialty-specific books or posters so you can drill down to the details. The Coder's Desk Reference (CDR) and AAPC's Procedure Desk Reference books are also very handy for surgical auditors. They describe in lay terms how a typical procedure is performed.
Dissect the Operative Note
There are three parts of an op note, each containing its own set of information.
Header
The first part of an operative note is called the header. It contains certain elements that must be present but do not have to be in any specific order. The header should include:
Procedure date and time: At the very least, the date should be documented in the note. Time isn't always easily found, but it can be important when determining coordination of care among providers. When auditing inpatient stays, look at the entire chart to be sure nothing overlaps. For example, if a provider states he saw a patient for critical care services at 9:10 a.m. for 45 minutes, but the operative start time shows 9:30 a.m., someone is not documenting correctly.
Provider(s) and their credentials: It's important to know which providers were in the room performing services. All providers working on the patient during the procedure should be listed in the header, along with their credentials. You'll need this information to determine appropriate modifiers.
Anesthesia type: The type of anesthesia, such as general or conscious sedation, must be documented. There are some codes in the CPT® code book that are selected based on the type of anesthesia used, such as ear tubes.
Pre- and post-op diagnoses: Both the pre- and post-op diagnoses must be documented; just one or the other will not suffice. The pre-op diagnosis indicates the reason for the surgery — it sets up the medical necessity. The post-op diagnosis is what was actually found during the procedure. We select diagnosis codes based on the post-op diagnosis.
Procedure name: The provider should note the name of each procedure performed. If anything is missing, you have to read the op report to figure out what was done. This can lead to errors, so stress to your providers that they need to list all the procedures they performed on the date of service. That doesn't mean you are going to bill for all of them, but it does set an auditor on the right track to confirming the proper codes.
Findings and complications: Lastly, address any findings/complications. Remember that the op note is a legal document of the record of the surgery. Should a provider ever have to go to court regarding this surgery, would their note hold up to lawyer scrutiny? The more detailed they are when describing their findings and any complications or lack of complications, the better.
Build Your Vocabulary
As you get started on your operative (op) note auditing journey, you'll have to build your vocabulary. I've been auditing op notes for many years, and I still run across terms I have to stop and review. Not understanding the definition of a term may result in inaccurate coding. Familiarize yourself with the definitions of medical terms you may come across when auditing procedures. For example:
Marsupialization is a surgical procedure that removes an abscess or cyst in a way that reduces the likelihood of recurrence. The surgeon cuts a slit into the abscess/cyst to drain it and sutures the edges of the slit together to form a continuous surface from the exterior surface to the interior surface, forming a permanent open pocket or pouch for continuous drainage.
Extirpation is the complete removal or eradication of an organ or tissue. It is used in the treatment of diseased or infected organs and also as a means to prevent the spread of cancer. With cancer surgery, the goal is complete removal of all cancerous tissue. This typically involves excision of all visible tumor, as well as a rim of seemingly normal adjacent tissue that may contain cancerous cells.
Ablation is the removal or destruction of a body part or tissue or its function.
Resection is the surgical removal of part or all of a tissue, organ, or structure.
Debulking is the surgical removal of as much of a tumor as possible. Tumor debulking, which is not the same as excision, may increase the chance that chemotherapy or radiation therapy will kill all the tumor cells. It may also be done to relieve symptoms or help a patient to live longer.
Body
The most important section of the op note is the body, or the description. The first section of the body includes pertinent information known prior to any incisions made or scopes introduced. This may include things like patient positioning, time-out criteria, surgical tools, trays and counts, informed consent, medications and dosages administered, catheters placed, and prepping and draping. This list is NOT all-inclusive. Different procedures require different things.
Again, this is a legal document. We hear horror stories of malpractice suits against providers for negligence. If a patient has a post-op infection, for example, review of this part of the body may show that antibiotics were given pre-op. While any procedure comes with a risk of infection, the administration of pre-op antibiotics helps to reduce this risk. Since antibiotic administration should help cut down on the number of infections, it should be documented in the medications and dosages section.
The second section includes everything that was done from the moment the procedure began until the patient was turned over to recovery. This includes if, where, and how incisions were made, and any other details that would aid in the determination of whether the procedure was open, laparoscopic, or endoscopic. As you read through the note, ask yourself: Were any organs or structures excised? How were they removed? Was it a complete or partial removal? Did the physician perform marsupialization or ablation? What method of wound closure or non-closure was used?
Next, the body of the op note should address the presence or absence of complications. Did the procedure take a turn that normally wouldn't happen? For example, the patient may have altered anatomy that requires a different process. Maybe the procedure had to be cut short due to extenuating circumstances. Perhaps the provider intended to perform a laparoscopic gallbladder removal but had to convert to an open procedure instead. Occurrences such as these need to be documented, including both what happened and why. We need to know these things for proper auditing.
Note that time is really only important if the procedure takes a significant amount of time longer than normal; for example, in a situation where modifier 22 Increased procedural services may be necessary. To be able to append modifier 22, the provider must document very clearly how long the procedure should have taken, how long it took, and why it lasted longer.
Footer
Parts of an operative note footer may include:
Counts
Blood loss
Drains
Fluids
Specimens
Implants
Disposition
Attestation/signature
Some of these items may be mentioned in the header, which is okay, too. I've seen blood loss, drains, specimens, etc., documented in the header section. As long as it's in the op note, we have what we need.
For auditors, the most important piece here is the attestation/signature — it must be there and timely. Timely signatures, especially on op notes, are crucial. Many of the clients I've worked with specify 72 hours or they won't bill the charges. Work with your compliance department and providers to establish a timeline policy.
Auditors play an important role in ensuring accurate documentation and coding for all types of services. To do so, we must be well versed in a variety of areas beyond E/M. Understanding the intricacies of having the right tools, vocabulary, and knowledge of how to properly dissect an operative report will ensure accuracy of your surgical claims.
---
Resources:
Medical Coding Training: CPC® Study Guide. AAPC, 2018
CMS.gov: Global Surgery Booklet
WPS GHA Global Surgery Modifier Fact Sheet