Give Your Patients the Digital Experience They Want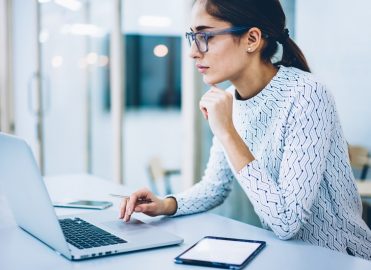 Kyruus survey shows that patients prefer the convenience of digital avenues when scheduling appointments and researching care options.
To ensure that your healthcare facility offers a positive interaction with potential and existing patients, it is important to understand what patients want and, increasingly, expect. Kyruus recently announced the findings from its fifth annual survey, published in the 2021 Patient Access Journey Report. The survey of 1,000 healthcare consumers reveals how patients prefer to schedule appointments, research new providers, and seek healthcare services and care sites. The study shows that consumers increasingly utilize, and prefer, digital access channels to meet these needs — a consistent trend over the past five years.
Increase Your Scheduling Choices
The Kyruus survey shows that preferences for booking appointments have continuously shifted away from the phone and toward digital channels over the last five years. While phone-based booking is still the most preferred method, 40 percent of consumers now prefer to book appointments online, an increase of 15 percent over the past five years.
Part of the reason for this shift is the challenges that exist when trying to schedule an appointment via phone. Long hold times, transfers, and lack of success with booking an appointment on the first call have led consumers to prefer the time-saving digital convenience of online scheduling. If your facility does not offer this method of scheduling appointments, it may be time to consider adopting it. If your facility already offers online scheduling, it is a good idea to make sure that your website also:
Provides full and complete information about providers, services, and accepted insurance to help patients make choices
Is intuitive and easy to use
Can be viewed and navigated on a mobile phone
Is inclusive for language, disability, sexual orientation, and gender identity
Regardless of the digital innovations you may offer, it is important to remember to close any gaps in the patient phone experience, as well.
Attract New Patients With the Information They Value
Survey findings show that the majority of consumers conduct online research when looking for a new provider, and a healthcare organization's website is the first place they look for trustworthy information. Nearly 60 percent of consumers conduct online research when looking for a new provider, seeking a healthcare service, or choosing a care site (e.g., urgent care, vaccine provider, imaging facility). This number has increased a whopping 12 percent since last year. So, it is vital that your website offers the information that consumers value most; namely, insurance acceptance, clinical expertise, reputation, and appointment availability.
Keep Existing Patients Happy
Attracting new patients is only the first step. Retaining patients must also be considered. Kyruus asked survey participants which factors would impact where they would seek care in the future. They answered:
74% – Ability to obtain timely care
63% – Ability to stay within specific healthcare organization or care network
50% – Cost transparency
32% – Proactive ongoing communication (through text and email)
28% – Ability to have virtual visits
28% – Online scheduling options
23% – Urgent care/retail clinics
Consumers continue to prioritize convenient and flexible access to care, as shown by the importance of timely access to appointments and the lasting popularity of virtual and convenient care methods. It is important to note that many surveyed patients still plan to delay care while the COVID-19 pandemic continues.
Arm Yourself for Success
As each year passes, it becomes increasingly clear that engaging with potential and existing patients requires an arsenal of digital tools to meet changing consumer demands. It is no longer just an added perk to employ them. Many patients not only want access to digital avenues when booking appointments and researching healthcare options, they now expect them. Therefore, it is vital that every healthcare organization continually expands its digital strategy to offer a modern patient access experience. Is your facility ready to meet the challenge?
---
Resource:
https://www.kyruus.com/hubfs/Kyruus%20-%202021%20Patient%20Access%20Journey%20Report.pdf?hsLang=en
Latest posts by Lee Fifield
(see all)