Elevate: Day 1 Sets the Stage for Success
In AAPC News
December 9, 2021
Comments Off

on Elevate: Day 1 Sets the Stage for Success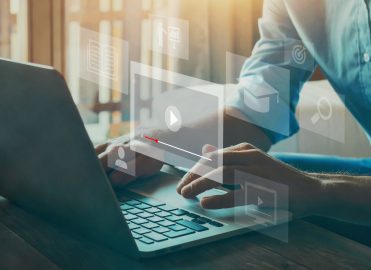 Medical billers, coders, compliance officers, practice managers, and other healthcare business professionals joined AAPC on Dec. 9 for the first day of ELEVATE. The two-day leadership conference is dedicated to career development and helping healthcare business professionals learn what they can do to enhance their skill sets and advance their careers. The virtual event features three tracks — newcomer, pro, startup — and 24 sessions, allowing attendees to customize their education according to experience level.
Day one began with a general session by culture expert Jason Williford. He spoke about using available resources and data to make smarter people decisions, and how you can use objective fact-based analytics and benchmarking to drive exponential results. After the general session, attendees had their choice of sessions in either the beginner track or one of two advanced tracks.
Beginners Learn Leadership Basics
The first newcomer breakout session was Understand Your Leadership Style. A leader motivates others to work more effectively together and encourages individuality, incoming National Advisory Board member MariaRita Genovese, CPC, explained as she walked the audience through what a successful leader does and the different leadership styles. Successful leaders have a style that is unique to them, developed over time through a variety of experiences, but they all share certain qualities — great leaders motivate, inspire, and encourage those they lead to better themselves and the people around them. Attendees left the session with greater insight into their own leadership styles and how that can impact the people around them, as well as how to lead people more effectively with styles that differ from their own.
Kristen Viviano, MHA, CPC, CRC, started off her afternoon session, Business Writing: Communicate Effectively and Professionally, with one clear message: Professional writing is critical. It doesn't matter if you're crafting an email, creating marketing materials, or formalizing an instructional document: Your spelling, grammar, accuracy, and tone matter. She systematically covered the four types of business writing with examples of dos and don'ts for all.
Viviano conducted an interactive session. Her examples of cluttered PowerPoint slides and poorly crafted emails were fun to pick apart yet drove home her message about unprofessional communication. She also pointed out that in the healthcare arena a simple lack of proofreading can even be dangerous. Imagine the consequences of writing "12 capsules per day" instead of "1-2 capsules per day." She wrapped up the session with suggestions for creating effective policies and procedures. As a parting thought, she said, when in doubt, "it is better to be more formal than risk not being taken seriously."
In addition to communicating effectively, being a good leader entails compassion, confidence, decisiveness, and the ability to make tough decisions, foster a creative environment, and lead by example. Many key leadership qualities are learned and improved over time, and in her afternoon session, Astara Crews, CPC, CPEDC, offered sound guidance on how to Identify and Cultivate Your Leadership Qualities. Strong leaders lead by example and practice these behaviors regularly to strengthen the positive impact of these traits, she told attendees, who left the session with actionable tips on how to develop their leadership skills and advance their careers.
To wrap up the newcomer track, Angela Boynton, MSJ, RHIT, CPCO, CPMA, CCS, CPC, CCS-P, COC, CPC-P, CPC-I, presented Exceed Your Team's Expectations of a Leader. She gave pointers on how attendees can shore up their skills in the top areas used to assess leaders. In short, to lead effectively and produce results you must set measurable goals, practice constructive communication, and not only know your team but understand each member's strengths.
Even Pros Have a Lot to Learn
The remaining presentations of the day were geared toward experienced healthcare business professionals looking to expand their arsenal of skills and take their careers to the next level.
Hiring the right people is key to the success of any business. But who are the right people? Beyond education and experience, it's human nature to notice other traits — age, race, ethnicity, gender, and so forth. Hiring, or not hiring, based on these traits is discriminatory, however.
In the session Diversity and Inclusion — Taking the Active Role, presenter Kathy Burkhardt, MSL, RHIA, explained the meaning of diversity and inclusion and how they differ.
Diversity in the workplace adds different experiences, skills, perspectives, and insights. Hiring a diverse team isn't enough, though. It's important to make everyone feel inclusive.
"Inclusion is helping the diverse parts perform well together," Burkhardt said.
Burkhardt talked about how to foster diversity in the workplace. She also outlined the meaning of unconscious bias and how to overcome it. Attendees gained a better understanding of cultural diversity and how to apply it not only in the workplace but in their everyday lives.
If you've been in the business of healthcare for even a day, you know it's constantly changing, which is why effectively managing this transformation and evolution is paramount. The key to managing change is setting goals and expectations, which requires clear and consistent communication, Michele Stevens, CPC, CPMA, AAPC Fellow, told attendees. In her session Change Management Strategies and Tools. she talked about the various communication types and styles, pointing out that assertiveness is the most effective form of communication. Stevens explained that leaders must engage even their toughest critics and implement strategies to hold their teams accountable, providing guidance on how to best create engagement and accountability. Her presentation was packed full of tips and strategies on successfully managing change and attendees eagerly soaked up her sage advice.
Pros then turned their attention to Rhonda Buckholtz, CPC, CDEO, CPMA, CRC, CENTC, CGSC, COBGC, COPC, CPEDC, AAPC Approved Instructor, speak about Transformative Leadership for Today's Healthcare. Practices are taking a turn, and the focus of our efforts is shifting to patient engagement and serving the community. Transforming your leadership helps you stay relative and keep up with the ever-evolving business of healthcare. Focus your efforts on patient engagement and helping the community, she suggested, empower and motivate while inspiring loyalty. Bottom line: By evaluating new trends in delivery methods, incorporating servitude leadership, knowing what it means to consistently communicate your "for," and engaging employees and patients to transform your outcomes you can build your patient base and retain better employees.
MariaRita Genovese, CPC, wrapped up the first day with sage advice on how to Train for Crucial Conversations, From Preparation to Results. She went through the steps needed to manage these talks and told attendees that by recognizing the importance of dialogue and understanding different types of decision-making strategies, you set the stage for open and honest conversations and movement toward action and results.
Startup Track Offers Expert Advice
Alternatively, attendees could attend the startup track, meant for experienced professionals seeking to learn more about what it takes to become a successful business owner. Step one, according to Stephanie Cecchini, CPC, CEMC, CEPFG, is planning. She began the first breakout session Developing a Business Plan by breaking down why it's important to create a business plan and the steps involved. Once you've determined and defined the goals and specifics, dive deeper — analyze competition, identify ways to market and sell, develop your financial analysis. Cecchini provided great insight into this process and to help get the ball rolling, she shared three hacks to help take the pain out of creating a business plan.
Once you've determined a plan and identified business goals —startup, salary, inventory, pricing — it's time to crunch some numbers. WAVE CEO Scott Morrison presented on Financial Planning for Business Owners with the goal of helping attendees to be more well-versed in the legal and financial aspects of business ownership, from establishing a legal entity and bookkeeping system to developing infrastructure. Those aspiring to step out on their own found great value in the strategies he shared on managing taxes, liability, overhead, funding. And much more.
A critical component of your strategic business plan is to Master the Art of Marketing, AAPC CEO Bevan Erickson told those attending the third advanced track session. He walked the audience through 11 rules of marketing — the key driver of your success and the greatest liability against failure. Know your audience, get their attention, and be as concise as possible. Being succinct has become increasingly important, Erickson explained, because these days, our attention span is around eight seconds, down from 12 seconds in 2000. His breakdown of the fundamentals of marketing provided aspiring business owners with a solid foundation for success.
Last, but not least, was a panel discussion in which Buckholtz and Jaci J. Kipreos, COC, CPC, CDEO, CPMA, CPC-I, CEMC, talked about the Pros and Cons of Starting Your Own Business. Attendees were eager to learn from these experts what to expect and consider when creating your own company. According to Buckholtz, "part of starting your own business is knowing what your strengths and weakness are." This reflection is extremely important.
Don't Miss Day 2
Attendees were stoked about how much they had learned and had shared on the chat wall their rave reviews. ELEVATE day one was a hit, and everyone can't wait for day two. There's still much to learn, see you tomorrow!
Latest posts by Stacy Chaplain
(see all)