ELEVATE: Day 2 Broadens Leadership Skills
By Lee Fifield
In AAPC News
December 10, 2021
Comments Off

on ELEVATE: Day 2 Broadens Leadership Skills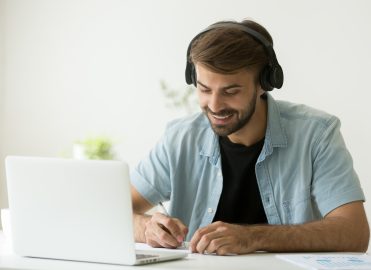 Medical billers, coders, compliance officers, practice managers, and other healthcare business professionals were back on Dec. 10 for the final day of ELEVATE, AAPC's two-day virtual leadership conference. Day one was a rousing success. One attendee wrote on the chat wall, "Yesterday was so informative, today is sure to be even better!" Attendees continued in their chosen learning track from day one — newcomer, pro, or startup — to complete their learning arc on leadership.
The day began with a general panel session on Pathway to Leadership, which included Adrienne Lloyd, MHA, FACHE, Kathleen Rowland, BSN, RN, CHC, CPC, CPC-I, CEMC, MariaRita Genovese, CPC, and Stephanie Cecchini, CHISP, CPC, CEMC. Rhonda Buckholtz, CPC, CDEO, CPMA, CRC, CENTC, CGSC, COBGC, COPC, CPEDC, AAPC Approved Instructor, was the session's engaging and thoughtful moderator who added her own experience to the discussion.
The dialogue centered around the qualities that make each of these inspiring leaders successful, what led them to leadership, their journey, and their role models. Buckholtz's questions ran the gamut from fun to probing. She started off asking for thoughts on employee engagement. Each panel member offered their advice, and Rowland summed up a leader's goal in one sentence: "When you have happy employees and they're feeling happy and satisfied, it's a win-win for everyone." Questions followed on the best quality a leader can have, how to bridge the gap toward empathy, and what leadership lessons came out of the pandemic. Connecting with and coaching remote workers was a big topic of conversation, and attendees had plenty of wisdom to offer on that subject in addition to the panel members. The personal stories and anecdotes from each panel member left attendees feeling both inspired and motivated to excel in leadership.
Beginner Basics Pave the Road for Tomorrow's Leaders
Fresh off her role as general session moderator, Rhonda Buckholtz led the first session of the newcomers track, Elevate Your Communication Style: Talking to the C-Suite. Buckholtz led an informative and interactive discussion on how to improve leadership skills by recognizing employees' personality traits.
Using the John Maxwell DISC theory, Buckholtz explained there are four personality styles: Dominance, Influence, Steadiness, and Conscientious. When we pay attention to personality types, we can adjust our mode of communication accordingly. The key is to communicate with others as they like to be communicated with. "Do unto others as they would like done," Buckholtz said. This is contradictory to the usual "do unto others as you would like done."
This was an "aha" moment for many because the assumption is that everyone wants to be treated the same. In fact, everyone has their own way of working and communicating. We are not all a D, I, S, or C — we are a complicated mixed bag — but through understanding we can improve the responses we receive by talking the other person's language.
Hiring a team is one of the most important decisions a leader can make. In her session Five Interview Strategies for Hiring Your Dream Team, incoming AAPC National Advisory Board (NAB) President Colleen Gianatasio, MHS, CPC, CPC-P, CPMA, CRC, CCS, CCDS-O, AAPC Approved Instructor, offered her expert advice on finding the right mix of individuals for any team. Effective interviewing techniques, involving the right people in the interview process, and knowing what topics to focus questions on were all discussed, as was when to keep looking for the best employee to ensure a cultural fit.
Colleen Gianatasio was back in the next round of beginner sessions to educate attendees on How to Be a Leader (Without the Title). Each attendee learned how to be a leader regardless of their title in this interactive session. Gianatasio discussed the seven ways to be a leader, which include leading by example, focusing on results, leaning into feedback, understanding your organization, building relationships, asking the right questions, and to never stop learning.
Professionals' Skills Get a Boost
The afternoon began with a presentation from Adrienne Lloyd, MHA, FACHE, Certified John Maxwell Leadership Coach, and Lean/Six Sigma Expert on Creating a Growth Culture. In simple terms, culture creation is the process of converting words to behavior. Lloyd explained that the goal of a leader should be to create a learning organization where employees get a little better every day. Accomplishing this requires increasing connections with employees. Employees are most satisfied when they feel like their management team holds everyone accountable and when they have input in the decision-making process. Creating process changes and implementations without the culture of inclusion can bog down projects, make staff feel like they are not being heard, and cause employees to leave. Lloyd suggested creating a problem-solving and innovative culture, offered advice on managing and growing a team, and outlined why some teams work and some don't.
Jordan B. Goldberger, MBA, reviewed the essentials of creating an operational budget in his session Focus on Finance and Budgeting. The session explained the differences between operating budgets and capital budgets and outlined their impact on an organization. He delved into profit and loss statements and explained the workflow for submitting a budget.
Rounding out the conference pro track was Healthcare Analytics as a Management Tool, presented by MariaRita Genovese, CPC, and Jordan Goldberger. The importance of analytics is growing, and its role in decision support is evolving, they told attendees. Data gained from number-crunching helps to increase the visibility of daily or monthly operations and can provide a snapshot in real time to gauge industry performance. Why is this important? "Analytics to portray data to make it meaningful and actionable," said Goldberger.
These industry experts provided insight into the role analytics plays and how it impacts many operational aspects including market share, relative value unit (RVU) allocation, yearly budgeting, quality scoring, and measuring revenue. Take, for example, market share analysis, which according to Goldberger, "gives us a line of sight on our position" and guides strategic initiatives. Beyond that, Genovese added, "as a leader, market share analysis helps you communicate to staff as to why certain things are important, why things are happening, why we need to get things done."
The take-home message was clear: There are myriad ways to put analytics to work for your healthcare organization. It helps improve access to care, enhances the quality of care, boosts patient satisfaction, and more. Patients and practices alike stand to gain when analytics are fully understood and utilized.
Startup Sessions Show the Way in Business Planning
Attendees who are thinking about becoming a successful business owner continued on their startup track with a session on Selecting the Right Legal Business Structure, presented by Michael D. Miscoe, Esq, CPC, CPCO, CPMA, CASCC, CCPC, CUC, Fellow. In this detailed session, Miscoe explained why (or if) you should consider incorporation, the various types of formal business entities, the considerations for selecting one corporate form over another, and common methods for incorporating a business. He outlined the different forms of business associations, as well as the attributes, advantages, and disadvantages of corporation. All aspects of partnerships were covered, as was limited liability. Miscoe wrapped up his presentation with a rundown of federal income tax issues.
In her presentation A Practical Guide to Client Communications, Jaci Kipreos, CPC, COC, CDEO, CPMA, CRC, CPC-I, CEMC, advised attendees on how to develop their best sales pitch, prepare messages for problem resolution, and evaluate strategies for successful two-way communication with clients. Learning customers' needs by listening is the key to success, said Kipreos. Really listen: Don't just listen to talk. Then set the tone once you have assessed your client. After you have set the tone, consider timing, and know how to talk the talk, applying all three elements to listening, clarity, action, and results. In addition, Kipreos explained, it is important to know your own tone, know when to say no, and know your limits.
AAPC Senior Vice President of Sales Jeremy Schow imparted his knowledge on Leadership and the Art of Negotiation in the last afternoon session. He covered the range of steps and approaches needed to become a trusted advisor, from the pitch to the close. Schow outlined the differences between selling and buying environments, moving systematically through the five steps of the negotiation process.
A Great Experience for All
Once the last sessions had ended, it was time to celebrate everyone's hard work and new knowledge. Attendees gathered for a virtual networking happy hour where they talked with old and new colleagues and shared their conference experiences.
Please join AAPC in the new year at HEALTHCON 2022 in Washington, DC, March 27-30. If you are unable to attend in person, you can participate in this informative four-day conference virtually. We'll see you there!
Latest posts by Lee Fifield
(see all)