Are You Ready to Manage a Remote Workforce?
By Pam Brooks
January 1, 2022
Comments Off

on Are You Ready to Manage a Remote Workforce?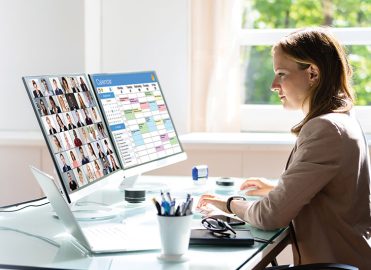 Know how to best face the challenges brought on by working from home.
How times have changed. In the 1950s, working from home was primarily what women did, which those days typically included housework, raising children, cooking, and gardening. Fast forward 50 years and we saw a significant increase in women in the workforce. Fast forward another 20 years and, here we are, men and women changing what it means to "work from home." There are pros and cons to this trend, however, and employers must prepare to meet the challenges of managing a remote workforce. This article will address several concepts employers and managers must consider and do to assure continued success in this new working environment.
What the Research Tells Us
According to Owl Labs, a remote meeting technology company, 62 percent of employees aged 22 to 65 say they work remotely at least occasionally. That's a 159 percent increase since 2009! Healthcare is one of the industries with the highest number of remote workers, and nearly all workers would choose to work remotely for the rest of their life, even if only part-time, according to social media management tool company Buffer. In other words, telecommuting is here to stay.
As early as 2015, far before the COVID-19 pandemic, T.D. Allen published a study in Psychological Science in the Public Interest indicating that organizations realize significant benefits with a remote workforce, including statistically higher employee job satisfaction, lower overhead, and improved productivity and accuracy. Employees more easily attain a work-life balance with shorter commute times, fewer work-related expenses, and the ability to be creative in their own environment.
What exactly a "work-life balance" means, however, differs among generations. Millennials are more likely to seek satisfaction through stable remote employment, while Gen-Xers prioritize family time. Baby boomers, traditionally the over-responsible workaholics who aren't as concerned with work-life balance, enjoy the reduced stress levels a remote position is likely to provide.
The point is, working from home is favorable to most, but not necessarily for the same reasons. Herein lies a manager's first challenge.
Management Considerations
A benefit of a fully remote workforce is that employers are not limited to local talent when hiring. Managers can recruit from any location, train with a fully online program, and meet/monitor through online meeting software. One negative is that you don't get to meet your employees in person. This can negatively affect the office dynamic we're used to.
Managers considering a fully- or partially-remote workforce must ensure the vision for remote work aligns with leadership. For example, if there is some expectation for onsite presence, it should be consistently expected by all levels of management. Another consideration is whether time zone differences will interfere with workflow.
Managers also need to consider what to do with employees who either cannot or do not want to work remotely. According to Microsoft, 161 million Americans lack high-speed broadband internet connectivity. These individuals will not be able to function when multiple spreadsheets and Zoom meetings are the norm, so considerations will need to be made for those employees who will continue to need a central office space.
Policy Implications
Job performance and human resources policies shift significantly when employees are working away from the brick-and-mortar building. Two types of policies are recommended:
The technical policy outlines expectations regarding computer use, maintenance, upgrades, and safety of the software and hardware as it relates to HIPAA.
The telecommunications policy addresses employee expectations such as hours, office supplies, email, phone availability, home office setup, and productivity standards. This is where any expectation for childcare should be addressed.
Employee educational opportunities and expectations, which can all be done remotely, should also be outlined in this type of policy. Having technical and telecommunication policies in place will protect employers and employees alike and prevent misconceptions about the flexibility of remote work.
Additional policies may be needed to address other aspects associated with working remotely. For example:
Do job descriptions need to be updated?
How will evaluations be carried out?
Will new employee orientation and training need to be redesigned?
Legal considerations can arise, as well, such as how to manage payroll taxes and address any department of employment concerns, which vary by state. Managers must also consider the impact of benefits, such as health insurance, which can have implications outside the state or region in which the organization or office is located.
Onboarding New Employees
With the shift toward remote work, the typical onboarding process for new employees is changing, as well. Besides making sure new remote employees are squared away with human resources and have all the technology they need to perform their job, managers have to reconsider how to onboard an employee who may be thousands of miles away. Here are a few suggestions:
Send a welcome email to the new employee as soon as they are hired, as well as a schedule of the onboarding process. Assure them that someone is available for questions and concerns.
Make sure IT has provided what the employee needs to get started on day one, such as software access and passwords, and walk them through using everything remotely.
Make staff introductions and share pertinent contact information for the preferred modes of communication. Encourage the other staff to send the new employee a welcoming message.
Share whatever information that can be provided in advance of the hire date but be careful about handing over proprietary or HIPAA-sensitive information before the person is an actual employee.
Inform the employee of the basics — where to find what and who is who. Be sure they understand the logistics of the shared and personal drives and give them any internet links they are going to need.
Set up a Zoom meeting for new employee orientation, which should consist of a checklist of must-know items including office human resource policies, health and safety issues, security expectations, etc.
Provide the new hire with the online employee manual and instructions on where to find organizational policies.
Review workflow processes and expectations in a presentation that shows where the process mapping is located and examples of how to perform the work. The more preparation that is done via this training, the quicker the employee can actually start performing their job.
Be prepared to mentor and think about assigning a work buddy, as the usual background chatter of coworkers helping each other is going to be missing from the remote employee's experience. Managers may have to fill in to provide guidance as needed.
Make sure there are protocols in place for when a staff member has an internet or power outage. Is there is an on-site space available where they can work? Should they adjust their hours? How is the employee compensated if the downtime is extensive?
Setting Expectations
Supporting a remote workforce starts with setting clear expectations so remote staff isn't broadsided. Likely, the expectations are similar to what would be expected on-site, but they need to be communicated verbally and in writing, so nothing is assumed. One example is how the company defines 'workspace.' Policies may need to outline that the office is a separate space in the employee's home, preferably a room with a door that locks and is not a common family area. An ergonomic assessment may be necessary. Expect a period of adjustment when employees are starting in a new remote environment and recognize that they may need assistance organizing themselves in their new home offices. Stress and frustration can be symptoms of an employee having difficulty adjusting to their home office. Don't let this escalate; address the concerns immediately.
Policies may be needed to outline certain specifics: Is it OK for an employee to work in a public area? Is it OK to have a glass of wine while working? Is it OK to work in jammies? Can employees take a break every hour to throw in a load of wash, take the dog out to potty, run to the mailbox, etc.?
Although being so rigid as to disallow household activities isn't recommended, clarification of expected break times may be necessary. Remember, employees don't need to be glued to their chairs in front of the computer to be thinking about work projects. On the flip side, employees need to be able to separate their work from their private life, which can be challenging since their home is used for both.
Maintaining Productivity
Increased productivity is one of the expectations of remote work. Employees typically have fewer distractions from coworkers and can catch up on projects during early morning or late evening hours, if needed. Things to think about:
Most IT departments can identify when employees log in and log out. Additionally, most coding and billing software can identify if someone is working within a queue.
To further measure productivity, look at individual tasks that are similar in process and intensity. For example, incoming phone calls can be measured by the number of calls taken and the time it takes to resolve the question; similar medical accounts can typically be coded in roughly the same amount of time. Set up productivity standards for part or all of the day, or over a week. Whichever is used must be consistent to determine if standards are too high/low.
Make sure everyone has the right tools. If coders are used to using three screens onsite and then have only one screen while working remotely, there cannot be any expectation of the same productivity as before. Current standards may need modification to meet the new environment.
Without a lot of onsite hands-on supervision, managers may need to trust their employees to handle projects in a far more independent manner. It may be necessary to set project target dates instead of leaving them open-ended.
Getting the Word Out
Without communication, even the most amenable remote workplace will have issues. Use Zoom, Microsoft Teams, or another meeting platform to set up regular team and one-on-one meetings. Staff may need additional support, particularly as they adjust to the new normal. This is one area where time zone differences will need to be addressed. Since phone calls and emails can be challenging and misinterpreted, encourage the use of video.
For managers, it's easy to make a snap decision in response to a question via an email request when a staff member isn't standing in the office doorway. Take time to think about their request and the response with the same consideration as you would if the employee was in the office. Because working remotely eliminates a great deal of the day-to-day socialization of team members, managers should encourage participation in AAPC local chapter meetings to encourage team building and education.
Do You Have What It Takes?
Even with all its upsides, working remotely is not for everyone. Managers and staff alike should do some self-reflection to make sure they can perform well in a remote environment. For micromanagers who are used to peering over the shoulders of their staff, managing a remote workforce can be anxiety-provoking. A manager who cannot trust some of their employees may need to consider finding new employees. However, if a manager cannot trust ANY employees, a new manager may be needed.
Be on the alert for when working remotely is not working out. The lack of personal interaction can be overwhelming for some. Not to mention, home distractions can range from unwelcome to intrusive or disruptive. If onsite working is not an option, then decisions will need to be made regarding continued employment.
At the end of the day, managers are still managing teams — individuals working toward the same goals and successes — and they should be celebrated, rewarded, and encouraged. There are creative ways to do this, even in a remote environment. There should also be sufficient time each week for the social aspect that coworkers value. By making time to show team members that they are valued, that their contributions and skills matter, and that they are welcome and appreciated, a remote workforce can be a positive and healthy experience.
---
Contributing author: MariaRita Genovese, CPC, is the director of Revenue Cycle and Business Operations for MD Anderson Cancer Center at Cooper and has over 30 years of experience in billing and practice management. She was AAPC's 2019 Chapter Officer of the Year. Genovese also served on AAPC's National Advisory Board and is a former member of the 2015-2018 AAPC Chapter Association Board of Directors. She is active in educating the physicians and staff in medical coding and compliance regulations. Currently, she serves as president of the Greater Philadelphia, Pa., local chapter, previously serving as chapter president and vice president.
Latest posts by Pam Brooks
(see all)