Don't Fall for Injury Coding Obstacles
In Billing
January 1, 2022
Comments Off

on Don't Fall for Injury Coding Obstacles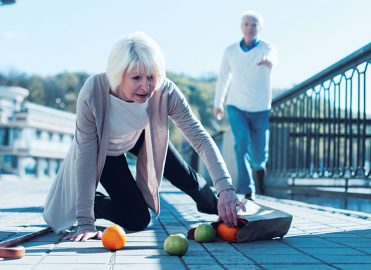 Put your diagnosis coding skills to the test with this patient encounter.
CC: Fall and laceration
HPI: Julia is a 65-year-old woman who was running to catch a taxi when she stumbled, fell, and struck her face on the sidewalk. She had taken the day off of work and was shopping downtown. She denies loss of consciousness, but says she was dazed for a few seconds after it happened. She complains of pain over the chin and right forehead, where she has lacerations. She denies neck pain, back pain, extremity pain, and abdominal pain.
ROS: As per HPI; otherwise negative.
PMH/PSH: No significant medical problems; no prior surgeries.
MEDS/ALLERGIES: No meds, NKDA.
PHYSICAL EXAM: Vitals: BP 165/95, HR 80, RR 12, Temp 98.4, SpO2 95%. Gen: NAD
HEENT: No palpable step-offs. There is blood over the right eyebrow area where there is a small 1 cm laceration and surrounding abrasion. Also, 2 cm laceration over the base of the chin without communication to the oropharynx. No other trauma noted. No septal hematoma. Facial bones nontender. No tenderness in the neck, normal range of motion.
CARDIO: RRR; no MRG.
PULM: CTAB; breath sounds equal, breathing comfortably.
ABD: Soft, NT/ND.
EXTREMITIES: No tenderness or deformity; pulses are equal throughout; good cap refill.
NEURO: Awake and alert; moves all extremities; cranial nerves intact.
COURSE IN ED: Patient arrived and was placed on monitors. An IV had been placed in the field and labs were drawn. The lacerations were explored, and debris was removed from the eyebrow laceration. Both lacerations were irrigated and closed with simple interrupted sutures. Labs showed CBC, Chem-7, U/A WNL. The patient was released and instructed to see her family physician for laceration follow-up care.
Code the Diagnosis
ICD-10-CM codes:
S01.121A Laceration with foreign body of right eyelid and periocular area, initial encounter
S01.81XA Laceration without foreign body of other part of head, initial encounter
W01.198A Fall on same level from slipping, tripping and stumbling with subsequent striking against other object, initial encounter
Y93.02 Activity, running
Y92.480 Sidewalk as the place of occurrence of the external cause
Y99.8 Other external cause status
Rationale: In ICD-10-CM, when a patient presents with an injury, the injuries and the external cause should be coded. The codes for the injuries will contain encounter information to indicate the treatment status of the patient (initial/subsequent encounter, sequela). In this case, the patient is presenting with fresh injuries, making this an initial encounter.
Wounds in ICD-10-CM can be identified by codes that are more specific than "wound, open, by site." The physician specifies these injuries are lacerations, so you want to use that level of specificity when selecting ICD-10-CM codes. One has a foreign body and the other does not, which is also demonstrated in the codes chosen. Note the provider mentions laceration and abrasion in the exam but the abrasion is not coded. This is because, according to guideline I.C.19.b.1, "Superficial injuries such as abrasions or contusions are not coded when associated with more severe injuries of the same site."
External cause codes are added because this is the first time the patient is presenting with the injury. The documentation includes how the patient was injured (fall), what the patient was doing (running), where the patient was (sidewalk), and their status (leisure activity).
---
Resources:
2022 ICD-10-CM code book
2022 ICD-10-CM Official Guidelines for Coding and Reporting
Latest posts by Stacy Chaplain
(see all)