Ground Ambulances Left Out of No Surprises Act
By Lee Fifield
In Billing
January 25, 2022
Comments Off

on Ground Ambulances Left Out of No Surprises Act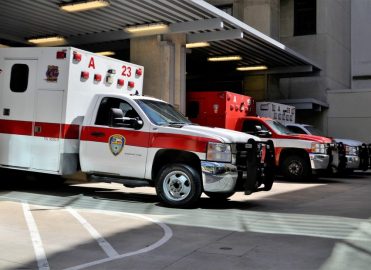 The recently enacted No Surprises Act protects against most surprise billing — but not ground ambulances.
The No Surprises Act (NSA), which went into effect on Jan. 1, 2022, protects people covered under group and individual health plans from receiving surprise medical bills when they receive most emergency services, non-emergency services from out-of-network providers at in-network facilities, and services from out-of-network air ambulance service providers. It also establishes an independent dispute resolution process for payment disputes between plans and providers and provides new dispute resolution opportunities for uninsured and self-pay individuals when they receive a medical bill that is substantially greater than the good faith estimate they get from the provider. But there is one significant omission from these protections: ground ambulances.
Reasons for Surprise Ambulance Billing
Unlike a trip to your doctor's office, an ambulance ride cannot be planned ahead of time in the case of an emergency. Reasons patients may receive a surprise bill for a ground ambulance ride include:
No choice of ambulance service when dialing 911
In an emergency situation, there is no time to check ambulance choices in advance
No opportunity to choose a service if sedated or unconscious
No choice available at all: Only one ambulance contract for the region
In addition, many insurers will not pay for an ambulance call if a patient was treated by ambulance staff onsite and not taken to the hospital. Unfortunately, this can add up to a big bill for the patient, when operational costs, equipment costs, staffing costs, and payment models are all considered.
The Complexity of Regulating Ground Ambulances
Karan Chhabra, MD, a surgical resident at Brigham and Women's Hospital in Boston, lead a research team in 2020 that found that 79 percent of all ground ambulance rides could result in an out-of-network bill. Currently, more than half of all ambulance rides include an out-of-network charge; in fact, 8 percent of all medical debt in the U.S. is the result of ground ambulances. So, why weren't ground ambulances included in the NSA protections? It seems like an obvious choice. As it turns out, the issue is quite complicated.
The sheer variety of ways that ground ambulances are currently owned, operated, and paid for make it impossible to regulate the service as a single entity as things stand. Ambulance services may be run by the state, local government, local fire department, local hospitals, for-profit companies, private equity investors, or non-profit companies, which hospitals or towns enter into a contract with. And emergency medical transport services operated by municipal and county governments may be subject to additional types of state and local regulation. The complexity of working with local governments was one reason why ground ambulance coverage was excluded from the NSA.
Current and Future Protections
There are currently 10 states that provide some level of protection against balance bills: Colorado, Delaware, Florida, Illinois, Maine, Maryland, New York, Ohio, Vermont, and West Virginia. But even so, not all 10 provide protection for both public and private providers and only half regulate reimbursement rates for out-of-network providers.
The future of ground ambulance reimbursement still resides within the purview of the NSA. The federal government has created (on paper for now) a ground ambulance advisory committee comprising government officials, consumer advocates, insurers, and ambulance providers to study the issue and work out a path forward. For their part, ambulance companies have already said that insurers don't reimburse well enough for them to be in-network providers, citing the costliness of running a 365/24/7 business. Operational cost is sure to be one of the main sticking points in discussions.
Committee members have not yet been chosen, since the nomination period ended Dec. 13, 2021, but once the committee is in place, it will recommend ways to help inform policy changes to improve how charges and fees for ground ambulance services are disclosed to consumers, and to address what steps can be taken for legislation and enforcement at state and federal levels. Medicare and Medicaid, which already ban balance billing on ambulance services, may also play a role.
Latest posts by Lee Fifield
(see all)