AAPC's Member of the Month: Brenda Edwards, CPC, CDEO, CPB, CPMA, CPC-I, CEMC, CRC, CPMS, CMRS, CMCS
In AAPC News
February 1, 2022
Comments Off

on AAPC's Member of the Month: Brenda Edwards, CPC, CDEO, CPB, CPMA, CPC-I, CEMC, CRC, CPMS, CMRS, CMCS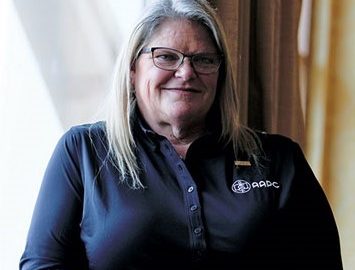 Longstanding member talks about her career journey.
My introduction into healthcare began in 1987. I was a piano major in college and had no intention of being involved in healthcare. My mom asked if I could assist the practice she worked for by typing addresses on envelopes (on an IBM Selectric typewriter) notifying patients that their physician had unexpectedly passed away. This was my foot in the door; from there I worked in the business office wherever I was needed.
Humble Beginnings
I learned about reception duties, medical records, collections, data entry, billing, accounts payable and receivable, and my favorite … CODING! This was so valuable because I learned how all of the business parts of healthcare worked together. I understood the process from start to finish, which makes one a well-rounded member of the team. My introduction to coding was, "Barbara is going on vacation, and you are the coder." Back then, coding classes or certifications didn't exist, so I was self-taught; I am sure that is why I can navigate the code sets better than the index of the code books (don't do what I do, use the index!).
Worked Hard in the Big Easy
I worked for a billing company before moving to New Orleans. Aside from my husband, I didn't know a single person when I moved to the Big Easy, but because of a relationship I had with a software vendor, I landed in a business office for a radiology group. My coding knowledge expanded when I was given an interventional radiology book from a physician who said, "We're going to start doing these and we need to know how to bill them." I started asking the physicians a lot of questions and became proficient.
Became Certified
After three years, I moved to Wisconsin. I initially worked as an insurance processor (verifying the charge ticket was accurate before data entry) before moving into auditing and compliance. This was the same time AAPC's Certified Professional Coder (CPC®) certification was introduced. To advance, I had to become certified. I passed that grueling five-hour test and proceeded to wait six weeks before I received that magical envelope that said "Brenda Edwards, CPC." By then, I had started teaching coding to my company's employees and decided it would be a good time to become a coding instructor (CPC-I).
Chose to Be a Leader in the Industry
My last move was to Kansas in 2000, and I have continued to have incredible opportunities. I have taught many, many students across the state. I have been blessed to work with physicians and hospitals across the country. Each move brought more aspects of the business side of healthcare to my resume.
Not long after moving to Topeka, my colleague Tracy Bird, FACMPE, CPC, CPMA, CEMC, CPC-I, said, "We need a local chapter in Topeka … why don't you start one?" We did and the Northeast Kansas (aka Topeka) local chapter has been going strong for 20 years. I have served every officer role throughout the years.
This is also when I started working on my speaking and presenting skills. I was fortunate to attend AAPC's national conference early in my career and realized I wanted to present at a conference, so I set my goals to make it happen. Participating in my local chapter led me to involvement at the national level. I served on the AAPC Chapter Association Board of Directors from 2010 to 2014 and had the privilege of serving as chair of the board in 2014. I am very passionate about the Hardship Fund, having been involved from its inception with Jill Young, CPC, CEDC, CIMC, and Judy Wilson, CPC, COC, CPCO, CPB, CPPM, CANPC, CPC-P, CDEO, AAPC Approved Instructor. Jeanne Gershman, CPC, CEMC, COC, CPB, has been the backbone of the Hardship Fund by making countless quilts to be raffled, with all proceeds donated to the fund. I have made so many valuable friendships through my involvement with the board that would not have been otherwise possible.
Love Sharing What I Know
Over the years, I have been a virtual instructor lead trainer (VILT), ICD-10 instructor, and workshop presenter for AAPC, and a conference speaker for AAPC, AHIMA, NAMAS, Decision Health, and AMBA. I consider it a great honor each time I am asked to speak. I love visiting local chapters, and now that virtual speaking is so prevalent (thanks, COVID), it is even easier to speak to chapters anywhere in the country!
If I could impart some advice to those new to the business side of healthcare, it is this:
Be patient — making it in this industry takes years of experience, so you might not work from home or have that dream job from the start.

Learn everything you can about the big picture.

Reputation is very important.

Be humble — you will always be learning.
Be honest — you get one chance at making a good impression.
Always have official guidance to back up your answers and don't be afraid to say, "I don't know, but I will find the answer for you."

Pay it forward and be involved — your local chapter will not survive without new blood.
Do be afraid to step up. If somebody had told me years ago that I would one day speak in front of large groups, write articles, and lead an incredible work team, I would have laughed at them. But I'm doing it and I love it; if I can do it, so can you! You are the only thing standing in your way.
Obtain credentials that are important to you and will enhance your area of expertise.
Always be positive — you never know who is watching/reading/observing and could be your next employment lead.

Be careful on social media — employers look at your behavior and attitude.
Be positive and support one another. There's enough negativity in the world already.
As I get older, I look around to see who will be the future of coding. There is a generation of coders who will soon be retiring, so don't get discouraged if you don't find a position right away; somebody will have to take over for us when we ride off into the sunset! I'll close by sharing my favorite quote and hope it inspires somebody like it has me: "If you think you can or you think you can't, you're right." (Henry Ford)
Latest posts by Brenda Edwards
(see all)
AAPC's Member of the Month: Brenda Edwards, CPC, CDEO, CPB, CPMA, CPC-I, CEMC, CRC, CPMS, CMRS, CMCS

- February 1, 2022

Clean Up E/M Documentation With SOAP

- July 2, 2021

Select the Right Episode of Care Every Time

- September 1, 2019