Take These Hypertension Resources to Heart
By Lee Fifield
February 1, 2022
Comments Off

on Take These Hypertension Resources to Heart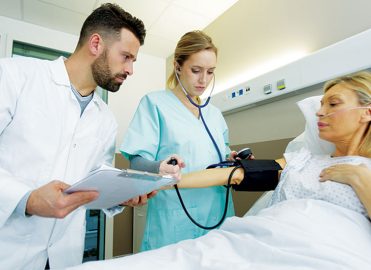 Help your patients win the fight against high blood pressure and heart disease.
February is American Heart Month — a time to focus on cardiovascular health. The term "heart disease" encompasses a range of cardiac conditions, including hypertension (also known as high blood pressure), a leading risk factor for heart disease and stroke, which are among the leading causes of death in the United States. Hypertension affects nearly half of the adults in the United States, and only one in four have their blood pressure (BP) under control. With so many patients living with this condition, it is important for providers and clinicians to have the resources they need to educate and treat those in their care. The following resources can help healthcare professionals raise awareness about the risks of high blood pressure with their patients and better support their community.
Try a New Toolkit
To support the frontline healthcare and community partners, the Centers for Disease Control and Prevention (CDC) has shared three toolkits with key hypertension control resources.
1. Clinical Resources Toolkit
This toolkit is designed for healthcare professionals and clinicians to support control of a patient's hypertension. It can be used to help implement protocols and improve health outcomes. The toolkit includes links to everything from improving medication adherence among patients to reducing their out-of-pocket medication costs, facilitating self-measured blood pressure (SMBP) monitoring, and physical activity and healthy eating resources.
2. Public Health Resources
Providers and clinicians are in the best position to raise awareness about controlling hypertension. The data, statistics, and strategies found in this toolkit can support their efforts to improve hypertension rates in their communities. It includes links to policy tools, maps and statistical reports, journal articles, and social communication avenues.
3. Resources for Individuals and Patients
The resources, strategies, and plain language materials in this toolkit can help anyone who works with patients with hypertension to communicate the consequences of high blood pressure and how they can take charge of their high blood pressure management. It includes printable and shareable handouts and information about high blood pressure in kids, teens, and pregnant women, as well as adults.
A Call to Action
You can use each of the CDC toolkits above to implement the evidence-based hypertension control strategies found in The Surgeon General's Call to Action to Control Hypertension, which outlines three goals to improve hypertension control across the United States:
Goal 1: Make hypertension control a national priority.
Goal 2: Ensure that the places where people live, learn, work, and play support hypertension control.
Goal 3: Optimize patient care for hypertension.
The first goal proposes to increase awareness of health risks, recognize economic burden, and eliminate disparities. The second goal seeks to promote physical activity opportunities, promote healthy food opportunities, and connect to lifestyle change resources. The third goal aims to use standardized treatment approaches, promote team-based care, empower and equip patients, and recognize and reward clinicians. Visit the CDC website to learn more.
Stay Million Hearts® Strong
Million Hearts® 2022 is a national initiative co-led by the CDC and the Centers for Medicare & Medicaid Services (CMS) to prevent 1 million heart attacks and strokes within five years. It focuses on a small set of priorities selected for their ability to reduce heart disease, stroke, and related conditions. The patient targets are:
20 percent reduction in average daily sodium intake
20 percent decrease in prevalence of combustible tobacco use
20 percent reduction in physical inactivity
Care targets include:
80 percent of patients 18 years or older with ischemic vascular disease use aspirin or another antithrombotic as appropriate
80 percent of patients ages 18 to 85 with a diagnosis of high blood pressure have it under control
80 percent of patients who need statin therapy receive it
80 percent of adult tobacco users receive counseling to help them quit
70 percent of eligible patients participate in cardiac rehab
The target groups for Million Hearts® include African Americans with high blood pressure, people ages 35-64, people who have had a heart attack or stroke, and people with mental and/or substance use disorders who use tobacco. Visit the Million Hearts® website to learn more and find a wide range of toolkits you can use in your practice.
Round Out Your Resources
The American Heart Association (AHA) also provides an array of provider resources, including a hypertension guideline toolkit and graphic charts on how to accurately measure BP and threshold recommendations for treatment and follow-up. They also provide a printable BP tracker and brochures and fact sheets in multiple languages.
Additionally, the AHA has formed Target: BP™, a no-cost national initiative in conjunction with the American Medical Association (AMA) that helps healthcare organizations improve BP control rates through an evidence-based quality improvement program. By joining, you receive access to program support; the latest guideline recommendations on diagnosis, treatment, and prevention; the SMBP program; and handouts, tools, fact sheets, podcasts, webinars, and videos on a range of BP topics. Currently, more than 1,000 organizations are part of this initiative.
Target: BP™ also offers an award-winning, 30-minute e-learning course on measuring BP accurately and consistently every time. The AMA recommends periodic re-training on the techniques of this crucial skill.
Educate and Eradicate
Hypertension is often called the silent killer because it has no obvious symptoms. Nearly one in three adults with high blood pressure aren't even aware they have it. Uncontrolled high blood pressure can lead to heart disease, stroke, and death. If your practice does not currently have a program in place to combat this deadly condition, now is the time. Take advantage of these and other resources to improve your patient education and treatment plans today.
---
Resources:
www.cdc.gov/heartdisease/american_heart_month.htm
www.cdc.gov/bloodpressure/CTA.htm
www.heart.org/en/health-topics/high-blood-pressure/high-blood-pressure-toolkit-resources
https://targetbp.org
https://millionhearts.hhs.gov/tools-protocols/tools.html
Latest posts by Lee Fifield
(see all)