Realize the Importance of Risk Adjustment Coders
February 1, 2022
Comments Off

on Realize the Importance of Risk Adjustment Coders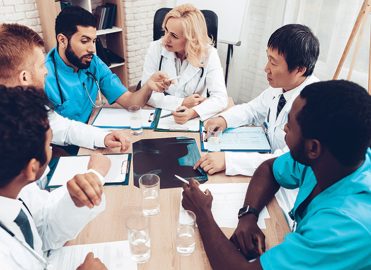 Know their role in helping healthcare providers improve the accuracy of patients' RAF scores.
In a risk-adjusted health plan, such as Medicare Advantage, funding for a patient's care depends on the documented diagnoses. All current diagnoses must be identified to the highest level of specificity. Missing or incomplete documentation will lead to negative outcomes that will affect the medical practice and patient alike. This article details how risk adjustment coders play a vital role in ensuring the quality of clinical documentation.
The Importance of Thorough Documentation
Medical care is complex and variable. Clinical documentation must be precise and paint a picture of the patient's status and treatment outcome. Documentation in the patient's medical record must be evaluated for completeness and accuracy, as well as meet the requirements set by payers to obtain proper reimbursement for services. The documentation must speak for itself without inconsistencies or conflicting outcomes.
Reporting all diagnoses is essential to establish the appropriate risk adjustment factor (RAF) for a patient, as the RAF score will determine the patient's potential healthcare needs in the future. Each current year's financial funding is allocated based on the previous year's documented diagnoses.
Bridge the Gap
Healthcare providers must make the Centers for Medicare & Medicaid Services (CMS) aware of all the patient's conditions and illnesses. Lack of clarity results in insufficient medical documentation. Great effort must be made to ensure that all pertinent information from the visit, including anything used to abstract diagnoses, should be documented in the notes to reduce the frequency of coder queries. And all diagnosis codes documented and submitted on a claim must be supported by the healthcare providers' clinical notes.
Most providers have an inherent knowledge of what should be documented based on clinical standards and do this reasonably well; however, there is often a gap between what's necessary clinically and what's needed to fulfill coding and medical necessity requirements. It's up to you as healthcare business professional to work with your provers to make sure they are aware of the details needed for accurate code selection and quality measure reporting purposes.
It's also important to recognize and consider the significant difference between regular outpatient coding and risk adjustment coding. A physician office's primary focus is typically the patient's chief complaint. In contrast, risk adjustment coding emphasizes not only the chief complaint but also the patient's chronic conditions because they affect the patient's overall health status, resource requirements, and clinician's decision-making surrounding the chief complaint. Failure to report a diagnosis skews the patient profile and negatively affects funding for the management of that missed diagnosis. This leads to limited resources for that patient's care.
Beware of Documentation Deficiencies
With the advent of electronic medical records (EMRs), many physicians assume that code selection is a simple process and that picking from a list is sufficient for accurate and compliant coding. Remember, providers are generally not coders and may not realize that there's more to documentation than picking from an EMR pull-down menu to code a patient's condition.
It takes a collaborative effort to make sure providers are not ignoring coding and documentation guidelines and that they're reporting all applicable diagnosis codes for each visit. Education is key to making sure providers clearly document relationships between conditions so they are not lost when coding, since coders cannot assume many cause-and-effect relationships when not well documented in the notes. Encourage providers to pay close attention to reports and diagnostic findings, as those reports are good sources of risk-adjusted diagnoses. Reporting those diagnoses is crucial to paint a complete clinical picture.
Ways Risk Adjustment Coders Can Help
In the risk adjustment system, coders are not submitting codes for services rendered. Instead, they are identifying all current active diagnosis codes to their highest specificity so that each patient's RAF score can be calculated correctly. Before submitting claims, the coder must ensure that healthcare provider documentation is valid and address deficiencies in the form of queries to improve documentation and RAF scores.
Risk adjustment coders can prove mastery of the subject by obtaining the Certified Risk Adjustment Coder (CRC®) credential and taking measures to improve their medical practice's RAF score. To that end, a risk adjustment coder might:
Educate healthcare providers about documentation and coding guidelines.
Ensure that all chronic diseases and conditions (risk-adjusted diagnoses) are documented at least once every six months.
Read all reports — lab, hospital, consultation, pathology, biopsy, imaging — to find new risk-adjusted diagnoses and querying about potential new diagnoses.
Use MEAT (Monitoring, Evaluating, Addressing/Assessing, Treatment) to ensure that the documentation supports every applicable risk-adjusted diagnosis for validation purposes.
Guarantee that the medical record is not conflicting, lacking specificity, incomplete, or ambiguous.
Ensure that the status of chronic conditions, clinical indicators, and management plans are noted in the documentation for support.
Ensure that each date of service documentation stands by itself.
It Takes a Team
Risk adjustment coders play a key role in educating providers. It is not acceptable to report ICD-10-CM codes without supporting documentation. The importance of consistent, complete documentation in the medical record cannot be overemphasized. Without such documentation, accurate coding cannot be achieved and funding for patient care will come up short.
Coders must find a way to approach each provider and be the driving force to bridge these gaps to provide accurate records and documentation of the care given. Provider education should be focused on double-checking for:
Chronic conditions they forgot to document
New risk-adjusted diagnoses found after reading reports
Documented conditions they did not support
Specific or appropriate codes they should use
Correct coding is a joint effort between physicians and coders. The primary focus of the physician is on the patient and the documentation that follows a visit, and the focus of the coder is on the abstraction of the documentation for coding and billing. One supports and reinforces the other. Risk adjustment coders are the final piece in the puzzle.
Latest posts by Yves-Edouard Baron
(see all)