Continuously Cultivate Your Coding Skills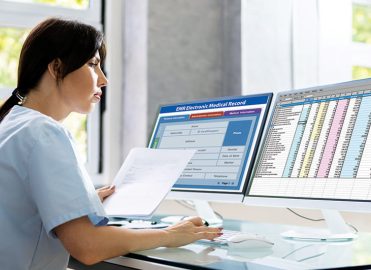 Know what it takes to abstract pertinent data from the medical record.
Medical coders are trained to convert patients' clinical data using a process called abstraction. This involves reading medical record documentation and searching for clinical concepts to gain a better understanding of a patient's illness and the treatment provided. Skilled coders are able to determine the proper diagnostic and therapeutic codes to report to paint a clear picture of the patient and their care and to maximize revenue. Abstracting codes from the medical documentation can be challenging but also very interesting — like an investigator searching for clues.
New and seasoned professional medical coders must have a growth mindset and deliberately concentrate on improving their critical thinking skills while striving to stay on top of national medical coding standards and regulations. The strategies outlined in this article will assist all types of medical coders in enhancing their knowledge base to augment the quality of their coding and billing skills.
Do Your Homework
Medical coders must be trained by educational institutions or organizations to learn ethics, coding regulations, conventions, CPT® parenthetical instructions, pathophysiology, and professional jargon, as well as specialty-specific coding rules and tips. There are 43 medical specialties and 12 body systems, and each category has coding regulations linked to disease and treatment codes, making medical coding a complex process with a vast scope of duties.
Medical coders who are assigned abstraction coding of a certain medical specialty should learn the related acronyms, specific clinical concepts, and treatments so that they can convert clinical documentation to the appropriate ICD-10, CPT®, HCPCS Level II, and ICD-10-PCS codes. Broadening medical coding knowledge increases a coder's expertise, reduces errors, and improves productivity.
Use These Abstraction Tips
Medical coding abstraction involves understanding the coding conventions of different medical specialties intertwined with related payer billing rules. Medical coders must realize that to survive and thrive in their career, they must enhance their critical thinking skills while using a computer-assisted coding (CAC) encoder. Care must be taken, as skimming the documentation to complete their work quickly may result in lower revenue collections and increased payer denials. Medical coders' critical thinking skills must be cultivated. Here are a few pointers to help improve abstraction abilities.
List all pertinent diagnoses documented by the physician. If a disease was present years ago, this should be in the past medical history (PMH) section of the medical record. Do not add past illnesses to the current claim unless they are related to the current health problem. Understand the importance of selecting present on admission on the inpatient status to determining the proper diagnosis related group (DRG) and major complication or comorbidity (MCC) codes. Proper sequencing of diagnosis codes is also important.
Do not abuse the Excludes1 rule; avoid redundancy by not listing diagnostic codes with the same meaning. For example, diagnosis codes H81.13 Benign paroxysmal vertigo, bilateral and R42 Dizziness and giddiness cannot be billed together on the same claim at the same time, nor can E21.0 Primary hyperparathyroidism and E83.52 Familial hypocalciuric hypercalcemia.
Encourage your physicians to document the specific stages or levels of disease for conditions such as pressure ulcers, hernias, hemorrhoids, chronic kidney disease, hypertension, heart failure, sinusitis, depression, Alzheimer's, asthma, sickle cell anemia, and burns. Astute medical coders can correctly abstract detailed disease codes from the provider's documentation.
Try to avoid using unspecified diagnosis codes in the outpatient setting. Work with your providers to ensure their documentation is specific. It's important to include laterality in the documentation or funds may be lost.
Some facilities require medical coders to do more than just abstract clinical data; they may have to check for correct charges and ensure accuracy of input, as well. These coders need to be familiar with their electronic health record (EHR) system operations to reduce workflow stoppages.
Only add chronic/co-existing conditions or diagnoses from the PMH if warranted per the medical record when related to the patient's current illness. Understanding the acronyms and medical terminology used by the different medical specialties is very helpful, too.
You can report diabetes mellitus more than once if it defines different comorbidities or sequela such as neuropathy or retinopathy. Check whether the patient is on medication or insulin and add Z79.84 Long term (current) use of oral hypoglycemic drugs or Z79.4 Long term (current) use of insulin, as appropriate.
In the ICD-10-CM Table of Neoplasms, there is a secondary list of diagnosis codes based on the body area affected by the new cancerous growth. You still can use C79.89 Secondary malignant neoplasm of other specified sites, which defines metastasized growth of cancer when the location is unknown, but it's better to specify an exact anatomical location when possible.
If a patient who is pregnant is treated for a current illness not related to pregnancy, ensure the incidental Z33 diagnosis code is added. Also, if the patient is pregnant, do not use the body mass index codes.
There is no listing of "white coat syndrome" in the ICD-10-CM code book. It is a colloquial term used to describe high blood pressure due to nervousness secondary to interacting with a physician. Alternatively, you can report R03.0 Elevated blood-pressure reading, without diagnosis of hypertension and/or F40.232 Fear of other medical care.
Understand the acronyms MEAT (Monitor, Evaluate, Assess, Treat), TAMPER (Treatment, Assessment, Monitor, Plan, Evaluate, Referral), and SOAP (Subjective, Objective, Assessment, Plan). These physician medical decision-making guides can help coders when abstracting clinical documentation.
Pay Attention to Details
Physicians need to be "thinking in ink." They must be descriptive and detailed regarding current and chronic conditions, past medical history, stages of illnesses, sequela, and complications to facilitate medical abstraction and selection of the correct diagnosis codes. Providers and medical coders' critical clinical thinking involves being aware of the coding conventions associated with various healthcare settings and medical specialties. The medical coder's job is to assign diagnosis and treatment codes and to be as specific and detailed as possible based on clear presenting data. However, medical coders should not decipher, but only use the provider's assessment and their comments on the patient's medical problems. Other medical coder roadblocks can be workflow interruptions or stressful burnout.
Physician practices and healthcare organizations need skillful medical coders to abstract and verify the CAC encoder system suggestions. They need to be able to identify when a provider may have put the diagnosis codes in the wrong order of priority, mistakenly added a cured past illness as the current diagnosis code, or used different verbiage from common medical terminology or scientific terms.
There will also be times when the CAC is not able to identify contradictions in documentation, which may cause it to erroneously suggest a diagnosis code for a condition that is resolved or an incorrect disease stage or level. This is where the medical coder's experience comes into play and why continuous cultivation of a coder's skills is so important. This skill enables coders to apply ICD-10 coding conventions and instructions and CPT® parenthetical rules to properly assign codes from the documentation, taking into consideration the coder's work environment and department coding protocols. Thus, a medical coder's workflow activity goes beyond simply ogling documents; coders must be able to glean a patient's clinical story from the available documentation.
Be a Lifelong Learner
The following quote by famous author Clarence Shepherd Day can be applied to the ergonomics of medical coding. Day stated, "There is an art to reading, as well as an art to thinking." His quote has meaning for skillful medical coders. Medical coders are lifelong learners who strategize to pursue on-the-job knowledge using discernment to remain enthused. A medical coder's abstraction discernment involves analyzing, concentrating, recalling, and using logic when reading a provider's documentation.
Great coders comprehend clinical data and coding regulations and are able to maximize effectiveness by using technological tools such as a CAC encoder. Specialized knowledge is crucial to discern errors, discrepancies, and inaccurate notations because physicians and medical coders need to speak the same language. Medical coders' abilities are maintained by making informed, skillful decisions while completing medical coding abstraction. Using CAC-operated processes is of the utmost importance, as is staying abreast of the trade journals, attending coding seminars, and utilizing code books and work meetings, all of which enhance a medical coder's career and abstraction abilities.
Latest posts by Tamara Thivierge
(see all)