AAPC Planning Great Things for Members
March 2, 2022
Comments Off

on AAPC Planning Great Things for Members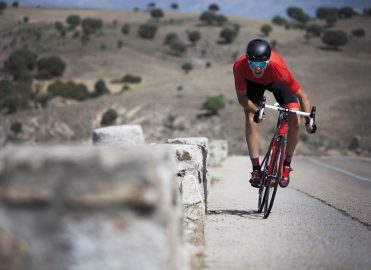 Credentialing, training, resources, business solutions … what's next, job recruiting? Hmmm.
AAPC's Social Hour host and marketing communications director Alex McKinley interviewed CEO Bevan Erickson, Feb. 23, about the past, present, and future of the world's largest training and credentialing organization for the business of healthcare. What began as a casual chat about the weather on Facebook Live turned into metaphoric symbolism for AAPC's success and Erickson's plans for bringing members along for the ride.
"You may not know this, viewers, but one of Bevan's favorite hobbies is cycling," McKinley revealed. He asked Erickson if he'd been out riding lately. Erickson said that in the winter he uses an indoor trainer, tied to a platform that allows him to compete against other cyclists virtually. "If you don't perform well in the real world, you're not going to perform well in this virtual world," Erickson said. And vice versa, no doubt.
It's all about the challenge for Erickson, in play and at work. "I'm always interested in doing things that are difficult because that's where you grow. You go from performance mode to training mode," he said.
Always in Training Mode
Erickson has been with AAPC since 2006, and he has been giving AAPC a workout from the get-go, or maybe it's the other way around — either way, neither have been stagnant.
He said about the healthcare industry, "We're in a challenging, complex industry. It's an extremely complex, big, bureaucratic, slow-moving but still changing and evolving industry, and if we don't evolve and move with it, it's going to be impossible to keep up."
Sort of like riding a bike. You work hard to get up a hill but if you coast once you get there, you'll never make it up the next hill; you have to keep peddling or you'll start to roll backward, and everyone will pass you by.
Erickson understands this philosophy very well and his goal has always been to keep AAPC moving forward. Among other things, he was instrumental in developing AAPC's website and the CEU Tracker. He also helped develop the member forums as a means for members to communicate and network with each other.
"We're still trying to figure out on which platform members most want to spend their time," he said. He admits it's hard keeping up with society's fickle use of social media and being present on every platform.
Preparing for the Road Ahead
Technology is a worthy rival in the pursuit of advancement, but Erickson is committed to not letting AAPC fall behind. He talked about some of the things AAPC has going on behind the scenes that will ultimately benefit members such as implementing a content management system. "The platform built in 2007-8-9 is not adequate for the growth AAPC is experiencing today," he said. AAPC has more than 215,000 members and is in 50 countries.
To accommodate a diverse membership, AAPC has many new product and service offerings lined up; exams are being transitioned from bubble sheet to multiple choice; the company developed an online exam framework; new assessment engines are in development; the concept of tiered memberships is being considered, and much more.
Unlike the healthcare industry, which is famously slow to adopt technology, AAPC has been racing ahead. The company itself operates on a global level and employees are accustomed to collaborating virtually. Having this technology already in place allowed the company to switch gears quickly when the public health emergency (PHE) for COVID-19 shut down all in-person venues in 2020 to convert HEALTHCON 2020 into a virtual event. It also enabled them to roll out the online exam for the Certified Professional Coder (CPC®) credential in less than three months. If they had not already had the technology in place, it would've been a different story. "We would've never pulled that off," Erickson said. The online CPC® exam has been so well-received, AAPC plans to roll out more online certification exams soon.
AAPC was also able to keep chapter meetings going during the PHE through a virtual platform. A happy result has been an increase in participation. In 2006, more than 20 percent of membership attended chapter meetings, but prior to the PHE that number was down to 7 percent. Participation is now up to about 12 percent. This is still shockingly low, however, for such an invaluable member benefit.
Fit and Trim, Inside and Out
As hard as AAPC has been working to modernize infrastructure that members don't see, they've also been working on what members do see. Their website recently underwent a reorganization and a new AAPC color palette and logo were revealed. This sort of redesign work is necessary to keep up with the times.
The last redesign of the logo was in 2006, which received an update in 2010. You'll see more branding changes throughout the year, and merchandise will feature the new logo and color palette. The member magazine, Healthcare Business Monthly, will likely get a makeover as well.
On the Path to Success
One of the great things about AAPC is how in touch with their members they are and how closely they listen to them. What they hear most is the familiar question, "I can't get a job without experience, but I can't get experience without a job." That is a conundrum not limited to medical coders. AAPC offers a number of products and resources to help newly-certified members get experience and find jobs (e.g., Project Xtern, Practicode, and Job Search), and they're looking into taking this assistance to a whole new level through career pathing.
"We have been really trying hard to better support the full pathing of individuals who come to AAPC," Erickson said. Career pathing would entail AAPC leading individuals through their entire journey, from student, to training, to taking the exam, to getting a job, to advancing their career. "This is somewhat unique to an organization that initially started to recognize professionals and medical coders in healthcare, but was built around a single certification and was not heavily focused on the training front," he said.
Surprisingly, less than 15 percent who get certified by AAPC are trained directly through the company, "and yet the outcomes are so much better," Erickson said. Data show that test-takers are three times more likely to pass the exam when trained by AAPC directly rather than through a third-party organization or school.
Erickson is keen on helping more people use AAPC's curriculum and assisting third parties to use it, too, so students are more prepared to sit for the exam. "The worst thing you can do is have someone spend a bunch of money to go through a training course and they have only a 27 percent chance of passing the exam," Erickson said.
AAPC is also looking into recruitment staffing — a giant leap beyond the Practicode Employee Assessments service they currently offer.
Looking Ahead
Cyclists know how important it is to stay focused on the road ahead, and Erickson applies this practice to business by always watching for trends. What's coming around the bend? McKinley asked if it was ICD-11. Erickson said that's probable, "but if ICD-10 is any indication, we're still years away."
What he's watching right now is healthcare becoming the largest employer in the country. And baby boomers are driving the need for cost containment, which is driving the migration from inpatient to outpatient and physician practices to health systems. Telehealth is another driver to watch, as are value-based payment models, population health, and automation.
"The best thing a medical coder, biller, or healthcare administrator can do is stay on top of what's going on, and that's tough, but that's why we have conferences and chapter meetings," Erickson said. "Those members who stay closest to business keep up with it; those who don't, I don't know how you keep up."
To keep up with the healthcare sector, AAPC is focusing on four growth factors, Erickson explained: Role diversification; product development; geography; and subscription expansion. Customer service is high on the list, too. To that end, the company is "hiring like crazy" to onboard talent to produce all the content and infrastructure needed to expand services.
Lastly, AAPC is looking to improve the member experience by shifting focus on organizations that are employing their members instead of just the individuals.
"Once you get the job, the employer should be paying for that continued education (software, services)," Erickson said, "But there is still a lot of employers that don't think of AAPC as anything more than the certification body that supported the AAPC coder to come work there. And yet, we offer benefits and services to help those organizations, which ultimately help the individuals work there — and those our are members."
Watch AAPC's Social Hour on Facebook Live every second and fourth Wednesday for more intriguing talks and interviews among industry stakeholders.
Latest posts by Renee Dustman
(see all)