Differentiate RSV From COVID-19
In Coding
April 1, 2022
Comments Off

on Differentiate RSV From COVID-19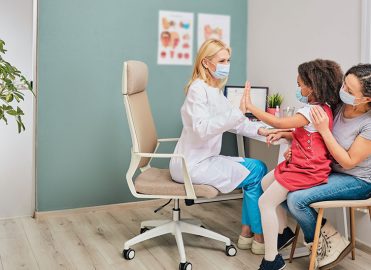 Proper coding for respiratory infections in infants and children is in the details.
These days, many might assume that if a child suddenly develops a fever and cough, COVID-19 is to blame. But a surge in cases of respiratory syncytial virus (RSV) throughout 2021 — particularly in kids — has made it hard to know for sure. So how can you tell RSV from COVID-19? Here's what you need to know to understand and code these illnesses and associated conditions.
Coronavirus vs. RSV
COVID-19 and RSV are highly contagious respiratory infections caused by viruses: COVID-19 by SARS-CoV-2 virus and RSV by respiratory syncytial virus. Symptoms can be very similar and overlap each other. Both can cause fevers, coughing, shortness of breath, runny nose, sore throat, and headaches. But RSV does not have some of the gastrointestinal symptoms, such as vomiting, diarrhea, and abdominal pain, seen in children with COVID-19.
RSV is a highly contagious lower respiratory tract infection that is most common in young children, especially premature infants and children who have an underlying lung disease, heart disease, or a compromised immune system. Furthermore, infants and children with severe underlying cardiopulmonary disease (e.g., bronchopulmonary dysplasia, cystic fibrosis, interstitial lung disease, or hemodynamically significant congenital heart disease) are at high risk for complications. Infants with any of the following characteristics are candidates for prophylactic palivizumab:
Hemodynamically significant heart disease
Chronic lung disease of prematurity (prematurity defined as younger than 32 weeks and zero days of gestation)
Infants born before 29 weeks of gestation who are younger than 12 months at the start of the RSV season, which is generally in the fall, although seasonality may vary by geography
Very young infants (younger than three months) and infants born at less than 32 weeks of gestation, as they are at higher risk for severe disease
Signs and symptoms indicative of RSV:
Infants may present with:
Short, shallow, and rapid breathing
Struggling to breathe
Cough
Poor feeding
Unusual tiredness
Irritability
Children typically have:
Congested or runny nose
Dry cough
Low-grade fever
Sore throat
Sneezing
Headache
Symptoms that are indicative of RSV infection generally appear four to six days after exposure to the virus. Documentation of suspected cases needs to be clear so the correct symptom codes can be captured.
Children and infants with COVID-19 may present with a range of symptoms including:
Fever/chills
Cough that becomes productive
Changes in the skin such as discolored areas on the feet and hands
Sore throat
Gastrointestinal symptoms such as nausea, vomiting, abdominal pain, or diarrhea
Muscle aches and pain
Extreme fatigue
New loss of taste or smell
New severe headache
New nasal congestion
Again, documentation needs to be clear for suspected cases so the correct symptom codes can be captured.
Documentation Matters
The reason why documentation is so important for both of these respiratory viruses is that both have lasting effects in infants and children. Some epidemiological data suggest that RSV infection in the first three years of life is associated with long-term respiratory morbidities such as recurrent wheezing and asthma, decreased lung function, and possible allergic sensitization.
Related research on infants and children with COVID-19 suggests the presence of long-term symptoms such as tiredness, fatigue, headaches, trouble sleeping, trouble concentrating, muscle and joint pain, and coughing. These conditions can affect a child's daily ability to function normally. To keep track of the patient's history, chart documentation should include a list of these signs and symptoms to help with correct diagnosis and care management.
Coding Considerations
Coding for RSV may include B97.4 Respiratory syncytial virus as the cause of diseases classified elsewhere. You are instructed to code first related disorders such as otitis media (H65.-) or upper respiratory infection (J06.9). There is an Excludes1 note for acute bronchiolitis due to RSV (J21.0), acute bronchitis due to RSV (J20.5), and RSV pneumonia (J12.1).
ICD-10-CM code U07.1 COVID-19 is used to report current and confirmed coronavirus infection. Use additional codes to identify manifestations such as pneumonia due to SARS-associated coronavirus (J12.81) or pneumonia due to COVID-19 (J12.82).
For acute bronchitis due to COVID-19, report U07.1 and J20.8 Acute bronchitis due to other specified organisms. For COVID-19 associated with lower respiratory infection, report U07.1 and J22 Unspecified acute lower respiratory infection. Report acute respiratory distress syndrome (ARDS) due to COVID-19 with U07.1 and J80 Acute respiratory distress syndrome. Report acute respiratory failure due to COVID-19 with U07.1 and J96.0- Acute respiratory failure.
Clinical Documentation Must Be Specific
Clinical clarification is key when reporting RSV and COVID-19. Documenting cases confirmed by testing should be clear in the medical record for accurate reporting. If a diagnosis has not been confirmed, all signs and symptoms should be reported to the highest level of specificity. Our goal as healthcare business professionals is to work with our providers to educate them on the importance of clear and specific documentation of these types of viruses to ensure proper reporting and treatment of the patient.
---
Resources:
www.ncbi.nlm.nih.gov/pmc/articles/PMC5446364
www.mayoclinic.org/diseases-conditions/coronavirus/in-depth/coronavirus-in-babies-and-children/art-20484405
www.bannerhealth.com/healthcareblog/teach-me/why-the-respiratory-disease-rsv-is-rising-in-children
www.mayoclinic.org/diseases-conditions/respiratory-syncytial-virus/symptoms-causes/syc-20353098
www.clinicalkey.com/#!/content/clinical_overview/67-s2.0-a3d78024-31ee-42c4-a5c7-850e37a41fad#toc-1
Latest posts by Shontia Leon-Guerrero
(see all)