Do I Bill Medical or Dental?
In Billing
April 1, 2022
Comments Off

on Do I Bill Medical or Dental?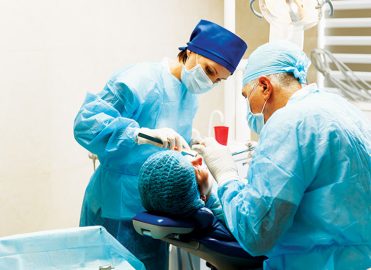 Coding solutions for when the two worlds collide.
The Affordable Care Act requires medical coverage of certain preventative services for children, which includes an oral health risk assessment, fluoride varnish (up to age 6), and fluoride supplementation. A medical provider who sees a child for a well-child visit may use a Caries Risk Assessment Tool (available from the American Academy of Pediatric Dentistry and American Dental Association) to screen for caries risk, apply fluoride varnish, and then prescribe fluoride supplementation if the patient's water source is deficient. Let's consider how to bill for such a service.
Common Dental Work Billed as Medical
The provider would be able to bill CPT® 99188 Application of topical fluoride varnish by a physician or other qualified health care professional and 96160 Administration of patient-focused health risk assessment instrument (eg, health hazard appraisal) with scoring and documentation, per standardized instrument in addition to the evaluation and management (E/M) code in this scenario, using one of the applicable ICD-10-CM Chapter 21 codes (Z29.3, Z00.121, Z00.129, Z91.841, Z91.842, Z91.843, or Z91.849). The provider may also bill 99429 Unlisted preventative medicine service or 99499 Unlisted evaluation and management service when appropriate if further oral health services such as visual oral screening via knee-to-knee exam is provided.
Best practice is to establish a protocol for referring patients without a dental home model (particularly patients found with high caries risk) to a nearby dentist or pedodontist.
Other procedures frequently performed by both medical and dental providers include the labial frenotomy (40806), excision of the frenum (connective tissue), labial (lips), or buccal (cheek) (40819), lingual frenotomy (41010), and lingual frenectomy (41115). These procedures may be performed to correct conditions such as tongue-tie (Q38.1 Ankyloglossia) or hypertrophy of the maxillary frenulum (K13.0 Diseases of lips) to enable an infant to breastfeed. Frenectomy may also be performed for orthodontic purposes.
While these procedures are easily recognized as being billable to medical, there are many services provided in the dental setting which are also billable to the patient's medical plan.
Not-so-common Dental Work Billed as Medical
For example, most medical plans provide coverage for dental care needed as the result of an accident or trauma. A patient who was skiing, hit another skier, and received a mouth injury may be able to have any dental care related to the accident covered under their medical plan; this might include laceration repair, exam, radiographs, endodontics, extraction, implant placement, splinting of avulsed teeth, etc.
Additionally, care related to pathology is often covered by medical. For example, a patient discovers a suspicious lesion in their mouth, sees their regular dentist for an exam, and has it biopsied. This encounter may be covered by the patient's medical plan. Other oral surgeries, such as the removal of impacted wisdom teeth, removal of tori (excess bone), incision and drainage of an abscess, and post-cancer reconstruction, also may be covered, depending on the patient's health insurance policy.
Sleep apnea devices made by a dentist may be able to be billed to a medical plan, as long as the policy requirements of sleep study, documentation, and prescription/order are all met in compliance with the health plan's policy. Temporomandibular joint (TMJ) disorder care is oftentimes specifically covered or not covered in medical policies. Best practice is to always call the payer to verify coverage of services prior to initiating care.
Coding Dental Care Using CPT®
Once a service has been identified as covered under the patient's medical plan, the next step is identifying the appropriate CPT® coding. There are some dental procedures that will be described by a CPT® code without issue, but many procedures will fall to 41899 Unlisted procedure, dentoalveolar structures.
Some payers prefer a CDT code on the CMS-1500 claim rather than a CPT® unlisted code, as the CDT code will provide more information about the procedure performed. Call the payer to verify whether they accept CDT codes to determine which code to submit.
In the event that an unspecified code is submitted to medical, supplemental information will need to be submitted with the claim that creates a link from the procedure to the unspecified code.
Billing Dental Care Using CMS-1500
If the patient also has dental insurance, that information must be provided on the CMS-1500 claim form in boxes 11d, 9, and 9a. Most payers will request additional documentation when processing medical claims submitted by dental providers. It's sometimes beneficial to submit additional clinical notes with the claim initially; however, they may ask for it again.
Once the payer has processed the claim and you have the explanation of benefits (EOB), it's time to bill the dental plan. Submit only CDT codes on the 2019 ADA claim form and append the same ICD-10-CM codes on the ADA claim form as were included on the CMS-1500 claim form, even if the payer does not require diagnosis codes at this time.
Enter the medical plan's information in boxes 4-11, marking the Medical box in line 4. In box 35 Remarks, state how much primary medical paid, and reference the attached EOB and narrative. Check box 39 to indicate enclosures are attached. Append the EOB and write a letter describing any cross-codes from CPT® to CDT, if there are any. For example: "CPT 70355 Orthopantogram (eg, panoramic x-ray) was submitted to primary insurance. This line correlates to the CDT code D0330 Panoramic radiographic image for coordination of benefits purposes."
Tips of the Trade
Coordination of benefits between medical and dental insurance for these services can be challenging, particularly when there are two payers (or more) involved. The more information you can provide to the secondary insurance to decipher the correlating codes, the better. As medical plans begin to recognize the systemic health benefits of oral healthcare, I foresee that more dental care may be covered under medical policies. If treating periodontal disease can help a diabetic patient with their glycemic control, it's to the medical insurer's benefit to cover that care. As coders, we need to anticipate these types of changes to best prepare for the ever-changing world of medical coding and billing.
Latest posts by Angela Wubben
(see all)