Looking Back on 2021 E/M Challenges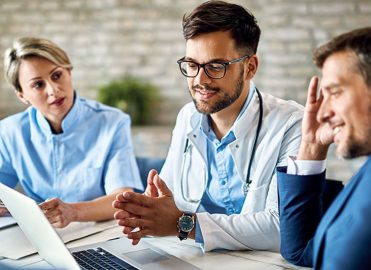 Study shows physicians and medical coders are struggling with accuracy rates and other challenges.
Wow! I can't believe it's already been a year using the 2021 evaluation and management (E/M) services guidelines for office or other outpatient visits. It seems like yesterday we were all scrambling to prepare our physicians, coders, and billing staff for the changes to come. My, how time flies!
As I look back throughout the year, it's been somewhat of a roller coaster ride as I have reviewed audit results with coders and physicians across the country. Early in the year it became apparent that the saying "old habits are hard to break" is true. There was one orthopedic physician who stands out in my memory. This was the first audit we performed for this physician applying the 2021 E/M guidelines. His overall E/M accuracy rate was 70 percent, resulting in a 30 percent error rate due to under-coding of new patient E/M services. After reviewing the results and training on the new guidelines, he rebutted, "It doesn't feel right to bill a level four when I didn't perform a comprehensive examination."
Well, of course it doesn't feel right! After 27 years of documenting and coding to the 1995 and 1997 E/M guidelines, it's going to feel uncomfortable applying the new guidelines. When we think, feel, and do things in a particular way over time, habits form, not only in our behavior but in our physical memory system … which we often call "autopilot."
As managers and directors, we cannot expect our physicians and coders to change these habits overnight. It's hard to take ourselves off autopilot. Habits take practice and repetition to form, and the same is true when it comes to changing them. Understanding the impact of the 2021 E/M changes in your practice is important to your success, which is why I want to share with you a case study we have been monitoring since July 2020.
Case Study
Background:
A large hospital system with more than 6,000 physicians in all specialties partnered with AAPC Services to discover how the 2021 E/M guidelines would impact their organization. AAPC Services performed three different audits spanning from July 2020 to July 2021 and monitored results closely. In advance of each of the audits, rigorous clinical documentation training based on the 2021 E/M guidelines was provided to their physicians and other non-physician providers.
For each of the audits, every provider received individual results for their 2021 E/M coding accuracy. In addition to the individual provider impact, AAPC Services provided a summary of the overall E/M comparison and financial impact by practice, which assisted the organization in knowing which providers and/or practices to focus additional trainings and root cause analysis on.
Pre-Go-Live Audit:
Simultaneously with its regular compliance audits, AAPC's team of auditors applied the 2021 criteria and identified what level of accuracy the E/M levels would be and if there would be any over- or under-coding opportunities based on the current documentation.
Since office visit code levels can be assigned using either medical decision making (MDM) or time using the 2021 E/M services guidelines, both calculations were applied to ensure best results.
A standard sample size of 10 dates of service for each provider was used.
Results:
77% Correct
13% Over-coded
10% Under-coded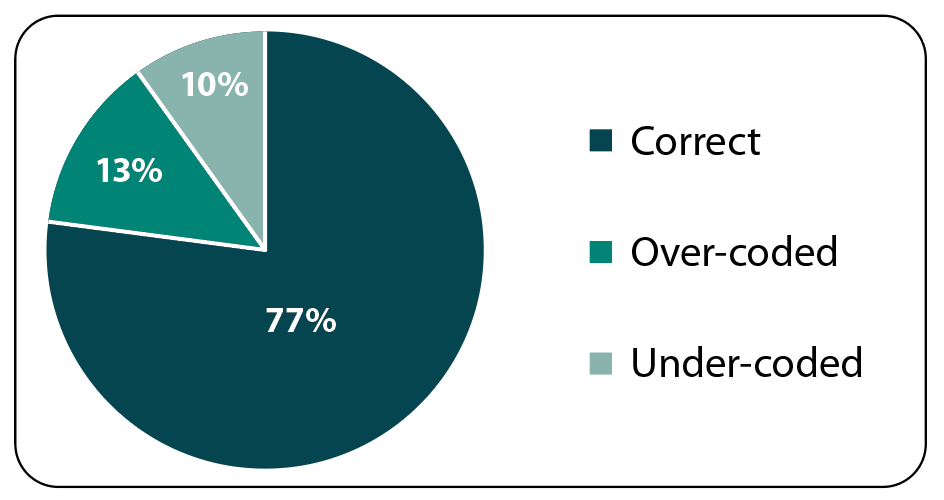 The results in the pre-go-live audit demonstrated that the guideline changes resulted in a lower accuracy rate due to both over- and under-coding, ultimately impacting reimbursement.
MDM Impact
The impact proved to be greatest with the specialty practices. AAPC Services found that many of the reported 99204 and 99214 codes supported 99205 and 99215 E/M services using the 2021 calculation. Additionally, many 99212 codes supported a moderate MDM, resulting in a 99214 visit.
The impact was lower with primary care providers. A new problem to the examiner requiring prescription drug management would no longer automatically support a moderate level of MDM. The change in the definitions of the acuity of the problem (acute and chronic) now defines the complexity of the problem(s) addressed rather than being a new or established problem to the provider.
Time Impact
For specialties, the case study found many instances in which the total visit time was not documented; however, based on clinical notes, providers had spent significant time with the patient and reviewing old records.
Post-Go-Live Quick Check Audit:
In March 2021, AAPC's team of auditors performed an E/M quick-check audit on all physicians within the organization. The focus audit included a review of only office visit E/M services and no other compliance elements. The sample size was also lowered to five dates of service per provider.
Results:
77% Correct
4% Over-coded
19% Under-coded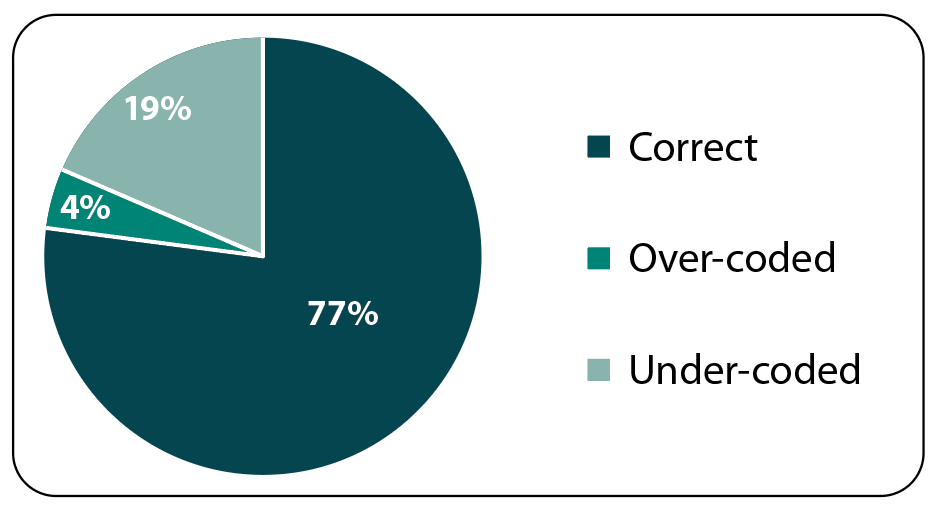 The overall accuracy rate stayed the same despite proactive training and the comparison pre-go-live audit. AAPC Services found that providers were still afraid to rely on their clinical judgment when selecting an E/M service level, often second-guessing themselves, resulting in a huge swing of the pendulum to under-coding.
MDM Impact:
The nearly 20 percent of under-coded services were profoundly apparent in specialties such as dermatology, orthopedics, rheumatology, and podiatry. These are the specialties in which a new patient comprehensive examination was not likely based on the 1995 or 1997 E/M guidelines. Most of the under-coding occurred with levels 99203 and 99213 services, for which the documentation of the patients' acuity and risk for complication and/or morbidity supported a level 4.
Time Impact:
The case study found ongoing issues with lack of documentation for total visit time. When total visit time was used for the E/M service leveling, the documentation often did not include a carve-out for procedures or other services performed on the same day.
Subsequent Compliance Audit:
For the third round of auditing, AAPC's auditors performed a standard compliance audit for each provider. The audit included a review of all reported codes and other compliance elements. The sample size included 10 dates of service per provider.
Results:
86% Correct
5% Over-coded
9% Under-coded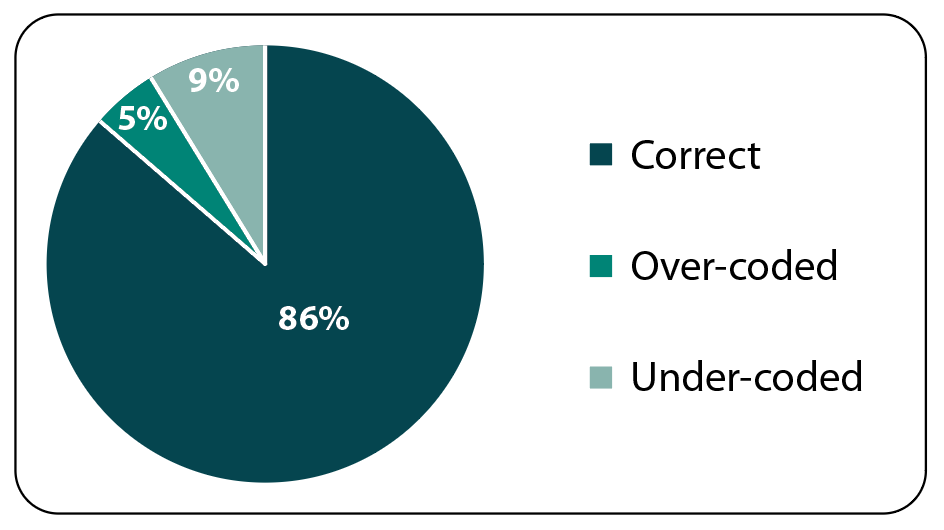 The case study found, after multiple audits and intense post-audit education, that accuracy rates were finally improving. The gap with over- and under-coding errors had begun to narrow. However, opportunities for improvement were still present and will need to be closely monitored into the future.
MDM Impact:
Results showed that many providers were considering only one element of MDM when selecting the E/M service level. Data reviewed and analyzed elements were often not considered towards the MDM level. This trend was most notable with urgent care, pediatric, and specialty practices.
Time Impact:
The impact proved an increased use of total visit time for level of the E/M service; however, there was still the issue of documentation lacking evidence of time carved out for procedures and/or other services performed on the same day. Additionally, when documentation of total visit time exceeded the maximum time for the level 5 visit, the prolonged code (99417 or G2212) was not billed.
I am seeing similar results with many other organizations. In 2021, my team of auditors conducted audits for all types of organizations and specialties across the country, reviewing over 300,000 medical records. By the end of 2021, overall E/M coding accuracy rates topped off at 81 percent, while prior to 2021, E/M coding accuracy rates hovered around 91 percent. After analyzing the data and meeting with physicians and coders, common challenges emerged.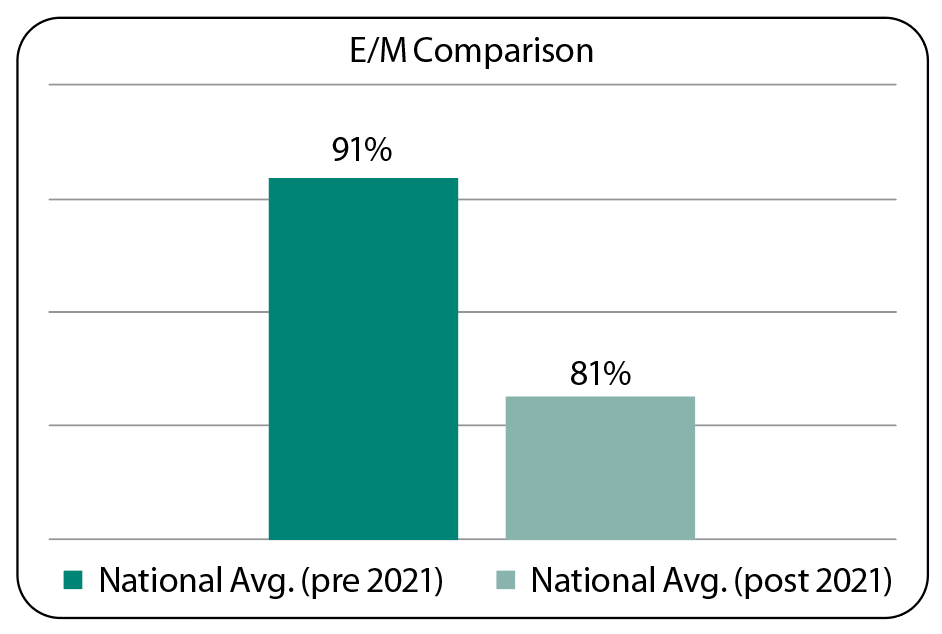 Common Challenges
Hesitation to Upcode
Time and time again providers are hesitant to upcode their E/M service levels stating, "I have never billed a level 4 for this type of visit" or "How can this be a level 4 when my history and examination are not comprehensive?" This is clear evidence of those habit-forming memory systems kicking in. As managers and directors, it's our responsibility to help our providers navigate the complexities of documentation and coding requirements and to do it with confidence.
Hesitation to Think Clinically
Coders are not immune to challenges with the new 2021 E/M services guidelines. Some struggle to change their way of coding to a more clinical approach in selecting the MDM level. They still want to look for words to put into checkboxes. Those pesky habits are hard to break! Many coders are hesitant to think clinically, saying "We are not physicians." While it's true medical coders cannot assign a patient a diagnosis nor interpret a diagnostic test, we can all agree that a coder's job is to find evidence to support billing for the services rendered. This process is like a puzzle with the pieces strewn across the table and the coder connecting the pieces to create a picture. Through this process, a coder can gather documented evidence of severity and risk, make correlations from the history to the exam, and link to the physician's final assessment and plan.
Hesitation to Not Document
Another common challenge is the hesitation to not document. Remember the orthopedic physician I mentioned earlier? Far too often providers are still focusing on documentation — making sure they include at least history of present illness (HPI), family history for the 90-year-old patient, and a comprehensive examination — rather than just documenting the elements that are medically necessary and relevant to the care of the patient. Medical record documentation needs to create an accurate picture of the provider's visit with the patient so others can comprehend what occurred.
Not Documenting Enough
Not documenting enough is also occurring. Some providers have embraced the initiative to "lighten the documentation burden" and are not documenting an HPI or an interval history. These are key puzzle pieces that a coder, other physicians, and payers need in order to see the picture of the visit and to get a clear understanding of the patient's condition to support the overall MDM. The reasons why clinicians document into a medical record are the same; the general principles for documenting in the medical record did not change with the 2021 office visit E/M guidelines.
The Solution
In an industry that thrives on perfection, there's lots of room for improvement. Changing our old E/M service documentation and coding habits is not a simple matter of stopping and doing things another way. We must equip our physicians and coders with the knowledge and tools to adapt the way they think, feel, and code for outpatient office services.
The solution is simple: Build an E/M service audit program that educates and provides one-on-one feedback to each physician and medical coder. A cycle of audit, education, and re-audit may seem repetitive, but AAPC Services has demonstrated profound benefits in doing so. Our case study has proven that small, frequent audits reduce errors and increase accuracy of claims submissions. It takes time to see the impact your audit program has on your organization; however, with dedication and constant analysis of your audit results, improvements with your workflows, clinical documentation, and coding will be inevitable. It's important to look both at short-term and long-term goals as your organization strives for perfection!
Latest posts by Stephani Scott
(see all)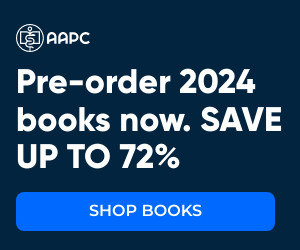 5 Responses to "Looking Back on 2021 E/M Challenges"