OIG Releases Medicaid Fraud Annual Report
By Lee Fifield
In Billing
March 23, 2022
Comments Off

on OIG Releases Medicaid Fraud Annual Report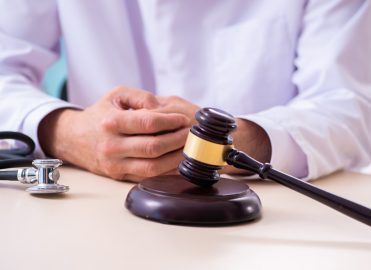 Medicaid Fraud Control Units recovered $1.7 billion in fiscal year 2021.
Reducing Medicaid fraud is a top priority for the U.S. Department of Health and Human Services Office of Inspector General (OIG). Every year Medicaid Fraud Control Units (MFCUs) in all 50 states investigate and prosecute Medicaid provider fraud and patient abuse or neglect under the OIG. On March 15, the OIG released its Medicaid Fraud Control Units Fiscal Year 2021 Annual Report.
In the report, the OIG analyzed the annual statistical data on case outcomes (including convictions, civil settlements, judgments, and recoveries) that 53 MFCUs submitted to OIG for fiscal year (FY) 2021. Let's tale an overall look at the changes since last year.
Total Convictions
MFCUs reported 1,105 total convictions in FY 2021 — an increase from 1,017 in FY 2020. This resulted in 780 convictions for fraud and 325 convictions for patient abuse or neglect.
The OIG imposed 1,689 exclusions from participation in federally funded healthcare programs on individuals or entities in FY 2021 based on convictions. MFCU cases were responsible for 540 of these exclusions. Of note:
Convictions for fraud involved more personal care services (PCS) attendants and agencies than any other provider type. In FY 2021, fraud convictions involving PCS attendants and agencies accounted for 42 percent (329) of the total 780 fraud convictions.
Convictions of personal care aides/home care aides accounted for 21 percent (69) of the total 325 convictions for patient abuse or neglect.
Convictions related to drug diversion increase slightly from 146 in FY 2020 to 155 in FY 2021, with associated criminal recoveries totaling $1.87 million.
Crime Recoveries
Reported criminal recoveries by the MFCU increased significantly from $173 million in FY 2020 to $857 million in FY 2021. The increase in criminal recovery amounts in FY 2021 was primarily the result of cases prosecuted by MFCUs in the States of Virginia and Texas. Those MFCUs reported a combined $714 million in criminal recoveries; approximately 83 percent of the total reported criminal recoveries.
Civil Settlements and Judgements
The total number of civil settlements and judgments decreased from 786 in FY 2020 to 716 in FY 2021. Similar to FY 2020, more civil settlements and judgments involved pharmaceutical manufacturers than any other provider type in FY 2021, accounting for 36 percent (257) of the 716 civil settlements and judgments. Suppliers of durable medical equipment, prosthetics, orthotics, and supplies (DMEPOS) had the second-highest number of civil settlements and judgments with 74.
Civil Recoveries
Civil recoveries decreased from $855 million in FY 2020 to $826 million in FY 2021. The distribution of global and nonglobal civil recoveries in FY 2021 shifted from the distribution in FY 2020. In FY 2021, approximately 46 percent ($379 million) of the $826 million in civil recoveries derived from nonglobal cases, while in FY 2020 nonglobal recoveries accounted for approximately 26 percent ($218 million) of the total amount of civil recoveries.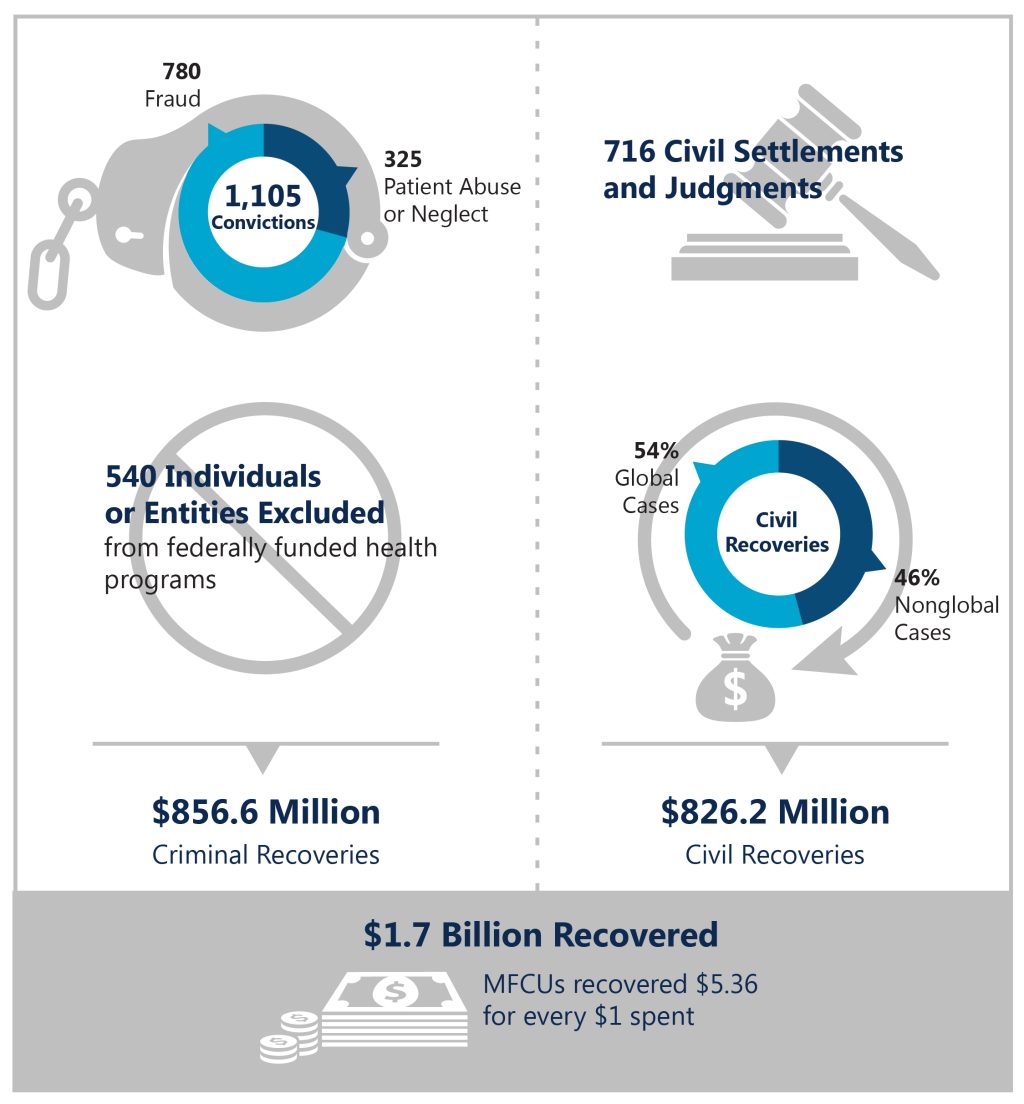 In Summary
While most MFCU case outcomes were generally consistent with those of the previous year, the ongoing pandemic continued to make operations challenging. Despite this, MFCUs continued their meticulous work as evidenced by the great increase in criminal recoveries and nonglobal civil recoveries. FY 2021's total recoveries of $1.7 billion generated a return on investment of $5.36 for every $1 spent.
Read the full report for more details, including a breakdown of states' standards and cases, a statistical chart, and an interactive map.
---
Resources:
https://oig.hhs.gov/oei/reports/OEI-09-22-00020.pdf
Latest posts by Lee Fifield
(see all)