HEALTHCON 2022: Day 2 Wrap-Up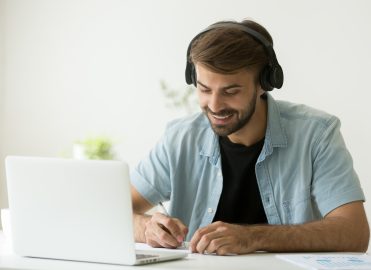 The first full day of conference started with a look at the future of Medicare.
After a rousing start yesterday to HEALTHCON 2022, attendees were anxious for today's first full breakout session day. The chat wall was filled with comments such as "Ready for day 2! Bring it on!" and "Today's a great day for coding! Let's go!" The day was filled with thoughtful, informative sessions on topics ranging from cardiac intervention coding to negotiating payer contracts. The Virtual Café was open for discussions with the National Advisory Board and Board of Directors around industry hot topics, and there were lots of demos, giveaways, and trivia challenges.
A Noteworthy Beginning
The morning started off on a high point with keynote address "The Future of Medicare" by Gail R. Wilensky, PhD. Wilensky is an economist, former chair of the Medicare Payment Advisory Commission, and expert on strategies to reform healthcare, Medicare, comparative effectiveness research, and military healthcare. Wilensky shared her vast knowledge on the subject of Medicare and healthcare in general and what the future might hold for both.
The challenges of the last two years, created by the pandemic, as well as the current economic and political climates, have brought the idea of Medicare for all to the forefront again, said Wilensky. Millions of Americans either lost their jobs, retired early, or simply took a break to reassess their work and family priorities during the COVID-19 lockdown, and this put the question of whether having insurance tied to employment is the best way to approach healthcare for those under 65 in the spotlight once again. The problem, Wilensky said, is that many people want Medicare for all as an option to private insurance — a choice — but the program would likely have to be mandatory for all if implemented.
Wilensky went on to say that the United States is a complex mix of people with different backgrounds covering a wide geographic area, and therefore future healthcare is likely to remain a combination of public and private insurance, Medicare, and Medicaid, and not one national health insurance program. But no matter our future course, Wilensky feels that the technical support in this country (i.e., the medical coders) is extremely likely to be as important in our future as in our past.
The more than hour-long session delved deep and included audience input, as well. The questions posed to the presenter and the side chat between attendees came fast and furious and energized everyone going into the morning breakout sessions.
Lots to Choose From
Attendees spent the remainder of the morning in breakout sessions that covered a wide variety of subjects before breaking for lunch and gearing up for the afternoon.
In her morning session "Medical Necessity Denials – When and How to Appeal Them," Holly Ridge, BSN, RN, CPC, CPMA, addressed the importance of analytics for gauging industry performance when making decisions. She explained how denials are rising and the importance of knowing your benchmarks. Her advice was to reduce denials on the front end so you don't have to fight on the back end. Ridge covered the percentage aimed for when appealing denials, the difficulty of winning authorization denials, classifying and grouping denials, and the components of an appeal. Ridge also extolled the benefits of creating templates for all staff to use to not only save time and increase efficiency during the denial process but also to provide professional, consistent, and uniform documents. Ridge concluded by advising attendees to review trends in their denials to learn what was avoidable, which appeals were successful, and what can be done differently up front.
By the end of the morning session "Do You Really Understand the 'With' Guideline?" more attendees than not were able to answer confidently, "Yes! I understand the 'with' guideline!" all thanks to presenter Kate Tierney, CPC, CPC-P, CPMA, CRC, CPC-I, CEDC, CEMC, CGSC, COBGC. You wouldn't think a simple word like "with" would cause so much trouble, but considering all the questions that filled the chat room, it clearly does. Tierney did an amazing job illustrating common coding errors for the ICD-10-CM guideline in a clear and well-thought-out manner and answering everyone's questions until time was up.
Ignatia Julie Agus, BA, CPC, COC, CPMA, CRC, CPC-I, CCC, led an early session on how to "Increase Revenue With Correct Cardiac Intervention Coding." Agus instructed attendees on how to determine whether a catheterization can be billed together with another cardiac intervention and how to master the hierarchy of coronary interventions and add-on codes, as well as the guidelines, to add to revenue. The presentation addressed correct diagnosis reporting linking to correct procedural codes to help coders avoid denials.
Jessica Trefethen, CPC, CPMA, CCS-P, CCS, offered an in-depth look at "Injection and Infusion Coding" to help top off the morning. She explored the special coding hierarchy and rules, showing step by step through examples how these services can add up to great revenue, or conversely, big problems if not captured correctly.
But Wait, There's More!
The afternoon was filled with presentations on everything under the sun — audits, denials, documentation, evaluation and management (E/M), collections, coding, billing, unbundling modifiers, understanding release of information, conflict resolution in the workplace, and much more.
Marianne Durling, MHA, RHIA, CCS, CDIP, CPC, CPCO, CDEI, CIC, AAPC Approved Instructor, brought her considerable experience and knowledge to one of the first sessions of the afternoon, "The Ins and Outs of Inpatient Clinical Documentation Improvement." The number one rule of documentation, according to Durling, is, "If it isn't written down it didn't happen." Durling spoke about the positives and negatives of electronic health records (EHRs) and the dangers of poor documentation, including a caution against over-documentation. "It's not the quantity, it's the quality," said Durling. She then proceeded to prove this sentiment through examples of the areas of struggle coders have with documentation clarity.
Many chose to join Linda Martien, CPC, COC, CPMA, CRC, CPC-I, AAPC Fellow, after lunch for her presentation "Jumpstart Your Heart – The Electrophysiology of Your Heartbeat." In this highly informative session, Martien walked attendees through normal cardiac anatomy and pathophysiology, including the electrical pathway of the heartbeat, using multiple images and a review of medical terminology to help attendees understand these key concepts. She spent time breaking down the components of a normal electrocardiogram (EKG) tracing and reviewed the abnormal rhythm EKG strips that are seen in various types of arrhythmias and other cardiac diseases. Throughout the presentation, Martien touched on the procedural and ICD-10-CM codes that accompany these heart diseases and the cardiovascular procedures used to diagnose them. Attendees left this session with a better understanding of these conditions, appropriate diagnostic and therapeutic measures, and applicable coding.
NAB President Colleen Gianatasio, MHS, CPC, CPCO, CPC-P, CPMA, CRC, CPC-I, CCS, CCDS-O, led an interactive talk on "How to Get Hired." She explained that landing your first job in the field or when transitioning jobs requires skills in several areas. Step one is getting your foot in the door, which requires a carefully crafted resume. Gianatasio went through resume tips and highlighted how to set yourself apart before moving on to how to ace an interview. (Hint: Professionalism goes a long way!) "Interviews are two-way," Gianatasio pointed out, so don't forget to use this opportunity to make sure that the job is a good fit for you. After touching on the different types of interviews, she shared a helpful technique to employ when interviewing, as well as red flags for hiring managers. Gianatasio wrapped up the session by emphasizing the importance of building and expanding your network and suggesting a few job sources, such as LinkedIn and Facebook, to turn to. "Don't wait," she said, "start now."
Deni Adams, CPC, CPB, CPPM, CEMC, CCA, dove into her session "Coding for Spine Procedures" with detailed anatomy pictures, much to the satisfaction of attendees. "The anatomy slides are awesome, VERY helpful," one attendee commented. Another said, "I LOVE THESE!!!!! Thank you sooo much." Adams covered CPT® 20000 and 60000 series codes, the four ICD-10 chapters where most spinal codes are found, and the documentation needed for coding spinal procedures. Chart examples rounded out this informative session.
In her session "Charting the Way – Improve Your Review of Inpatient Records," presenter Kathryn Williamson, CPC, CIC, CDEI, AAPC Approved Instructor, showed attendees the differences between quality and insufficient documentation. "It can be like you're trying to navigate the wilderness," she said about some operative charts. But with a little know-how and the right tools, you can find your way to clinical documentation improvement. Williamson led attendees out of the woods and into a clearer understanding of what they should expect from their providers and how to get it.
Join Us Tomorrow
The conference continues through Wednesday, the 30th. Come back to the Knowledge Center Blog for daily wrap-ups of HEALTHCON 2022.
#HEALTHCON22
Latest posts by Lee Fifield
(see all)