HEALTHCON 2022: Day 3 Wrap-Up
March 29, 2022
Comments Off

on HEALTHCON 2022: Day 3 Wrap-Up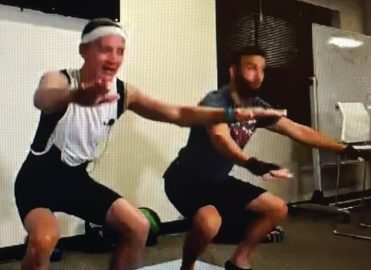 The day began with virtual networking and fun — the fun part was watching Dave Keyser and Alex McKinley doing some morning yoga.
AAPC's national conference got off to a great start, and the level of excitement remained high going into the third day of HEALTHCON 2022. Some attendees kicked off their day attending the networking break with exhibitors, while others greeted each other, shared pictures, sought advice, and posted rave reviews about their conference experience in the HCON Chat. Everyone was stoked about how much they had learned already and were geared up to soak in more top-notch education and grow their network as day three commenced. First up were back-to-back panel discussions.
Ask the LAB
AAPC's Legal Advisory Board (LAB) fielded questions posed by attendees in the Legal Trends Panel general session. Questions ran the gamut, including ones about anti-markup law, telemedicine fraud, the No Surprises Act, the vaccine mandate, right of access, and many other topics.
One attendee asked, "I understand it is the client's/provider's responsibility to provide correct DOS to the billing company (us) on their billing sheets with a CPT® code. When we check the hospital EMR, the DOS is different. When we queried the client, they advised us the providers were trained to report DOS as the date they wrote the note. Can you advise how can we address this with the client? Our contract states it is the client's responsibility to provide accurate information for billing. Draw a line in the sand?"
Michael Miscoe, JD, CPC, CASCC, CUC, CCPC, CPCO, CPMA, CEMA, AAPC Fellow, fielded this question:
"I'm a draw a line in the sand advocate in this case because the problem is if those records were ever reviewed, the idea that they're recording the date they wrote the note instead of the date of service creates at least a superficial conflict between the date the service was billed under, which I presume was the actual date of service, and the date of the note. And when there's not a match, the contractor is going to deny it because you don't have documentation for the date. And what they need to do in their EMR is record both the date of service and, to the extent they feel is relevant, to record the date they prepared the note. But you cannot avoid or not have the date of service." Miscoe cited a similar court case that upholds his opinion.
The questions continued and the rest of the panel members — Christopher Parrella, JD, CHC, CPC, CPCO, Julie Chicoine, JD, BSN, CPC, Karina Johnson, Esq, COC, CPC, CPCO, CDEO, CIC, CPB, CPMA, CPPM, CPC-I, CANPC, CCC, CGSC, CHONC, COBGC, COSC, CPCD, Robert Pelaia, Esq, CPC, CPCO, Timothy Blanchard, MHA, JD, Stacy Harper, JD — joined Miscoe to provide answers.
Growing by Leaps and Bounds
Attendees spent the remainder of the morning learning about global trends and AAPC's international activities. First to speak was Dan Schwebach, MHA, CPPM, with some welcome news: There is a growing demand for medical coders as more countries begin to adopt value-based payment schemes in the public sector. Also fueling the need for coders is the transition from government funding to private insurance, which requires more sophisticated data and higher quality information to perform underwriting, and the massive IT transformation driving the shift from paper to digital records. Schwebach said that AAPC is expanding operations geographically to meet the increasing need for skilled medical coders. AAPC is also planning to develop certifications for other classifications and localize content and provide training and education to cultivate a truly global medical coding community.
Attendees then heard from Paula Daibert, MD, MBA, MSc, and Hamad Al-Huzami, who provided firsthand accounts of the transformation of the healthcare systems in Brazil and Saudi Arabia. There was lots of excitement and enthusiasm as they learned about the sweeping changes underway in health information management. The chat was filled with members showing interest in wanting to be a part of this global expansion.
Something for Everyone
Many attendees spent the remainder of the morning visiting exhibitors, while others joined members of the National Advisory Board (NAB) and Board of Directors (BOD) in the virtual café to chat about industry hot topics and get their questions about billing, CDI, and compliance answered. After lunch, there were plenty of breakout sessions to choose from.
In her presentation "Who's on First – What's on Second – I Don't Know on Third" Sharon Oliver, CPC, CDEO, CPMA, CRC, AAPC Approved Instructor, provided guidance on sequencing ICD-10-CM codes, which has always been problematic for novice coders. "To get the submitted claims clean, we must follow Section I: Conventions, General Coding Guidelines and chapter-specific guidelines of the ICD-10-CM," said Oliver. To help attendees master the art of sequencing, she walked them through the nuances of the Alphabetic Index and Tabular List, highlighted important coding principles chapter by chapter, and wrapped up the session talking about the remaining sections of ICD-10-CM and their impact on reporting, receiving payment, and claim denials.
Hamilton Lempert, MD, FACEP, CEDC, explained that coding emergency department (ED) visits poses unique challenges, as it's a practice environment where clinicians care for a wide variety of conditions with varying levels of severity. His presentation "Emergency Department Coding Complexities" addressed how to best code enigmatic situations that may arise when reporting ED evaluation and management (E/M), critical care, and observation codes, as well as appropriate coding and vital documentation for common ED procedures. In addition to providing insight into how to resolve many ED coding conundrums, Lempert detailed what needs to be included in the medical record, emphasizing that thorough documentation is key to quality care and proper reimbursement.
NAB president Colleen Gianatasio, MHS, CPC, CPCO, CPC-P, CPMA, CRC, CPC-I, CCS, CCDS-O, led an energetic session on one of the hottest topics in the business of healthcare today, outpatient clinical documentation improvement (CDI). She stressed that CDI specialists need to be able to identify when documentation is lacking and understand how to work with providers to tell the patient's story. Attendees came armed with questions and were eager to learn from her considerable knowledge and experience. They left the session with a better grasp on queries and keeping them compliant, as well as the do's and don'ts of provider engagement.
Given the rise in telehealth utilization, it was no surprise many attendees chose to attend "Telehealth 2022" to brush up on their telehealth services know-how. Kimberly Garner Huey, COC, CPC, CPCO, and Sandy Giangreco Brown, CPC, COC, CPC-I, COBGC, RHIT, helped bring everyone up to speed by reviewing codes that remain on the telehealth services list, the most up-to-date guidelines, and documentation best practices for services performed via telehealth.
Refine Your Telemedicine Practices
In between afternoon breakout sessions, a telemedicine panel was held to discuss the ongoing challenges of telemedicine and telehealth regulations and what might be on the horizon now that the public health emergency (PHE) is set to end in mid-April. Leonata "Lee" Williams, MBA, RHIA, CCS, CCDS, CPC, CPCO, CRC, CEMC, CHONC, Stephanie Sjogren, CPC, CPMA, CCS, CDEO, CPC-I, COC, HCAFA, and Gianatasio answered questions from the attendees.
There were several questions about current regulations and denial reasons, but most questions veered more toward what is coming after the PHE ends. The panel thinks it likely that the expansion of telehealth codes will decrease once the pandemic is over, but that there will be more codes than there were before the PHE. Many issues such as audio-only visits, rural patients, and allowed places of service will likely end up with questions handled by individual states and payers. Out-of-state fraud and patient access to computers will also be a consideration when deciding on future rules.
 Gianatasio suggests preparing both staff and patients for what is coming as information is made available. Make sure you know the telemedicine rules now and keep track of changes as they are announced so you aren't caught unaware. Sjogren suggests subscribing to list services, like MLN Matters, to make sure you have the most up-to-date information going into the end of the pandemic. "That's when you're going to see a fast shift like we did at the beginning," she said. Williams suggests conducting internal audits to see what you missed during the chaos of those first months of 2020 when no one knew what was going on.
Final words of advice:
Start conversations with your colleagues about the end of the PHE in advance.
Most current telemedicine measures are only temporary. Know your rules and how they might change.
Track the ending of waivers as they roll back and check your contracts and state rules to stay in compliance.
Educate your compliance department and staff on upcoming changes.
A Wealth of Knowledge Gained
Rounding out the day was breakout sessions that covered a wide range of topics.
Sjogren led an informational session on "COVID Regulations Pre- and Post-Pandemic." Her presentation covered telehealth, facility and provider rules that will remain after the pandemic, and certain regulations that will be temporary for the next few years. Sjogren fielded questions on compliant billing for COVID diagnostics and therapeutics and cleared up the confusion surrounding the revenue codes and types of bills for facilities.
Another subject of interest was mental health. Heather Greene, CPC, CIC, CPMA, focused on guidelines and documentation considerations when reporting substance abuse and the documentation needed to paint a complete picture of a patient's mental health issues. Attendees learned to decipher between the various ICD-10-CM codes and report various diagnostic and therapeutic services.
While in the session "Coding and Billing for Outpatient Psychiatry and Mental Health Providers," presenter Laurie Bouzarelos, MHA, CPC, did a masterful job of covering an incredibly complex topic in a short amount of time. Why so complex? Because there are so many variables — from payer policies, to provider types, to places of service. "You can't assume any payers follow Medicare's rules," she said. One area she stressed multiple times is the importance for providers to tighten up on their telehealth policies for when the public health emergency ends. Telehealth, she said, "is going to leave many practices vulnerable."
Those who attended the session "The Power of Networking" came away inspired by the story of two women — Kem Tolliver, CMPE, CPC, CMOM, and Darlene Helmer, MBA, CMA, CPC, CPC-I, ASC-AN, ACMPE — who used networking to move themselves up in the healthcare field from clinical staff to owners of their own consulting businesses. These two go-getters shared with attendees tools to assist in skyrocketing their careers to the next level and beyond.
More Learning and Networking to Come
There is no doubt that day two provided attendees with a wealth of knowledge, inspiration, and insight from industry experts. The conference wraps up tomorrow, March 30th. Come back to the Knowledge Center for the final daily wrap-up of HEALTHCON 2022.
In case you missed it, check out the blog to read about what happened on days one and two of HEALTHCON.
#HEALTHCON22
Latest posts by Stacy Chaplain
(see all)