Nuances of the No Surprises Act
By John Aaron
In Billing
April 1, 2022
Comments Off

on Nuances of the No Surprises Act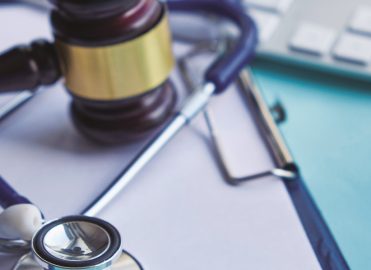 Don't let this 2022 regulation catch your organization off guard.
Born out of the Consolidated Appropriations Act, 2021 of the 116th Congress, the No Surprises Act (NSA) should be called anything but that. My opinion, of course! Unless you're an attorney, reading Congressional documents leaves much to be desired. However, the complexities of the NSA intrigued me to the point of reading nearly all 500 pages. Here are a few key takeaways.
The Purpose of the NSA
The NSA generally prohibits out-of-network healthcare providers, facilities, and air ambulance services (providers) from billing patients more than in-network cost-sharing limits for covered non-emergency services furnished in an in-network facility. There's a lot more to it than that, such as the omittance of ground ambulance services (see "Surprise! Ambulances Missing from NSA" on page 22), but that's the gist of it.
The law also adds new notice, consent, and disclosure requirements on the part of providers and plans. For example, providers must disclose information regarding federal and state balance billing protections and how to report violations (except in emergent cases). Providers must also post this information where the public can see it and in a way the public can decipher it.
Standard notice and consent forms for nonparticipating providers and emergency facilities, a model disclosure notice for providers, facilities, health plans, and insurers, and required contact information are available on the CMS.gov website (see link in Resources section).
The NSA can impose civil monetary penalties of up to $10,000 per violation. However, penalties can be waived for providers and facilities that do not knowingly act in violation. There's also a hardship exemption available to providers.
Note: The NSA does not supersede the laws in place by states offering surprise billing protections. The NSA only triggers when state laws are not sufficient for patient protections. Federal healthcare program beneficiaries are not protected under the NSA because of existing surprise billing protections.
Good Faith Estimate May Be Required
An important part of the NSA is the requirement for providers to furnish good faith estimates of charges for scheduled non-emergent care to uninsured or self-pay individuals in advance, or upon request.
You'll want to pay specific attention to the following details:
Patient status (self-pay or uninsured)
Descriptive listings of qualified items and services

Each item or service has to have specific details such as the procedure and supply codes and fees.

Time frame notification requirements
Differences between the convening and co-provider requirements

A convening provider or convening facility is the provider or facility that schedules an item or service or that receives the initial request for a good faith estimate from an uninsured or self-pay individual.

A co-provider or co-facility is a provider or facility that furnishes items or services in conjunction with a primary item or service such as labs and anesthesia.

In 2022, these providers must provide patients with a separate good faith estimate upon request. Beginning Jan. 1, 2023, convening providers' good faith estimates must include co-providers' good faith estimates.
The Centers for Medicare & Medicaid Services (CMS) has published assistive documents to help providers stay in compliance with good faith estimate requirements, available for download at:
www.cms.gov/files/document/standard-notice-consent-forms-nonparticipating-providers-emergency-facilities-regarding-consumer.pdf
Patients can file for the Patient-Provider Dispute Resolution Process (PPDRP) if their expected out-of-pocket cost amounts to $400 or more of the original estimate.
Learn more about the good faith estimate and the PPDRP at:
www.cms.gov/CCIIO/Resources/Regulations-and-Guidance/Downloads/Good-Faith-Estimate-Patient-Provider-Dispute-Resolution-Process-for-Uninsured-or-Self-Pay-Individuals.pdf
Advance Explanation of Benefits May Be Required
For individuals with certain types of coverage, providers must submit good faith estimates to the individual's plan or issuer. In this case, the NSA requires the health plan or issuer to send the member an Advanced Explanation of Benefits (AEOB).
The patient must receive the AEOB at least three business days before the scheduled service. The AEOB must provide some very specific information, including the good faith estimate from the provider or facility.
Independent Dispute Resolution Process Available
A major piece of the NSA revolves around the Independent Dispute Resolution Process (IDRP). In the event of unsatisfactory reimbursement levels or our right denial of payment for services rendered, providers may initiate an arbitration process that enlists the services of a certified IDR entity.
There is a 30-day window of opportunity from the date of an initial claim payment or denial for the providers and plans to enter an open negotiation period. Health plans and providers present their case by mutually selecting an appropriate certified IDR entity.
Nuances of the IDRP:
Both parties pay the cost of IDR services equally.
Payments are sent directly to the chosen certified entity along with departmental administrative fees.
The losing party pays full cost of the IDR services.
Plan-provider negotiations can continue during IDR case reviews.
Certified IDR entities cannot consider:
Government payer fee schedules
Billed charges
Usual and customary fee schedules
CMS has published technical guidelines for the IDRP, available at:
www.cms.gov/CCIIO/Resources/Regulations-and-Guidance/Downloads/Federal-Independent-Dispute-Resolution-Process-Guidance-for-Certified-IDR-Entities.pdf
Do Your Homework
The complexities of the NSA have yet to reveal real-life situations. Federal and local lawmakers will likely adjust the rules as they go along.
---
Resources:
www.cms.gov/nosurprises
www.cms.gov/nosurprises/policies-and-resources/overview-of-rules-fact-sheets
Latest posts by John Aaron
(see all)