AAPC's Member of the Month: Pam Brooks, MHA, CPC, COC, PCS, AAPC Fellow
In AAPC News
May 2, 2022
Comments Off

on AAPC's Member of the Month: Pam Brooks, MHA, CPC, COC, PCS, AAPC Fellow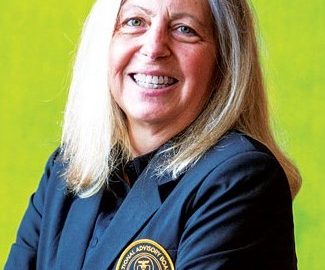 Meet a member whose journey proves that if you put in the work, the sky is the limit.
Each month, AAPC selects a member who demonstrates exemplary leadership qualities. This month, we've chosen Pam Brooks, MHA, CPC, COC, PCS, AAPC Fellow. Brooks is ambitious and continuously strives to improve, and she continues to take on roles that enable her to give back to AAPC and its members. One way she does this is by sharing her knowledge by writing for Healthcare Business Monthly. We'll let her tell you the rest in her own words.
How did you get your start in healthcare?
I have been in healthcare since shortly after the birth of my two sons. An early career in fashion turned out not to be for me — after all, I live in Maine, which is not exactly the fashion capital of the world. Gigs as a waiter kept me out of trouble, but I needed a real job. Healthcare seemed to be a recession-proof and interesting field, so I enrolled in a medical assisting program at a local community college.
I soon learned that hands-on patient care was not my forte, but I was intrigued with the business end and focused on a degree in medical office management. After graduation, I landed a job as a front desk representative, biller, and collections person at a local mental health office. A few months later, I was hired as a practice manager for an eating disorders center. Eight years later, I took a short hiatus to work for a stockbroker, but healthcare is my passion, so I soon went back to work as a biller for a local community hospital, and shortly after was introduced to coding. I will never forget the words of the woman who trained me: "Having this knowledge in this industry can take you places you never imagined." She was spot on.
I worked my way up to coding manager, where I led a team of professional and technical coders, documentation improvement specialists, and physician auditor/educators. I soon learned that being an effective leader meant that I needed more tools in my toolbox, so I again enrolled in college to obtain a bachelor's degree in adult education. This was incredibly helpful to me as I developed training programs for my staff and coached my educators with strategies for provider education. I furthered my own education by obtaining a master's degree in health administration. It took five years, but the skills and insight gained in a program where ethics and business co-existed created a path I would later follow.
What is your current occupation?
I was fortunate to land a role at MaineHealth, where I lead a team of very talented regulatory billing auditors. As their manager, I oversee the development of an annual audit work plan in which we review areas of risk based on what's happening in both the industry and in our own network of nine hospitals. We use research, knowledge, and federal and state regulations to deliver a message of compliance with regard to services that we bill. The work is challenging, interesting, and at times frustrating, but I am exactly where I want to be.
What has helped you the most to be successful in this profession?
The most valuable part of AAPC membership is the network of amazingly bright and helpful colleagues who I have had the pleasure of meeting over the years. I have developed a virtual Rolodex of subject matter experts. I cannot tell you how many times their advice got me out of hot water when I needed an answer for something that was outside my area of expertise.
My approach throughout these many years was to take advantage of every opportunity given to me, and I am always thinking about ways in which I can make a difference instead of what's in it for me. When new coders ask me what they can do to further their careers, I always tell them to do their best work always, strive to learn more, and volunteer to work on projects that will provide both knowledge and visibility. I encourage them to be the go-to person and suggest that they get involved in AAPC, specifically for the networking opportunities — that is more important now, as most coders are working from home offices and can be virtually invisible to executive leaders.
What is your involvement with your local chapter?
While I was pursuing my master's degree, I became active in AAPC's Seacoast Dover, N.H., local chapter, serving in several officer roles. I also served on the AAPC Chapter Association Board of Directors (BOD) in Region 1 for three years, and I am on the BOD for the current term. I have also served on AAPC's National Advisory Board. This has led to many career opportunities and great friendships.
What are you most proud of accomplishing in your work?
My local chapter asked me to speak at a meeting, and I enjoyed it so much I applied to speak at AAPC's regional and national conferences. The ability to share my experience with so many coders across the country is probably one of my proudest accomplishments. I now sit on the HEALTHCON education committee, where I help develop the slate of speakers in areas of interest to our membership. This work has been very rewarding; we are seeing improved speaker scores and high enthusiasm for the hybrid conference model.
I can say with certainty that the words of my coding trainer had merit — my work in this field has not been just a job; it has been an adventure into a career that I could never have imagined nearly 35 years ago.
Latest posts by Stacy Chaplain
(see all)