Day 1 of DOCUCON Delivers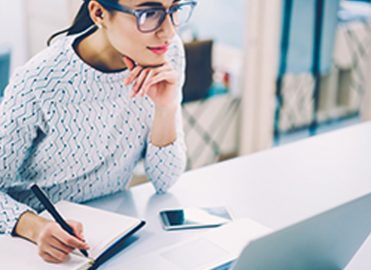 Healthcare professionals interested in improving medical documentation and coding attended Day 1 of AAPC's first ever DOCUCON, a two-day virtual Clinical Documentation Improvement (CDI) conference. CDI has become a growing focus in healthcare as the fee-for-service methodology has shifted toward value-based reimbursement and evaluation and management (E/M) rules have changed. The desire to learn more about CDI and how it impacts both office workflows and patient care was clear when reading the pre-conference posts on the DOCUCON Chat Wall. Comments such as "Looking forward to some great discussion over the next 2 days!" were abundant, as attendees couldn't wait to hit the ground running.
A Great Way to Start the Day
The CDI conference began with the "Operationalize CDI Implementation" general panel session. A panel of industry experts — Donna Malone, CPC, CRC, CRC-I, AHCCA, RAP, AAPC Approved Instructor; Kristen Viviano, MHA, CPC, CRC, AAPC Approved Instructor; Paula Digby, CPC, CPC-I, CCS, CDIP, AHIMA-Approved ICD-10-CM/PCS Trainer; and Samuel Le Church, MD, MPH, CPC, CRC, CPC-I, — spent an hour calling on their own experiences to answer questions from attendees.
The beauty of this session was the mix of panelists that represented both sides of the coin — the physician and the healthcare business professional. This provided a well-rounded discussion that led to insightful conversation between panelists, as well as among attendees in the chat.
The most frequently asked question was how to start a CDI program. The panelists concurred that it is a massive undertaking that can seem overwhelming, especially if you don't have provider buy-in. The key is to start small. "One of the biggest challenges is scaling it," Viviano said. Don't jump in too quickly. Do it in a way that is scalable, she advised.
The panelists offered several more tips for implementing a CDI program. Malone said "understanding the mission" is important. "Why do we do what we do? It can't be revenue driven. The patient has to be at the forefront of all this," she said.
Dr. Church concurred and said that is ultimately what will engage providers. "I'll be honest with you, from a provider's standpoint there's often a perception that these things we're doing, with CDI and quality metrics and all these things, are competing with our delivery of healthcare. I think the more we can show the 'why,' I think that is incredibly important, and not just 'this is required' but how this is ultimately going to help patients."
To answer the 'why,' Digby recommends starting with a data analysis. "You want to look at all of your diagnoses and all of your DRGs because that can show potential options and the need," she said. Gaps in documentation lead to not only lost revenue but also poor patient care.
The next challenge is educating providers on how to improve their documentation, especially in a templated electronic medical record. Panelists offered a range of options and perceptions. The important thing to remember, Malone said, is "This isn't one and done." CDI education should be ongoing and offer a number of ways to suit all learning preferences. As this panel session illustrated, an open dialog among everyone involved is usually the most productive.
Morning Momentum
AAPC National Advisory Board president Colleen Gianatasio, MHS, CPC, CPCO, CPC-P, CPMA, CPC-I, CRC, CCS, CCDS-O, kicked off the first general session of the morning, "Introduction to Outpatient CDI." In this informative and interactive session, Gianatasio explained the move from fee-for-service methodology to value-based reimbursement, with an emphasis on clinical rather than coding education for providers. "Coding is translating documentation that is already there … the CDI looks for things that aren't there, they are the bridge between the doctor and the coder. CDI is the bridge and coding is the translator," said Gianatasio. Gianatasio then went on to thoroughly cover queries, including the reasons for them, the query process, how to query, and when a query is appropriate. The session also included a lengthy Q&A session and practice scenarios.
Those who didn't attend the intro session with Gianatasio joined Sharon Oliver, CPC, CDEO, CPMA, CRC, AAPC Approved Instructor, for her session "Pathophysiology of Heart Disease." From hypertension to myocardial infarction, each detail of the heart was covered as attendees were educated on symptoms, disease processes, preventive measures, risk factors, and coding guidelines.
Afternoon Energy
Digby kicked off the afternoon sessions with "Goals and Standards of CDI – Processes and Risk Areas." Her session outlined CDI goals and why CDI matters in any setting. Digby emphasized the importance of constructive communication with providers, saying, "The ability to communicate effectively is imperative." An uplifting, thoughtful approach and an explanation about why suggested improvements matter can go a long way to promoting effective discussion with those who document. Digby calls areas for improvement "opportunities" and not "errors" when identifying best practices and educating doctors, nurses, and non-clinical staff on ways to improve documentation. The session wrapped up by discussing the revenue cycle, payment methodologies, and how to create and track a CDI program.
Rhonda Buckholtz, CPC, CDEO, CPMA, CRC, CENTC, CGSC, COBGC, COPC, CPEDC, AAPC Approved Instructor, delved deeper into getting providers to engage with CDI efforts in her session called "Engaging Providers for CDI."
Sheri Poe Bernard, COC, CPC, CDEO, CRC, CPC-I, presented her take on "Sepsis Versus SIRS, Pathophysiology, and CDI," explaining why sepsis is a tricky diagnosis to assign when based on sketchy documentation from multiple providers and ever-changing clinical criteria. The session explained the pathophysiology behind sepsis and outlined current acceptable clinical parameters and ICD-10-CM code assignment.
Gianatasio was back again after her popular morning session for her presentation on "Advanced Coding: Diabetes," where she discussed the relevance of diabetes in value-based reimbursement and what to look for in clinical documentation, with an emphasis on coding guidance and record reviews.
The afternoon came to a close with sessions on the importance of clear documentation for reasons other than billing and the impact of COVID-19 on CDI and how to prepare for future disruptions.
Tune In Tomorrow
Though today was packed with great content, there's still plenty to come tomorrow, starting with another great panel session on how and when to take your skills to the next level and become a CDI specialist.
Latest posts by Lee Fifield
(see all)