Day 2 of DOCUCON Didn't Disappoint
April 27, 2022
Comments Off

on Day 2 of DOCUCON Didn't Disappoint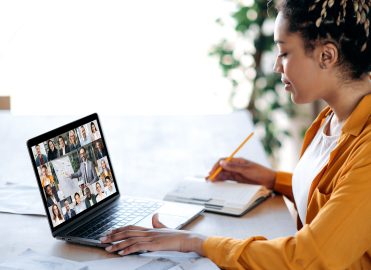 The second and final day of DOCUCON, AAPC's first virtual conference dedicated to clinical documentation improvement (CDI), kicked off with attendees eager to learn more about how to take their CDI game to the next level. The chat wall was full of enthusiasm about the sessions from Day 1 and anticipation for more, with comments like, "Yesterday was amazing from start to finish. Learning so much! Cannot wait to start day two!"
The 411 on Becoming a CDI
The morning began with the "How to Become a CDI – Coder to Auditor to CDI" general panel session. Angela Clements, CPC, CPMA, CEMC, CGSC, COSC, AAPC Approved Instructor; Jaci Kipreos, CPC, COC, CDEO, CPMA, CRC, CPC-I, CEMC; Kimberly Huey, CPC, COC, CPCO; and Sandra Giangreco Brown, RHIT, CPC, COC, CPC-I, COBGC, AAPC Approved Instructor, called on their decades of expertise and experience to answer questions from attendees who are thinking about elevating their career path in healthcare.
The panelists began by answering the question, "What is the difference between a CDI specialist and an auditor?" Huey summarized it perfectly, stating that coders and auditors look for what is there, while CDI specialists look for what is not there. Clements went on to say that an auditor looks at documentation and determines if the coding was appropriate per that documentation. CDI comes more from the perspective of what the provider could have enhanced in their documentation to more accurately capture a medical history so that coders could have coded better. A CDI specialist comes in as more of an educator to make sure providers are getting all of the medical information into a note.
Many questions centered around whether an auditor or CDI specialist needs a degree or certain certifications. The answer wasn't cut-and-dried, though it was clear that each panel member values education and mentorship. "It's all about where you think you might want to go," said Brown. Think about that when investing in your education and certifications. Think about what excites you and gets you up in the morning instead of money and position. Huey said that a certification can help get you in the door, but that is secondary to the gained knowledge that you will always have as you become a subject matter expert. "You have to invest in yourself," she said. The panelists also said to be sure to take advantage of any opportunity for you to learn in your job. Even if it's off the clock. Use learning opportunities as steppingstones to move in the direction in which you want to go.
The panelists agreed that the need for credentials often depends on an employer's requirements: Sometimes they want a degree or specific certification, and sometimes they are merely looking for expertise or a knowledge base. Clements went on to say that you shouldn't always go by what an employer says you need to have, though having certifications shows you are willing to learn more. Kipreos agreed, stating that a degree and certifications, whatever field they are in, show employers a willingness and eagerness to learn.
The questions kept coming, touching on both the general and the specific as the hour mark closed in. One attendee asked about becoming a CDI without a clinical background. Others asked about forming relationships with providers, while still others wondered how to get into the CDI field when there is no CDI position where you work. Many attendees were interested in suggestions on growing data analytics and quality metrics skills and starting their own consulting firm. The panelists gave sound advice for every question, drawing on their personal experiences to help attendees move forward in their own journeys.
The Devil Is in the Details
After the general session, attendees spent the rest of the morning in one of two breakout sessions.
Chair of the Documentation Advisory Committee Melissa Kirshner, CPC, CDEO, CRC, CPC-I, CFPC, shed light on a common communication tool central to documentation integrity and accurate code assignment, the provider query. She began by going through the various reasons why a query might be done — clarification; enhance specificity; resolve conflicting, contrasting, or ambiguous documentation, etc. — pointing out that they are most often seen in the inpatient setting but that its utilization in the outpatient environment has been on the rise.
Kirshner explained that if done correctly, this collaboration between providers and CDI specialists results in the medical record better detailing the provider's thoughts and intentions concerning patient care. It's important to approach these inquiries carefully and compliantly, which is why the bulk of her presentation focused on how to query. This included a review of the different types and going through examples of incorrect and ineffective queries. Kirsher reminded attendees that failure to adhere to proper query formation could have legal consequences, using two cases pursued by the Department of Justice to demonstrate the great costs of noncompliance.
Leonta (Lee) Williams, MBA, CPC, CPCO, CRC, CEMC, CHONC, highlighted the many areas in which CDI plays a key role in providing clarity and overcoming documentation deficiencies in her presentation, "Oncology Diagnosis Coding." Bridging this gap and navigating the clinical coding ambiguities surrounding terms commonly used in oncology and hematology necessitates a solid understanding of their definitions and how to differentiate them. After walking attendees through many of the sticking points and diagnosis-related denials, she shared some pro tips for interpreting medical record documentation, applying guidelines, refining query skills, and strengthening provider engagement for improved outcomes.
Tell Providers to Think in Ink
After the networking lunch, some attendees joined Kelly Shew, RHIA, CPC, CPCO, CDEO, CPB, CRC, AAPC Approved Instructor, to sharpen their understanding of documentation considerations for common dermatologic procedures. Her session "CDI for Lesions and Repairs" demystified the complexities surrounding coding for biopsies, lesion removals, and wound closures and shed light on the many requirements and guidelines to consider. Shew, through great illustrations and examples, made clear what needs to be in the documentation to allow for accurate capture of dermatologic conditions and services provided, as well as how to translate what's in the medical record into the correct codes.
Those who didn't tune in to Shew joined Christine Hall, CPC, CPB, CPMA, CRC, CPC-I, for her session, "CAC and Impact of Clinical Documentation." She covered the gamut, from defining computer-assisted coding (CAC) and its pros and cons to discussing its impact on healthcare business professionals. Should this technology be seen as a threat? No, you just need to learn how to work alongside CAC, Hall explained, as she delved into best practices for utilizing these tools and compliance considerations.
Expert Advice Doled Out at DOCUCON
Medical record documentation serves many purposes, explained Jaci J. Kipreos, COC, CPC, CDEO, CPMA, CRC, CPC-I, CEMC, from painting a complete picture of a patient's health to supporting the decisions made in patient care and the revenue sought from third-party payers. Her session, "Documentation to Support 2021 E/M Guidelines and other E/M Services," outlined the far-reaching impacts of clinical documentation, including provision of quality care, code selection, and facilitating accurate and timely claims review and payment. Kipreos took attendees on a deep dive into what the various components of the clinical note should contain, CDI considerations, and documentation risk areas.
Williams was back to share some CDI practices that will help bolster documentation for top diagnosis-related groups (DRGs) in her session, "Top 10 DRGs for Conditions." Just as CDI programs have grown, so have clinical validation audits. Facilities should therefore pay close attention to the conditions and procedures that drive the highest DRGs, she advised, as these are what's scrutinized the most by payers looking to validate diagnoses reported. The relative weights attached to, for example, sepsis, heart failure, pneumonia, and joint replacements, are of significant value. As such, Williams focused her session on the documentation details that are required to not only support, but also validate these conditions and the treatment provided.
Let's Do This Again Soon
DOCUCON definitely delivered extraordinary education and networking opportunities. Don't miss our next boutique conference, RISKCON, June 22-23. This virtual event will provide an in-depth look into risk adjustment and the integral role it plays in the provision of quality care. And don't forget you can attend conference in person at AAPC's HEALTHCON Regional, Aug. 3-5, in Denver, Colo.
Latest posts by Stacy Chaplain
(see all)