Don't Let Symptoms of EoE Be Dismissed
By Janet Brandt
In Coding
May 2, 2022
Comments Off

on Don't Let Symptoms of EoE Be Dismissed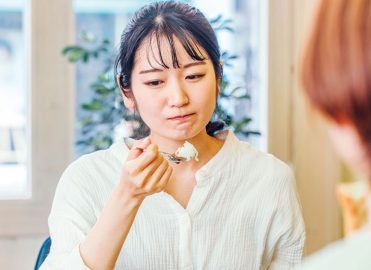 Learn how to recognize, manage, and code eosinophilic esophagitis.
I had never heard of eosinophilic esophagitis (EoE) before my luncheon date with a friend, who I'll call Monica. She and I are odd-fellow friends: Monica is an overachiever super-mom, always cheerful and confident; me, not so much. I want to share her story with you so that you, too, can recognize EoE symptoms, understand its management, and ensure proper diagnosis coding.
Signs of EoE
The first thing I noticed after being seated at our favorite restaurant was dark circles under Monica's eyes. This was a definite change from her usual perfect complexion, but easily explained, I told myself, as she works full-time and has a husband and a child. Monica had also lost some weight, I noticed. She still looked great, but her clothing was hanging a little oddly. Even her fingers looked bonier.
We both ordered tacos. When our food arrived, I noticed she was eating very slowly and cutting her tacos into tiny pieces. After watching her eat that way for approximately 20 minutes, I asked if she was venturing on a new type of diet, explaining that I had noticed her deliberate chewing and dissection of every piece of food.
She stared at me, and tears started to stream down her face. I had never seen the woman cry before, not even after we watched "The English Patient." After a few minutes, she said, "I know you hate people talking about bowel movements, regularity, and the like, but there is something wrong with me, and nobody can tell me what it is." She went on to describe a myriad of symptoms — chest tightness and pain, abdominal pain, vomiting, and swallowing problems — that ultimately led to two emergency room (ER) visits in the past six months.
Searching for Relief
The first time she was seen in the ER, she was given an anti-anxiety medication, monitored for a while after ingesting some food, and then sent home. The ER doctor told her to try Pepcid and follow up with her primary care provider (PCP). Her PCP reviewed the lab work and diagnostic testing done in the ER and said everything looked normal. The doctor screened her for depression and suggested she try the proton pump inhibitor Pepcid and consider starting antidepressant medication.
Monica tried to accept those recommendations and started taking Pepcid and an antidepressant, but she ended up back in the ER one month later. Once again, chicken was the offending food. This time she could not drink water to dislodge the food, she just regurgitated the water. She ended up having a procedure done to stretch her esophagus (esophageal dilation).
The whole experience scared her terribly, and so she adjusted her entire life to avoid symptoms that would necessitate another trip to the ER. She started eating very slowly, cutting up all her food into tiny pieces, and avoiding any food that was fibrous or chunky. She was managing her symptoms fairly well that way. I told her she needed to pursue the issue further and find out what the real problem was. She said she would schedule an appointment with her PCP and would let me know the results.
Diagnosis Leads to Vast Improvement
Fast forward three months: It was time for our quarterly lunch to catch up on each other's lives. I drove to the restaurant feeling guilty because I had not followed up with her about the stomach issues. When I arrived at the restaurant, I was so happy to see my old friend once again, no longer with dark circles under her eyes. She was beaming at me and said, "I have the best doctor in the world." I asked her to explain.
"I have EoE, eosinophilic esophagitis," Monica said. She told me that EoE is a chronic inflammatory disease of the esophagus and is recognized as a dominant cause of swallowing problems in adults and children worldwide. She explained that the esophagus is a muscular tube that carries food and liquids from the mouth to the stomach. If you have EoE, white blood cells called eosinophils build up in your esophagus. This can cause symptoms such as chest tightness, chest pain, swallowing problems, vomiting, food getting stuck in the esophagus (food impaction), heartburn, abdominal pain, and coughing. Her ER visits were due to the development of scar tissue and narrowing in her esophagus, causing the chicken to get stuck.
The 411 on EoE
I was so pleased that Monica found out what the problem was. Admittedly, I think I may have every disease or condition I hear or read about until I research it and find a reason that I do not have it, so I decided to educate myself a little more about EoE.
While it occurs in the esophagus and can impact the digestive system, eosinophilic esophagitis is classified as an autoimmune disorder — a condition that causes the immune system to overreact and lose the ability to differentiate normal cells from abnormal cells. EoE can be caused by infection, oral medications, stomach acid backing up into the esophagus, or allergies.
Adults with EoE may experience symptoms similar to what Monica experienced:
Choking
Abdominal pain
Sore throat
Heartburn
Nausea/vomiting
Food impaction
Food avoidance
Sleep disturbance
Children and infants can also have EoE, with symptoms ranging from insomnia and food avoidance to complaints of stomach pain, sore throat, frequent throat clearing, coughing, and weight loss.
If left untreated, EoE can cause permanent damage to the esophagus. Often gastroesophageal reflux disease (GERD) accompanies EoE. GERD is the abnormal backflow of gastric acid from the stomach into the esophagus, which can cause scarring and narrowing of the esophagus. This is what caused Monica's symptoms to worsen over time.
My research led me to conclude that I had a clean bill of health. I did not fit the clinical picture of an adult with EoE.
Symptomatic? Act Now
If you have symptoms of EoE and report them to your physician, you'll likely receive referrals to a gastroenterologist and an immunologist, also known as an allergist. EoE can be diagnosed by an endoscopy procedure to see if there are any structural deviations. Biopsies may also be taken to count the number of eosinophils.
The specialists will consider a patient's history; for example, a person with EoE may have one or more foods that trigger their EoE symptoms. Allergy testing may be done to identify problematic foods. Once the causative foods are identified and removed from a person's diet, the EoE symptoms will often improve. Treatment goals are to alleviate and/or resolve symptoms and decrease the inflammation in the esophagus. As we saw with my friend Monica, proton pump inhibitors, esophageal dilation, and other therapeutic options are available for the successful treatment of EoE.
Coding for Eosinophilic Esophagitis
The code for EoE is classified under K20 Esophagitis, which is listed under Diseases of esophagus, stomach and duodenum (K20-K31) in Chapter 11: Diseases of the Digestive system (K00-K93). To report EoE, start by looking for esophagitis in the Alphabetic Index. From there, you will see eosinophilic, which points you to code K20.0. The Tabular List confirms K20.0 Eosinophilic esophagitis is the appropriate diagnosis code for what Monica has. Case closed.
Latest posts by Janet Brandt
(see all)