Don't Stumble Over Podiatry Coding
In Coding
May 2, 2022
Comments Off

on Don't Stumble Over Podiatry Coding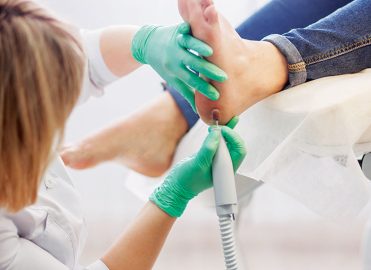 Look to LCDs for guidance on how to get reimbursed for routine foot care.
Routine foot care is probably the most difficult thing for a podiatry practice to manage. It takes a village to make sure all the proper steps are taken to get claims paid. This is because Medicare has a coverage policy that states the routine trimming of nails and removal of calluses or corns is statutorily excluded. Find out what that means and what it takes for your provider to be reimbursed for podiatry services.
Understand Coverage Specifics
"Statutorily excluded" means that the service is never a covered benefit. Never say never, though! To see if there are ways to get reimbursed for routine foot care, look to related policies for guidance. For Medicare, you'll find that you can bill the service if the care is medically necessary.
You can find this information in the Local Coverage Determination (LCD) policy on routine foot care for your Medicare Administrative Contractor (MAC) (L35138 for Novitas Solutions). You can look up the LCD for your MAC on the Medicare Coverage Database website (link in Resources section). You can also find information about the policy in the Centers for Medicare & Medicaid Services (CMS) Internet-Only Manual Publication 100-02, Medicare Benefit Policy Manual, Chapter 15, Section 290: Foot Care.
Are You Interpreting the LCD Policy Correctly?
LCD policies have many nuances that are worth reviewing. Doing so will help you determine the proper way to bill the MAC for routine foot care and understand the circumstances for when the service is medically necessary and, therefore, payable.
In the policy, you are given covered indications, or reasons, why routine foot care may be covered. Per the policy, the conditions listed "represent systemic conditions that may result in the need for routine foot care." For example, when a patient has a systemic condition, such as chronic venous insufficiency or peripheral vascular disease, it may be dangerous for them to have their nails trimmed, making it medically necessary to be done by a physician.
There is also a limitations area that specifically points to article A52996, which gives you further guidance on the appropriate ICD-10-CM codes to use and the proper listing order. Lastly, you will find the documentation guidelines, which are very important because, as we know, documentation is key for proper coding and reimbursement.
Examine Medical Necessity
Let's take a closer look at the medical necessity article A52996. This is where much of the claim error and denial rates stem from, so I will walk you through how to interpret the guidelines. Start by going to the bottom of the LCD policy and locating the link to article A52996. Then find the CPT® codes in the article; directly below them are all of the ICD-10-CM codes that support medical necessity. Also notice the list of allowed modifiers. Make sure your physician notes all applicable findings in the documentation to support medical necessity and coding. Before you wrap up your claim, there is another LCD policy you should reference.
Debridement of Mycotic Nails
In all my years of podiatry billing, I have had to refer to Novitas Solutions' LCD L35013: Debridement of Mycotic Nails many times. Fungal nail is a condition that is covered by this MAC but with coverage limitations, indications, and documentation guidelines. Again, you will find a link to the article near the end of the policy; this one is labeled A56640: Billing and Coding: Debridement of Mycotic Nails. These articles are important to review because they have very specific instructions for sequencing ICD-10-CM codes to ensure proper payment.
It is important that you understand the limitations for frequency and the order of codes. The article specifically refers to CPT® codes 11720 Debridement of nail(s) by any method(s); 1 to 5 and 11721 Debridement of nail(s) by any method(s); 6 or more. It informs you that "ICD-10-CM code B35.1 must appear on each claim in addition to one of the other ICD-10-CM codes below that indicates secondary infection, pain, or difficulty in ambulation."
According to policy L35013, if the patient does not have mycotic nails, you should refer back to the original routine foot care policy L35138.
Coordination Is Key
Medicare requires that, in addition to billing the codes, we need to specify the referring physician and the last date the patient saw their primary physician. This is because if they have a condition that supports medical necessity, Medicare wants to know the last time the patient was seen to monitor that condition. They also want to ensure that when the appointments are made, that information is collected, and a referral is in the chart for verification.
You will also want to review commercial insurance policies, as applicable. Many of them follow Medicare but may also have their own billing requirements. Although there are many guidelines and policies, you can ensure claims are paid if you follow the rules and have very clear communication with all staff members.
---
Resources:
CMS MCD: www.cms.gov/medicare-coverage-database/search.aspx
CMS Internet-Only Manuals: www.cms.gov/search/cms?keys=internet+only+manual
Latest posts by Jennifer McNamara
(see all)