Coding Infusions, Hydration, and Injections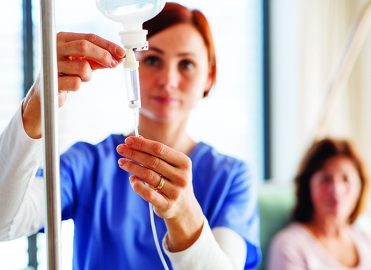 Find out what it takes to get these claims paid.
Coding infusions, hydration, and injections is much easier when you understand the hierarchy for facility reporting; the differences between initial, sequential, and concurrent; and documentation requirements. There are also helpful guides you can use such as the infusion/injection decision tree.
Michele M. Stevens, CPC, CPMA, AAPC Fellow, a former clinical coding manager for Maine Health, educated attendees on all of this at AAPC's regional HEALTHCON 2021 in Charleston, S.C., in her session "Infusion, Hydration, Injecting Coding."
Facility Hierarchy
Possibly the most important concept to understand when coding infusions, hydration, and injections is the facility hierarchy. "It's not necessarily what started dripping first. It's the intent of that visit," Stevens explained. "Chemotherapy infusion will always come first, and then your chemo push, and then a chemo injection."
As shown in Figure 1, therapeutic, prophylactic, and diagnostic infusions are next in line, followed by pushes and injections, and lastly, hydration.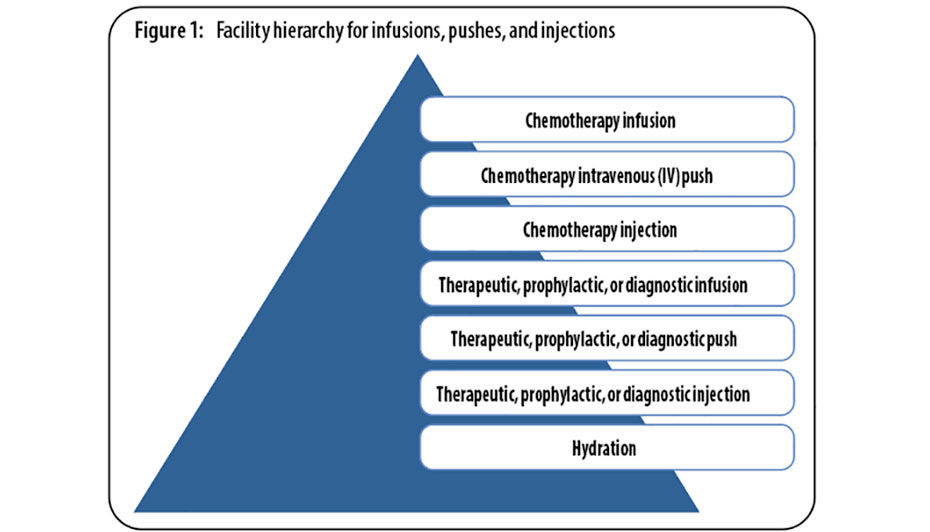 To correctly code a service, answer the following questions:
Why is the patient here?
What did the patient receive?
How was it given?
How long did it take?
"Our coding guidelines tell us that we code the cancer diagnosis primary for chemo infusions," Stevens said. "But when we code hydration, the reason for the hydration is the primary diagnosis, not the malignancy." And if the patient is getting both chemo and hydration, you should report both diagnosis codes.
Documentation Requirements
Documentation recommended to ensure correct assignment of infusion/injection codes includes:
Drug/substance administered
Mode of administration
Access site
Start and stop times

See Table A for time documentation requirements.

Rate of administration
Dose and volume of drug administered
Evidence the line was flushed when complete
Amount of drug wasted/discarded (modifier JW)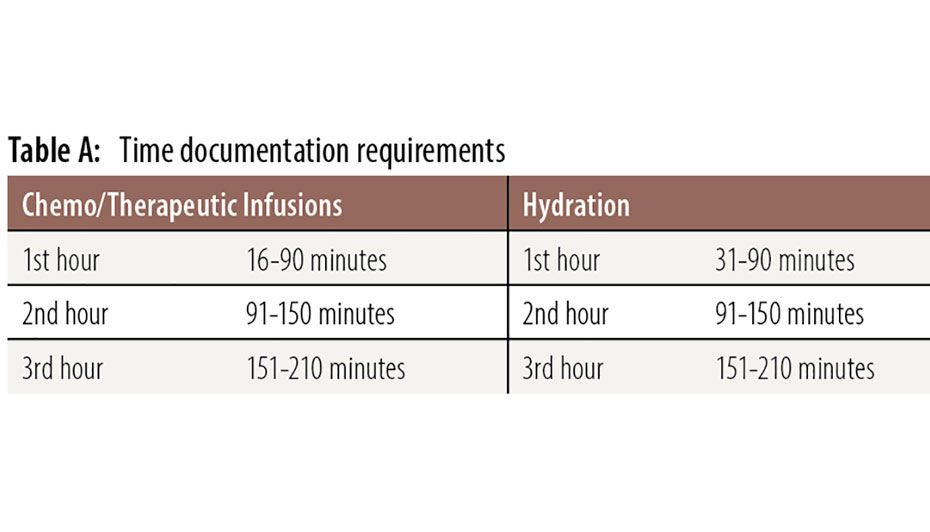 One thing to remember is that services leading up to and following an infusion are included, or bundled, in that service such as flushing the line. Also included as part of the operative service under the Outpatient Prospective Payment System and, therefore, not separately billable:
Anesthesia
Hydration
Anxiolytics
Antibiotics
Post-operative pain medication
Regardless, everything the clinical staff does should be documented. Stevens explained, "Because it may be appropriate to submit an [evaluation and management] charge on top of your infusion charges." If so, be sure to append modifier 25 Significant, separately identifiable evaluation and management (E/M) service by the same physician or other qualified healthcare professional on the same day of the procedure or other service to the E/M code.
Initial vs. Sequential vs. Concurrent
If CPT® guidelines for reporting initial, sequential, and concurrent infusions leave you wanting more, consider the following pointers.
Initial Service:
Why is the patient being seen?
Hierarchy does not apply to subcutaneous/intramuscular injections.
Order of service delivery does not determine initial service.
There is only one initial service, unless:

Two separate IV sites are used and medically necessary.
The patient returns for a separate, medically necessary, and reasonable encounter on the same day.

Append modifier 59 Distinct procedural service to the second initial service.
Sequential Administration:
When multiple drugs are infused one right after another.
This must be a different drug through the same IV access.
There must be a clinical reason for performing sequential verses concurrent administration.
Example: Drug A 1:00 to 2:00 / Drug B 2:05 to 2:45
Concurrent Administration:
This is when multiple therapeutic or diagnostic medications (not hydration) are infused simultaneously through separate bags through the same vascular access site.
Example: Drug A 1:00 to 2:00 / Drug B 1:20 to 2:20
"Knowing the difference between [initial, sequential, and concurrent] allows you to pick the right CPT® code every time," Stevens said.
Hydration
To separately bill hydration codes 96360 and +96361, documentation of supporting signs and symptoms, such as dehydration or fluid loss, is required. Abnormal lab studies showing elevated BUN, creatinine, glucose, or lactic acid are acceptable. Nausea alone does not indicate fluid volume depletion nor support necessity of fluid repletion.
"Each MAC has their own policy about hydration and chemo … I strongly suggest you look yours up," Stevens advised.
Generally, do not code hydration when:
The purpose of IV fluid is to keep an IV line open.
Fluid is the vehicle in which the drug is administered.
Used to accommodate a therapeutic IV piggyback through the same IV access.
Used for routine administration of IV fluids, pre/post-op without supporting documentation of signs and symptoms.
It is given concurrently.
Stevens points out that CPT® defines hydration as "prepackaged fluid and electrolytes … not used to report the infusion of drugs or other substances … Typically such infusions require little special handling to prepare or dispose of …." As such, Stevens reasons, anything that is mixed in your facility's pharmacy is therapeutic, not hydration.
Injections and Vaccines
Stevens briefly talked about the importance of knowing certain details about drugs you are coding and how they are being used. For example, the BCG vaccine when administered via an intravesical route is not actually a vaccine — it's chemo. Thus, you would report 51720 Bladder instillation of anticarcinogenic agent (including retention time), not a vaccine code (90471-90474).
For vaccines, administration codes are dependent on:
Age of the patient
Route of administration
Provider counseling provided and documented
Number of vaccines or components
You need to report the administration codes in addition to the vaccine codes, even if the vaccines are state-supplied or the patient picks them up at the pharmacy. "You have to build those into your chargemaster with a penny charge, so they'll go out to your clearinghouse," Stevens said.
Also important is to look at the code descriptions to see what is included, so you're billing the correct number of components. For COVID-19 vaccines, make sure you're aware of which vaccine the patient is getting and whether it's a first, second, third, first booster, etc.
Latest posts by Renee Dustman
(see all)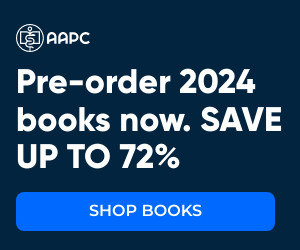 One Response to "Coding Infusions, Hydration, and Injections"