I Am AAPC: Vishnupriya Kamaraj, CPC, CPB
By Lee Fifield
May 2, 2022
Comments Off

on I Am AAPC: Vishnupriya Kamaraj, CPC, CPB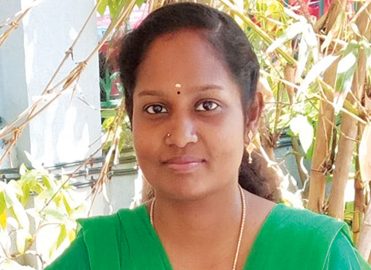 I have been in the medical field for almost 15 years. I began my career in 2006 working in charge entry for a radiology, hematology, and oncology center and slowly progressed to auditing. In 2009, I began working for SCIO Management Solutions, where I discovered I had an interest in medical coding.
Getting Certified
I started learning the basics of coding and began preparing for AAPC's Certified Professional Coder (CPC®) exam. I earned my certification in 2012. The knowledge that comes with coder certification helped me both in addressing claim denials and in my work in revenue cycle management (RCM).
Learning is a continuous process; so, after gaining more experience in RCM, I sat for the Certified Professional Biller (CPB™) exam and passed in 2019. My certifications enabled me to advise and train my colleagues in coding and the denial process. Now, I'm a manager at SCIO Management Solutions. I thank CEO Dave Kumar, MBA, who encouraged and supported me. His guidance has helped me to achieve my professional goals and for that I'm forever grateful.
Getting Involved
AAPC local chapter virtual meetings are the biggest blessing for chapter members, as it helps us all attend local chapter events in other places. I appreciate how AAPC's local chapters provide a platform for networking with other professionals and sharing ideas, while keeping members up to date and educated.
I have been the education officer for the Chennai, India local chapter since 2020. Scheduling educational events and coordinating monthly speakers has given me more confidence and networking opportunities with other organizations. I even presented a topic to my chapter, which gave me confidence to write an article for Healthcare Business Monthly last year. I thank my fellow officers — Ashique, Rajalakshmi, and Bhavani — for their continuous support.
Facing Challenges
The biggest challenges I have faced in my career were the ICD-10-CM transition and the 2021 evaluation and management (E/M) coding changes. Coders are primarily responsible for reviewing medical records, and they should double-check all information before a claim is submitted to insurance. So, it was a challenge to learn the new rules and accurately code diagnoses to prevent denials.
Making the Most of My Membership
There are many benefits available on the AAPC website that I utilize. I use the Knowledge Center blog, webinars, medical billing and coding free tools like the E/M calculator, code lookup with Codify, the E/M utilization tool, and the forums, where I can post questions when I have doubts and need clarification on a topic. I feel happy when other members respond with their knowledge. Being published in Healthcare Business Monthly magazine is also a great advantage.
---
#iamaapc
We want to feature you in Healthcare Business Monthly! Tell us in fewer than 500 words why you became a member of AAPC, how your AAPC credentials have helped you in your career, and the best part of being an AAPC member. Send your story and a digital photo of yourself to iamaapc@aapc.com.
Latest posts by Lee Fifield
(see all)