Hospitals Have 2009 IPPS Final Rule
By admin aapc
In CMS
August 19, 2008
Comments Off

on Hospitals Have 2009 IPPS Final Rule
In the 2009 Inpatient Prospective Payment System (IPPS) final rule, released July 31 by CMS you can expect payment updates and quality care incentives.
Provisions in the 2009 IPPS final rule include:
The final transition to 100 percent cost-based payment rates
A requirement for hospital cost reports to distinguish between high and low cost supplies and devices
A final transition to Medicare severity diagnosis-related groups (MS-DRGs), and "modest changes" to the program
IPPS 2009 rates update of 3.6 percent for inflation (1.6 percent for hospitals that don't submit quality data). CMS estimates Medicare spending to increase 1.8 percent in 2009, which will reduce the IPPS rate by 0.9 percent. This is in addition to the 0.6 percent reduction carried over from the 2008 IPPS final rule, according to HealthLeaders Media.
An objective analysis of how payments would change if the Medicare Payment Advisory Commission (MedPAC) wage index reform proposal is adapted
Twenty percent of the budget neutrality adjustment calculated on a state-by-state basis and 80 percent calculated on a national basis
The criteria for new geographic reclassification phased in
A higher-paying MS-DRG in cases using a total artificial heart, as well as new technology Add-On payments in approved clinical trial settings
New Emergency Medical Treatment and Labor Act (EMTALA) guidelines
The current Medicare Advantage regulation amended to allow collection of encounter-level data from MA organizations for services furnished to their enrollees
The capital IPPS teaching adjustment phased out
Capital Indirect Graduate Medical Education (IME) payments reduced to half of the amount provided under the current formula
Rebased payment rates for sole community hospitals (SCHs) based on 2006 hospital-specific rates, if doing so results in a higher payment rate than in 1982, 1987 or 1996
The final rule also includes 367 additions (most of which appear in the August issue of Coding Edge), 61 revisions and 25 deletions to ICD-9-CM codes.
Due to length, CMS did not publish Tables 6G and 6H (additions to and deletions from the Complications and Comorbidity Exclusion List, respectively) in the final rule. They are available on the Acute Inpatient PPS section of the CMS Web site.
The final rule, effective for discharges on or after Oct. 1 through Sept. 30, 2009, is on the CMS Web site, and is scheduled to appear in the August 19 Federal Register.
Latest posts by admin aapc
(see all)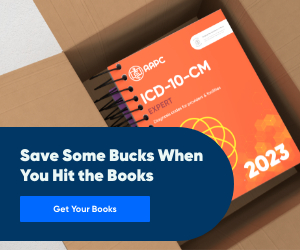 No Responses to "Hospitals Have 2009 IPPS Final Rule"