FDA Limits J&J's COVID-19 Vaccine
In COVID-19
May 10, 2022
Comments Off

on FDA Limits J&J's COVID-19 Vaccine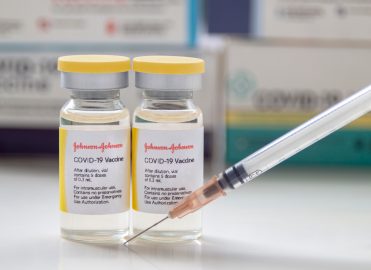 Adverse side effects make the Janssen vaccine an option of last resort.
Emergency use authorization guidelines for Johnson & Johnson's COVID-19 vaccine, labeled as Janssen, and reported with CPT® code 91303, have changed. The U.S. Food and Drug Administration now limits authorized use of the vaccine to "individuals 18 years of age and older for whom other FDA-authorized or approved COVID-19 vaccines are not accessible or clinically appropriate, and individuals 18 years of age and older who elect to receive the Janssen COVID-19 vaccine because they would otherwise not receive a COVID-19 vaccine," according to a May 5 press release.
Timeline for Janssen Vaccine
This is not the first time the FDA has restricted the use of J&J's vaccine. Here's the sequence of events:
The FDA authorized the Janssen COVID-19 vaccine for emergency use on Feb. 27, 2021. To date, J&J's vaccine has not received full FDA approval.
On April 13, 2021, the FDA revoked emergency use authorization of the Janssen vaccine after reports of serious adverse events. Six cases of thrombosis with thrombocytopenia syndrome (TTS), which can occur at various sites in the body, such as in the brain (cerebral venous sinus thrombosis (CVST)), were reported. One patient died, according to the Centers for Disease Control and Protection (CDC).
On April 23, 2021, the FDA and the Centers for Disease Control and Prevention confirmed 15 cases of TTS, including the original six reported cases. All cases were in women between the ages 18 and 59 years, and symptoms appeared between 6 and 15 days after vaccination.
The FDA and CDC restored EUA for the Janssen vaccine on April 23, 2021, after determining it safe and that known and potential benefits outweighed known and potential risks.
On Dec. 16, 2021, the CDC's Advisory Committee on Immunization Practices (ACIP) made a preferential recommendation for the use of the mRNA COVID-19 vaccines (Pfizer BioNTech and Moderna) over the Janssen adenoviral-vectored version in all persons 18 years of age and older.
March 18, the FDA and CDC identified a total of 60 confirmed cases of TTS, including nine fatal cases (not all were women).
May 5, the FDA and CDC issued new EUA recommendations for the Janssen vaccine.
As of May 9, approximately 220.1 million people are "fully vaccinated," according to the CDC's COVID Data Tracker. About 17 million of those fully vaccinated individuals received the Janssen vaccine.
What is Thrombosis with Thrombocytopenia Syndrome (TTS)?
TTS is characterized by low platelets (under 150) and thrombosis. TSS occurs when blood clots block blood vessels, Dr. Tom Shimabukuro explained in an ACIP meeting on May 12, 2021. It can be venous or arterial and complications include heart attack, stroke, and other infarctions.
Per the American Society of Hematology, a definitive diagnosis of TTS, also called "vaccine-induced prothrombotic immune thrombocytopenia (VIPIT)" or "vaccine-induced thrombotic thrombocytopenia (VITT)" meets all five of the following criteria:
COVID vaccine four to 42 days prior to symptom onset
Any venous or arterial thrombosis (often cerebral or abdominal)
Thrombocytopenia (platelet count <150 x 109/L)
Positive PF4 heparin-induced thrombocytopenia (HIT) ELISA
Markedly elevated D-dimer (>4 times upper limit of normal)
It is not known what factors put a person at risk for TTS following administration of the Janssen vaccine (aside from age and sex), according to the FDA.
Symptoms include severe headache, visual changes, abdominal pain, nausea and vomiting, back pain, shortness of breath, leg pain and swelling, and/or petechiae, easy bruising, or bleeding.
If TTS is suspected, the provider will appropriately perform a CBC with platelet count and imaging for thrombosis based on symptoms.
What Are the Risks of TTS?
The rate to adverse effects to the rate of people receiving the Janssen vaccine has not declined, according to the FDA. "The incidence as of the April CDC review was two per million for the JJ vaccine, based on a total of 15 cases reported following 7.98 million doses administered; however, an updated CDC review in December 2021, based on better case ascertainment following description of the syndrome, has now estimated the incidence to be as high as 1 in 100,000," the American Society for Hematology reports.
Although heparin is typically used to treat blood clots, this drug could make matters worse for these patients, according to the CDC. "Avoid use of heparin until VITT has been ruled out or until an alternative other plausible diagnosis has been made," the American Society of Hematology states on its website.
A new fact sheet for healthcare providers administering the vaccine now reflects the revised EUA. There is also a new warning statement and updated fact sheet for providers to hand out to recipients and caregivers.
---
Sources:
FDA, "Coronavirus (COVID-19) Update: FDA Limits Use of Janssen COVID-19 Vaccine to Certain Individuals," May 5, 2022, https://www.fda.gov/emergency-preparedness-and-response/coronavirus-disease-2019-covid-19/janssen-covid-19-vaccine
ACIP, May 12, 2021, meeting summary minutes, https://www.cdc.gov/vaccines/acip/meetings/downloads/min-archive/summary-2021-05-12-508.pdf
American Society of Hematology, COVID-19 Resources, Vaccine-induced Immune Thrombotic Thrombocytopenia, www.hematology.org/covid-19/vaccine-induced-immune-thrombotic-thrombocytopenia
Latest posts by Renee Dustman
(see all)