Meet AAPC's June Member of the Month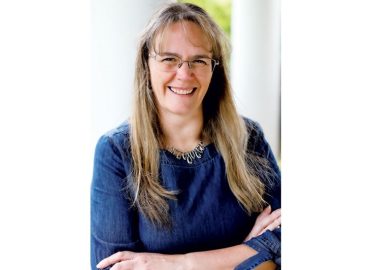 Jennifer Lynn Sanders is a consummate professional who strives to uphold a higher standard for herself and uplift others.
Each month, AAPC selects a member who demonstrates exemplary leadership qualities. This month, we've chosen Jennifer Lynn Sanders, MBA, CPC, CPB, CPMA, CPPM, CPC-I, COSC, CCS-P, AAPC Fellow, AHIMA-Approved Revenue Cycle Trainer, from Annapolis, Maryland.
Interviewing Sanders confirmed our decision to name her Member of the Month. Read the interview below to learn about this impressive individual.
How did you get your start in healthcare?
In 1992, I began working in the healthcare field as a physical therapy technician in California, with the aspiration of becoming a physical therapist. A change in life circumstances kept me on the revenue side of healthcare, however. So, for the next 28 years, I continued working for medical businesses — with a billing company managing podiatry claims, as a practice administrator of a family practice/internal medicine group, and as coder, biller, and supervisor of a large orthopedic surgery group.
During this time, I was a self-taught coder. Then, a coworker suggested I sit for AAPC's Certified Professional Coder (CPC®) exam. It was 2012 when, after completing a weekend coding bootcamp preparation course and one practice exam, I sat for and passed the CPC® exam. My career was expanding from coder and site supervisor to the go-to person to answer questions relating to charges, documentation, and denials. I transitioned to a claim specialist reviewing denials and working aging and collection reports. I began to find a pure passion for denial management and the revenue cycle. Performing reviews and audits was like being a detective to get every bit of information I could find to get claims paid.
In 2016, I noticed AAPC's new Certified Professional Biller (CPB™) credential and immediately pursued it, as well as the AAPC Approved Instructor certification. I thoroughly enjoyed helping my coworkers solve everyday problems they encountered in the office and desired to share my knowledge and experience through teaching. With both credentials earned that summer, I felt a strong drive to reach others in the coding community. I wanted to help as many people as I could. Since 2016, I have continued to add credentials and education with three more AAPC certifications and two AHIMA certifications.
What is your current occupation?
As my non-credit billing education program was phased out at the college, I obtained my MBA in healthcare management to continue sharing my love for medical coding through education. I currently work for DeVry University as an associate professor in the College of Health Sciences. I enjoy the challenge of creating educational content to satisfy the demands of the national certification exams in our field. The best days are when a student reaches out for assistance. Even virtually, I can see the lightbulb go off when the "aha moment" arrives. When students extend their genuine appreciation for the efforts of the educational staff, there is a moment of pride and joy for the hard work and tireless contributions made to the program.
In what way are you involved with your local chapter?
My nearest chapter was two hours away, coincidentally in the same city my active-duty Navy spouse worked in. When we passed each other on the road one day while I was driving to a meeting and he was headed home, I decided to do something so our blended family of seven children wouldn't be left alone for so long. I researched how to create a chapter in my area that same night. The first get-together meeting held to find officers for the chapter introduced me to a group of individuals who have helped our chapter remain active. The very first meeting forged a great friendship with a fellow instructor with whom I work at the community college for the medical billing and coding program. Alternating roles as officers of the Leonardtown/Southern Maryland local chapter, we have kept the chapter alive for the past six years.
The exceptional benefit that comes from AAPC events is networking. Several events have created lasting friendships for me. My first convention attendance was St. Louis in 2017. Sitting at a table for lunch, chatting with the person next to me, formed a great union and career opportunity with an online education organization. The energy from attending conferences is addictive, prompting me to speak at the 2018 Regional Conference in Washington, DC, Anaheim, and Seattle the following year. While in Seattle, I was introduced to an education professional during the Teach the Teacher event who interviewed me for my current teaching position before I left the Seattle hotel.
What are you most proud of accomplishing in your work?
COVID-19 has taken a large toll on the medical field. COVID-19 has also created dramatically more opportunities to network through virtual meetings. My first virtual speaking event was July 2020, as many chapters struggled to bring meetings back to provide the continued education required for our credentials. Since that time, I have delivered over 90 virtual sessions to both AAPC and AHIMA chapters, creating the opportunity to speak with thousands of additional members in 39 states.
Is there anything you want other coders to know about you?
Those who know me well know I am a lover of science fiction, working Star Wars and Comic Con conventions as a volunteer for the past 15 years. Such specialized groups sharing common interests create bonds with other members that can transcend any boundary.
Sharing a passion for medical coding is like sharing a secret code only a few can understand. The language we speak and what drives us to continue to perform each day is unique. I am happy to share my experiences with every individual I encounter. Being a medical coder is a terrific job, but being an AAPC member has been a highlight of my career, bringing exceptional opportunities and a passion to learn more, do more, and be more.
Latest posts by Renee Dustman
(see all)