Take Steps to Safeguard Your Family's Health
June 1, 2022
Comments Off

on Take Steps to Safeguard Your Family's Health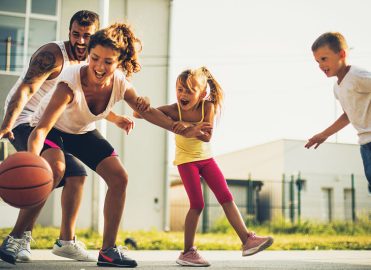 Outdoor activities can do wonders for both the body and the mind.
Being physically active is one of the most important steps that people of all ages — regardless of the presence of disease or disability — can take to improve their health and quality of life. Regular physical activity significantly reduces the risk of chronic disease and premature death and supports positive mental health and healthy aging. And studies have demonstrated that there are additional benefits when you venture into green spaces for some outdoor fun.
We share genes with our family, but many don't realize that we develop everyday habits from them, as well. Food and health patterns tend to spread among family members when they live in the same household, which means that it can be hard to break out of unhealthy patterns when everyone else is following them. Incorporating exercise and a healthy diet into a family's lifestyle takes a team effort.
So, gather your loved ones and head to the park on June 11 in celebration of Family Health & Fitness Day. Held on the second Saturday in June each year, this day promotes physical activity, a healthy lifestyle, and the importance of parks and recreation in keeping communities healthy and active. Read on to learn why you should make this a priority and fun things to do outside.
Learn the Facts
Only one in four U.S. adults and one in five high school students get the recommended levels of physical activity. And inactivity comes with high health and financial costs. A sedentary lifestyle can contribute to obesity and a host of chronic diseases, including heart disease, type 2 diabetes, cancer, hypertension, arthritis, stroke, depression, and sleep disorders.
People of all ages can benefit from more physical activity, including aerobic and muscle-strengthening exercises, according to the Physical Activity Guidelines for Americans.
The guidelines recommend:
Children ages 3 through 5 years should be active throughout the day to enhance growth and development. Adults caring for children this age should encourage active play and aim for at least three hours per day.
Youth ages 6 through 17 years need at least 60 minutes of moderate to vigorous activity.
Adults need at least 150 to 300 minutes of moderate aerobic activity (e.g., brisk walking, fast dancing) or 75 minutes of vigorous activity each week, as well as muscle-strengthening activities (e.g., lifting weights, push-ups) at least twice each week.
Every little bit counts. Even short bouts of physical activity can improve health and wellness.
Discover the Benefits of Outdoor Activities
Physical activity contributes to normal growth and development. It helps people function better throughout the day and sleep better at night. Plus, you don't have to wait to reap the rewards. Some benefits on brain health, such as improved sleep, less anxiety, and reduced blood pressure, occur right after a session of moderate to vigorous physical activity.
Being active benefits both the body and the mind. Among adults, physical activity is associated with improved quality of life, emotional well-being, and positive mental health. In children and adolescents, some evidence suggests that physical activity can lower levels of anxiety and depression.
Take your healthy habits to the next level by putting your electronic devices down and heading out the door. Mounting scientific evidence shows that time spent in parks and green spaces has a positive effect on both physical and mental health such as reducing stress and complications caused by chronic diseases and increasing mental well-being.
According to the Centers for Disease Control and Prevention, "Physical activity in natural park settings may confer benefits above and beyond equivalent activity in built settings. Proximity to parks and green space has been associated with reductions in self-reported stress, depressive symptoms, and interpersonal violence and with improved attention, self-discipline, social ties, and quality of life."
These facts highlight the importance of Family Health & Fitness Day, a time when communities unite to promote healthy food and exercise and support bringing families together to practice healthy habits. Children watch what the older generation does, and when someone in the family adopts a healthier lifestyle, children will likely follow. When a family strives to be healthy together, the rate of success increases!
Get Out and Play
There are so many ways to celebrate Family Health & Fitness Day: Find a game or sport everyone enjoys; play fetch outside with your dog; go on a run, walk, or bike ride together as a family; join a fitness class. Other fun ideas include gardening, hiking, or making a family dinner meal with everyone playing a role in the preparation. Then, incorporate your favorite activities into your family's daily routine.
This is a day for everyone! Nobody is too young to be left out of the celebration. Showing children at an early age that being healthy and active is fun and exciting will help them carry healthy practices throughout their life, which will benefit both their physical and mental well-being.
---
Resources:
www.cdc.gov/physicalactivity/index.html
https://health.gov/our-work/nutrition-physical-activity/physical-activity-guidelines/current-guidelines/top-10-things-know
www.cdc.gov/pcd/issues/2014/13_0407.htm
Latest posts by Stacy Chaplain
(see all)