The LAB Sets the Record Straight
June 1, 2022
Comments Off

on The LAB Sets the Record Straight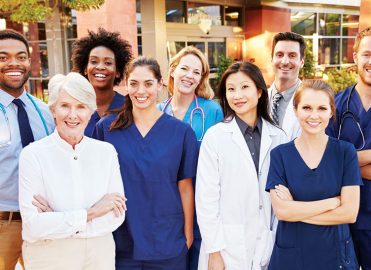 AAPC's Legal Advisory Board answers your questions about legal trends and issues surrounding the business of healthcare.
At this year's virtual HEALTHCON, AAPC's 30th national conference, many tuned in to the legal trends panel, a perennial favorite led by AAPC's Legal Advisory Board (LAB), to gain insight into today's and tomorrow's most pressing healthcare compliance concerns. The questions the panel fielded ran the gamut; and over the next few months, we'll share with you the expert advice doled out for medical practices and facilities facing increased financial scrutiny and regulation.
AAPC's Legal Advisory Board
Timothy P. Blanchard, JD, MHA, FHFMA
Julie Chicoine, JD, BSN, CPC
Stacy Harper, JD, MHSA, CPC
Karina Johnson, Esq., COC, CPC, CPCO, CDEO, CIC, CPB, CPMA, CPPM, CPC-I, CANPC, CCC, CGSC, CHONC, COBGC, COSC, CPCD
Michael Miscoe, JD, CPC, CASCC, CUC, CCPC, CPCO, CPMA, CEMA, AAPC Fellow
Christopher Parrella, JD, CHC, CPC, CPCO
Robert Pelaia, Esq., CPC, CPCO
Anti-Markup Rules — Asked and Answered
Can you please explain how the Medicare anti-markup rules would apply if a physician group contracts with a staffing agency to find physicians to interpret diagnostic studies? [The] physician group wants to be able to bill for the professional component of the sleep study performed by the external physician. [The] interpreting physician does not share an office space with [the] billing physician. Are there reassignment issues at play here?
Michael Miscoe, JD, CPC, CASCC, CUC, CCPC, CPCO, CPMA, CEMA, AAPC Fellow, was the first to weigh in:
"Great question and it creates some interesting issues … There was a 2009 change to the anti-markup rule that applied that rule to both the professional and technical component. Another piece of information I think we would need to have is: What is the relationship between the actual physician that's doing the work and the practice? If that physician is at least an employee or through the staffing firm, and actually credentials with the practice, I'd have less concerns, but if they're just outsourcing the read — the professional work to an external physician that they find through a staffing agency — that's different.
"There are two tasks that CMS [the Centers for Medicare & Medicaid Services] has established for evaluating issues under the anti-markup rule. I won't go through them in detail, but one is the substantially all services requirement, which I don't think would apply here because that implicates what's called a 75 percent rule and it applies more to the supervision of the technical work. The other is a site-of-service task, which wouldn't be met here because the physician is off-site. Although, in this era of COVID, I don't necessarily think that that would be a problem. But the relationship between that physician and the practice, and whether that physician is credentialed with the practice, would probably be the determining factor."
Timothy P. Blanchard, JD, MHA, FHFMA, agreed, adding, "What I always recommend is that whenever everyone does an analysis of the anti-markup rule, get out your pencil and paper and work your way through the criteria; check the things off. Make sure you've got one of the bases for either not having the rule apply or be sure that you bill in accordance with the anti-markup rule."
Christopher Parrella, JD, CHC, CPC, CPCO, said, "It's been a number of years since the MACs [Medicare Administrative Contractors] have aggressively gone after the IDTF [Independent Diagnostic Testing Facility] population for the anti-markup rule. Although, in years past, I did see a number of these overpayment cases. I believe the Medicare Benefit Policy Manual has some very specific guidelines when it comes to anti-markup. But just for historical context, it's been some time since I've seen any of these over-pins."
Blanchard added, "The thing about the anti-markup rule is it's so easy for folks to get confused about how it works. And that makes it very easy for somebody on the inside, who knows that it wasn't actually the way it was supposed to be, to become a whistleblower, either technically or just in the sense of making this call. All the more reason to be on top of those things. Make sure the folks that are in a position to be confused about it, or be worried that they may be involved in something that isn't appropriate, is appropriate."
"And another thing," said Miscoe, "it's important not to lose sight of the purpose of the rule. It prevents you from marking up what you're paying the physician to do that read. So as long as you don't do that, then this discussion becomes somewhat academic. I would say, however, on the other hand, be mindful you know when you juxtapose this to even commercial payers. They have provisions and contracts that preclude you from contracting with another provider who isn't credentialed. And you may even run into credentialing issues with Medicare, as well, because then the question becomes: If you're billing the professional component under the name of the provider that did it and you're not marking it up, where that provider isn't credentialed, then you're not going to get paid. So, there are some reimbursement issues to consider with this, as well."
Parrella said that he and Miscoe are currently involved in a case where a commercial payer has, "as most of them do," anti-pass-through billing rules and regulations, "which pretty much dictate that if you're not the rendering provider, very similar to the anti-markup rule, you can't pay a contractor to render the service." Instead, you would submit the claim under your NPI box 24J as the ordering or rendering provider and the pay-to provider, according to Parrella.
Miscoe agreed with Parrella and replied, "And the only defense would be the incident-to rule which, if it doesn't apply, then you're pretty much stuck."
Latest posts by Stacy Chaplain
(see all)