AAPC International Is Advancing the Business of Healthcare Worldwide
In AAPC News
July 1, 2022
Comments Off

on AAPC International Is Advancing the Business of Healthcare Worldwide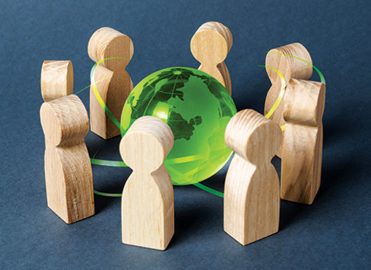 Learn about AAPC's global expansion and the growing demand for well-trained medical coders.
Over the last several years, AAPC's international membership has expanded to 43 countries. Today, AAPC has more than 220,000 members worldwide, offers more than 30 credentials, and provides numerous services and resources to its members including training, books, and tools such as Codify. Thanks to this steady growth, AAPC is now the largest healthcare trade association on the business side of medicine in the world! What does this mean for its members?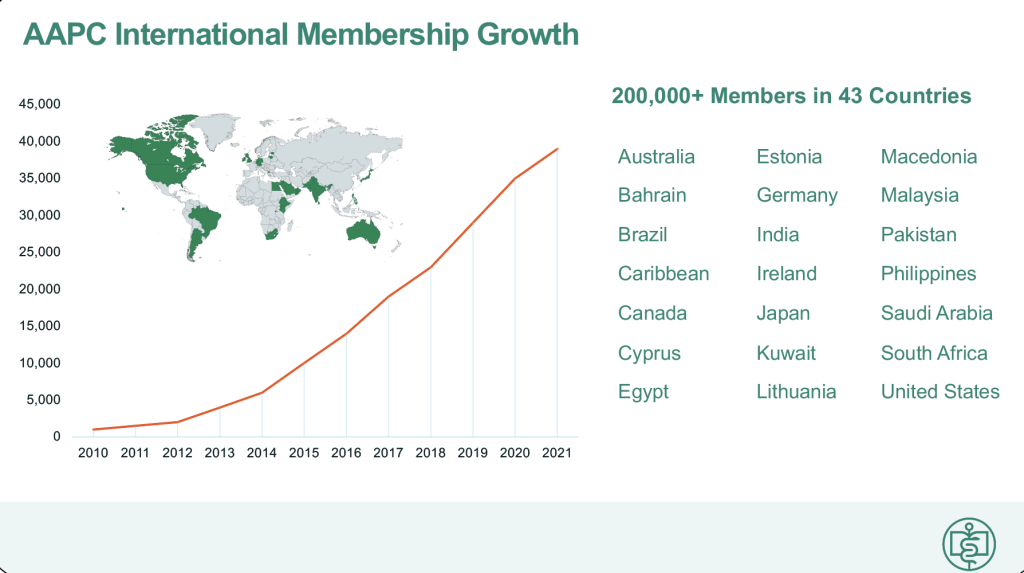 Dan Schwebach, senior vice president of AAPC International, answered that question and more in the session "AAPC International and Review of Global Trends" at HEALTHCON 2022. Schwebach and his two guest speakers gave healthcare business professionals an in-depth look at AAPC's worldwide expansion, firsthand accounts of the growing need for qualified, knowledgeable medical coders, and how this evolution is expanding opportunities for skilled U.S. coders, auditors, educators, educators, and other subject matter experts. Here's a recap of that session.
Leading the Way
"When it comes to medical coding, I would say that the U.S. is a relatively mature market. We've been coding now for about 40 years," said Schwebach. But in many other parts of the world, medical coding for reimbursement purposes is still relatively new or non-existent.
To help demonstrate utilization of medical coding around the world, Schwebach shared a chart breaking down global spending on coding-related services. North America is the predominant market, making up roughly 64 percent of the global market. The EMEA region — Europe, the Middle East, and Africa — is the second-largest market, at nearly 26 percent, with only about five countries driving most of the EMEA's coding activity.
"If you look at the rest of the world," Schwebach explained, "what this chart really helps to illustrate is that Central and Latin America (2.3 percent), the APAC [Asia-Pacific] region (8.4 percent), and many of the countries in the GCC [Gulf Cooperation Council] region are quite limited in terms of their adoption and use of medical coding." But this is starting to change quite rapidly.
Demand for Medical Coding Globally Is Growing
Many countries are making moves toward the adoption of medical coding. This industry boom is largely fueled by a growing number of countries worldwide working to modernize their healthcare systems and adopt various payment models such as insurance-based payments, diagnosis-related groups (DRGs), and other value-based payment systems. To do this, countries that have historically not utilized medical coding to guide reimbursement are beginning to embrace the need for more sophisticated medical coding, which provides standardization and the utility to package healthcare data into a consumable format for purposes ranging from billing and research to tracking data and improving quality to monitoring and preventing insurance fraud.
Another driving force behind the increased demand for medical coding is countries beginning to transition from being predominantly government-funded systems to working to introduce private insurance into their markets. The Kingdom of Saudi Arabia (KSA), for example, was completely government-funded and, in just the last few years, has introduced about 27 insurance companies, which cover nearly 11 million lives, or about one-third of the population.
The third trend fueling the global need for the skills and expertise of medical coders is the massive IT transformation occurring worldwide, driving the shift from paper to digital. "Digitization of information is really helping provide the catalyst to adopt medical coding in a lot of these other countries," explained Schwebach.
What's Going on Around the World
There are massive transformational projects underway in countries around the globe. "What's amazing is that the basis of all of this stems back to medical coding because coding is that universal language to communicate data and information within the healthcare system," said Schwebach.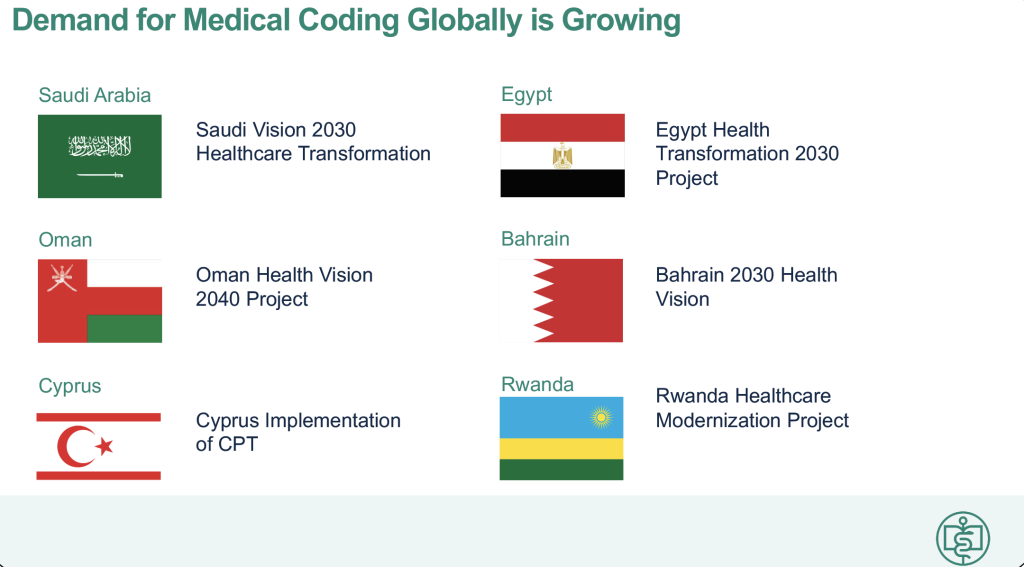 Saudi Arabia: Saudi Vision 2030 Healthcare Transformation
Oman: Recently adopted CPT® about three months ago as part of their Health Vision 2040 Project. AAPC is working closely with their health ministry to provide training and help support the adoption.
Cyprus: Recently implemented CPT® codes into its healthcare system.
Egypt: Completely overhauling their healthcare system. The Egypt Health Transformation 2030 Project includes implementation of a national claim system and bringing insurance into their markets.
Bahrain: AAPC has had the opportunity to offer training and certification here recently, helping to train some of the first medical coders in the country. As part of their 2030 Health Vision, Bahrain is implementing:
a national health information system;
electronic health records; and
Australian coding into their system.
Rwanda: Trying to modernize their healthcare system. AAPC is working with their health ministry, as they're looking at adopting more comprehensive use of medical codes throughout their country.
This is just a snippet of what's happening around the world and how AAPC is able to be a part of a lot of these different transformations.
Global Impact
All of these changes underway in countries around the world are having a significant impact on our industry. The growing adoption of medical coding has led to a global shortage of skilled and experienced medical coders. As a result, there is a tremendous need for training and education to help build local resources and workforces. Countries undergoing these transformations are looking to the United States "because we're one of the most experienced markets when it comes to medical coding, especially for purposes of reimbursement. They're looking for information and support as they look to implement these types of models into the country," said Schwebach.
To help support the many countries enacting changes to their healthcare systems, AAPC International has been working closely with their health ministries, payers, and providers to implement localized standards and guidelines, as well as promote the value of credentialing in validating skills and competencies. AAPC's mission is to support members in their ongoing professional development and to provide comprehensive solutions and resources to not only members but also the organizations they serve.
Schwebach went on to explain that "AAPC is trying to be very methodical and deliberate about how we're trying to support our mission and how we approach the needs of a growing global community in some of these other countries." AAPC is tackling this great undertaking by:
Expanding certifications to eventually include other classification systems.
Localizing the content of training and education; localizing events to help support our members in those different classifications.
Expanding AAPC's operations geographically to better serve international members.
Developing a global medical coding community and providing opportunities for members around the world to learn from one another, to connect, and to be able to collaborate together.
"I think there's tremendous opportunity for many of you in the U.S. who are interested in being a part of something international to get involved. There's really just a lot of need, so we're working on finding ways to be able to help facilitate those types of things," said Schwebach.
New and Emerging AAPC International Certifications
This shift toward enhanced medical coding has underscored the need for having well-trained medical coders. As a result, more and more countries are accepting medical coding as an acknowledged procession and realizing the value of providing credentialing and certification for those professionals. As a leader in the industry, many have turned to AAPC for help and guidance as they transform their healthcare system. Here's a snapshot of the international certifications recently released and what AAPC has in the works:
CHC-B – Certified Hospital Coder – Brazil (CHC-B) was released last year and embraces Brazil's coding classification system. It's AAPC's first international certification and the first credential in a foreign language, Portuguese.
CCP – Clinical Coding Professional (CCP) is a new certification that has been localized to markets including Bahrain (CCP-BH) and Saudi Arabia (CCP-KSA), both based on the Australian classification.
CCP-BH – Released at the end of last year. The first batch of coders completed training and became certified in December, and another batch this past April.
CCP-KSA – Credential will be ready within the next month or two.
CCP-AUS – Credential under development for Australia.
CCP-CH – Credential under development for China.
CRCS – AAPC is also working on a Certified Revenue Cycle Specialist (CRCS) credential, which will be specifically for the Saudi market. It's similar to the Certified Professional Biller (CPB™) credential here in the U.S. and will be available in September.
"Much of the world, as I mentioned, is still in their infancy when it comes to health information management and medical coding. There's really, truly a global need for the skills and expertise of medical coders. AAPC's mission is to help support the needs of our members, regardless of their geography, so we'll continue to expand our international efforts, and we'll continue to work to help make AAPC truly a global community," said Schwebach, as he turned the presentation over to his two guest speakers.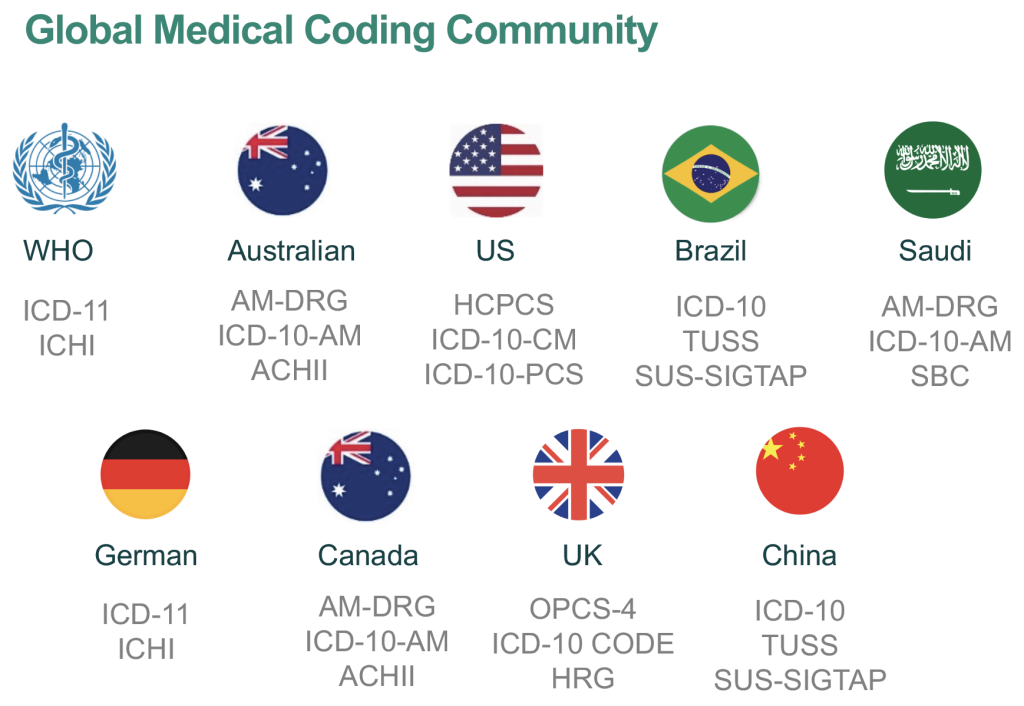 Brazil Overview
Brazil, which has one of the world's largest public healthcare systems, has been undergoing a digital transformation and adoption of medical coding, and Paula Daibert, MD, president of the Brazilian Society of HIM Analysts, was eager to give a firsthand account of the progress that has been made. Daibert worked with AAPC International as it established its first credential in a foreign language in Brazil, which launched at the end of 2020, and has been instrumental in establishing medical coding as a profession in Brazil.
After providing some background on the healthcare market and medical coding in Brazil, Daibert detailed the evolution of coding practices over the last few years. Until recently, coding was primarily directed at billing, and this billing was mainly done by auditors. Fee for service was the payment model used by both the public and private healthcare systems. Fast forward to today: Now "there is a professional coder on the market. Inpatient coding was the first necessity. Coding for DRGs is what drove this change, and what continues driving this change is value-based payment and the different ways to reimburse for medical services," Daibert explained. Now, coders in Brazil:
are hired by hospitals or providers to work with inpatient coding, primarily DRG coding;
have an average of 400 hospital discharges a month;
have access to inpatient data, DRG software, and different systems to code for procedures; and
code from what's billed, only revealing it if there is an inconsistency with the results that are given by the DRGs.
And this information has wider use today. It's used in concurrent audits, clinical governance, and value-based payments. While there are still plenty of challenges to overcome and improvements needed, progress has been made. Physicians are becoming more involved with medical coding and clinical documentation improvement. They have a better understanding of value-based healthcare and the impact delivering a quality service can have on their income. And partnerships are being formed between providers and coding professionals, with everyone working together to improve and ensure the quality of information available for coding.
"We are just babies in this profession that we call professional coders," said Daibert. It wasn't until February 2021 that the career of professional coder was recognized. The driving factors behind Brazil's adoption of medical coding were a desire to make their healthcare system better and to understand inefficiencies through the use of DRG coding. The Brazilian Society of Health Information Managers and one of the oldest medical schools in the country partnered with AAPC International to bring training and certification to Brazil.
Today, aspiring coders can undergo training via extension and preparatory courses at universities in Brazil, which teach the same subjects taught here in the United States. Their first official exam was last December, and the next round of exams is in July. "We have our first ever group of certified inpatient coders in Brazil; 40 coders completed the training. We're very pleased with the opportunity to evaluate their skills. The exam was very successful in measuring coding skills, and coders now have better recognition from employers. They recognize the importance of being certified and being a qualified medical coder."
The Saudi Transformation
Schwebach then turned things over to Hamad A. Al Huzami, CEO of Anova Health. Huzami has been very involved in the transformation efforts underway in the KSA, including working with AAPC International on the Saudi classification certification. He spoke on the history of healthcare and clinical coding standards in the KSA, the Saudi Billing System (CHI-SBS), and the evolution underway as part of the Saudi Vision 2030 Healthcare Transformation.
The Saudi transformation aims to streamline the provision of healthcare services and establish a comprehensive, effective, integrated healthcare system focused on the health of individuals and society in general, which means prioritizing primary care and prevention of disease. Another goal of the 2030 transformation plan is attempting to make the two contrasting segments of the healthcare industry — the public and private sectors — meet in the middle through value-based healthcare.
"Something I admire, whenever there's something that's not done well, or we realize that there is something that can be better, or there is a better approach, it is usually reviewed and changed," said Huzami. This desire for improvement is what drove the KSA to go from having no standardized healthcare system to initiating projects such as:
Adopting the ICD-10 Australian modification (ICD-10-AM).
Creating a national platform for health information exchange services (NPHIES) to centralize transactions between payers and providers and establish a comprehensive national medical record for all.
The Council of Health Insurance (CHI) imposing clinical standards, regulating transactions, and assuming responsibility for fraud management and escalations.
"What came out of all these coding standards is what we call now the Saudi Billing System. And these are the standards that they are utilizing now for procedures," explained Huzami. "It's by no means a sprint, it's a very long marathon. The good thing is they're headed in the right direction."
These changes boosted the need for medical coders, which, in turn, created more training and job opportunities. And this movement has picked up speed as the multitude of benefits medical coding provides has become more widely understood, particularly by the private sector. ANOVA has had a very prominent role in helping to promote education, set standards, map codes, and demonstrate the value of coding practices to get buy-in from payers.
"So, within two to three years, hopefully, this maturity level will rise enough where we see coders doing the proper work," said Huzami. "One of the good things that CHI did is that any medical facility to be licensed has to have coders equivalent to the number of discharges and beds that they have. And all that is pushing the whole industry into understanding, appreciating, and adopting clinical coding and documentation."
ANOVA is working with leading medical facilities, helping them to develop and implement educational programs. King Faisal Specialist Hospital is one such example. They've established a clinical documentation department there and trained their first batch of 42 coders with outstanding results. This is what brought ANOVA and AAPC together to form a strategic partnership. Through raising awareness and promoting clinical standards, this alliance will help create a healthier healthcare industry and enable the provision of quality care.
"Some of the good news," said Huzami, is "we've already had the course for the Certified Revenue Cycle Specialist certified and endorsed by CHI; this happened earlier this month. And the Certified Coding Professional is under final review. Hopefully, within weeks, we'll get the approval for it."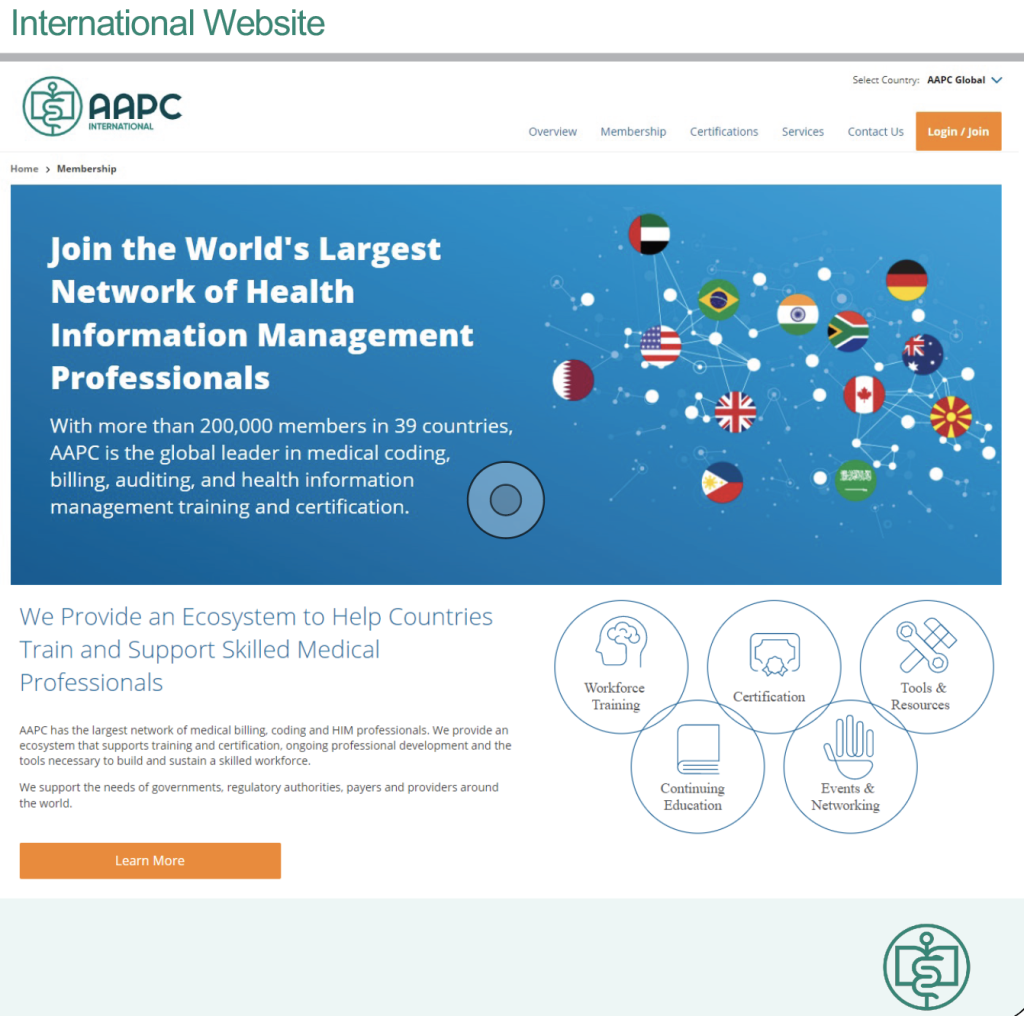 The Future Is Bright
AAPC is growing by leaps and bounds, and this international growth has boosted the global need for the skills and expertise of medical coders. With the massive transformational projects underway in many countries worldwide, AAPC International and its members are poised to play a pivotal role in the adoption of medical coding and clinical standards around the globe.
#IAMAAPC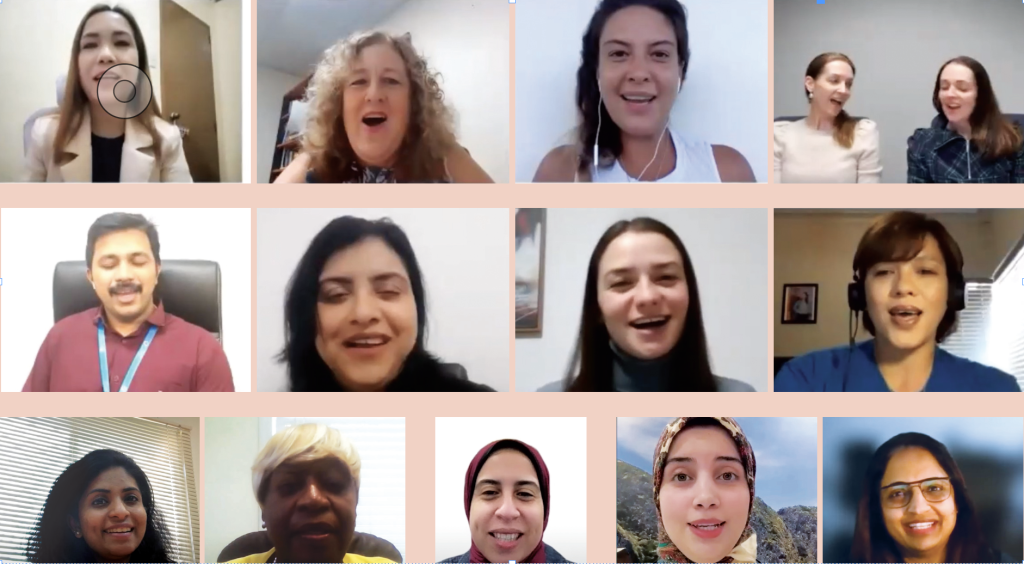 #iamaapc is a movement that began a few years back. AAPC fans picked up on it quickly and began telling the world why they are proud to be an AAPC member. You can catch their stories in Healthcare Business Monthly and on social media.
As AAPC branches out into other countries, seeking opportunities to advance the business of healthcare, the potential for you to expand your network is boundless. Watch the video in the electronic version of your member magazine (via My AAPC) to meet some of your international colleagues who are proud to say #iamaapc. We have so much to learn from one another.
Join the #iamaapc movement! Tell us in 300-600 words why you became a member of AAPC, how your AAPC credentials have helped your career, and the best part of being an AAPC member. Send your story and a digital photo of yourself to iamaapc@aapc.com.
---
Resource:
www.aapc.com/global
Latest posts by Stacy Chaplain
(see all)