Unravel the Complexity of Risk Adjustment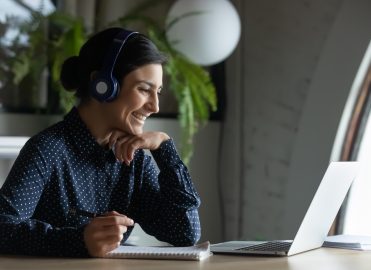 AAPC's RISKCON virtual conference prepares healthcare professionals for the future of reimbursement.
What is risk adjustment? It's a methodology that the Centers for Medicare & Medicaid Services (CMS) uses to compensate Medicare Advantage (MA) plans for the added costs of insuring people with chronic conditions. Sounds simple enough, but it's not. Risk adjustment is complicated. So much so, it necessitates an annual conference dedicated to the subject.
AAPC's RISKCON, June 22-23, provided attendees with both introductory and advanced level education on the subject of risk adjustment with an impressive lineup of sessions and speakers.
Day 1
The virtual conference began with the general session "Payer and Provider Collaboration/Engagement and Best Practices," presented by Kristen Viviano, MHA, CPC, CRC-I, AAPC Approved Instructor. Viviano led attendees through an interactive session about the importance of payer/provider collaboration, common challenges, dos and don'ts of engagement partnerships, and best practices in a risk adjustment model.
Those in attendance learned about the obstacles that prevent payers, providers, and medical coders from successful participation in a risk adjustment program, and they received insightful advice for how to overcome those obstacles.
No two workflows are the same; every organization needs to find what works for them. But there are parameters everyone should follow: Be sure to educate, identify opportunity, map out a workflow, track key performance indicators (KPIs), and stay flexible. In the end, the goal is the same for everyone: quality care, quality data, and quality payment.
After the general session, attendees had a choice between the sessions "Chart Dissection – Diabetes" with presenter Melissa Kirshner, MPH, CPC, CDEO, CRC, CFPC, CPMA, AAPC Approved Instructor, AAPC Fellow, and "Levels of Risk Contracts Considerations – Value-Based Payments Versus Risk Adjustment," with presenters Khushwinder Singh, MD, MHA, CPC, CRC, CPCO, CPMA, CDIP, and Viviano.
In the afternoon, attendees had a choice between "Chart Dissection – Cardiology/Vascular" with Amy C. Pritchett, BSHA, CPC, CPC-I, CPMA, CDEO, CRC, CEDC, CANPC, CPMP, CMPM, CMRS, CASCC, CCS, C-AHI, Approved ICD-10-CM/PCS Trainer, AAPC Fellow, to learn about CPT® 2022 updates and code assignments for cardiovascular services, and "Patient-Centered Risk Adjustment," by Gabriel R. Aponte, MSHIA, RN, RHIA, CPC, CRC, CDEO, CCS, CCDS-O, to learn about a holistic risk adjustment approach based on the patient's conditions and how to implement screening tests in a clinic workflow to identify possible diagnoses based on the patient's health profile.
Those sessions were followed by another of Aponte's presentations, "Chart Dissection – Potpourri," in which he focused on risk adjustment opportunities found in charts, and the presentation "Payer Audit Findings: Medicare and OIG Audits," by Sheri Poe Bernard, CPC-I, CRC, CDEO, CCS-P, and Singh. This dynamic duo spoke about government efforts to reign in fraudulent reporting of risk by health plans to inflate reimbursement, and how coders can ensure compliance.
One of the last sessions of the day, "Risk Adjustment and CDI," was hosted by Colleen Gianatasio, MHS, CPC, CPCO, CPC-P, CPMA, CRC, CPC-I, CCS, CCDS-O, Aponte, Singh, and Bernard. The panel of experts reviewed value-based care beyond revenue to identify the benefits of capturing the patient's accurate clinical story for the patient, provider system, and payer. Attendees learned the importance of capturing accurate patient complexity and how it affects the patient.
Alternatively, attendees could join the session "Risk Adjustment Vendor Selection – How to Screen, Select, Audit, and Maintain a Partnership" with Todd M. Husty, DO, managing director, MARSI (an HBA company). Husty laid it all on the line: There's a high degree of error in risk adjustment and hierarchical condition coding (HCC) coding and most of it is tied to either fraud, complacency on the behalf of doctors and documentation, or inadequate coder training.
Day 2
The second day of conference began with the general session, "Social Determinants of Health," presented by Jacob Swartzwelder, CPC, CRC, CEMC. The session addressed the basics of social determinants of health (SDOH), how they impact healthcare and the revenue cycle, and how to implement meaningful change in documentation and coding practices.
Swartzwelder began by breaking down the categories that SDOH fall within, including economic stability, neighborhood, physical environment, built environment, education, food, social and community context, and healthcare access. He explained how things like job stability, access to community parks, the state of one's home, literacy, and access to healthy food, to name a few, impact patient treatment and affect healthcare outcomes.
With 50 percent of health outcomes determined by SDOH according to the American Medical Association, patients have more impact on their healthcare outcomes than we may realize, said Swartzwelder. He encouraged coders to educate their providers on the importance of gathering SDOH data, especially since it has a huge impact on evaluation and management. The more data reported to Medicare, the more Medicare understands the financial impact it has on facilities, and the more they are likely to start reimbursing SDOH codes. Swartzwelder referenced the many federal initiatives currently surrounding SDOH and suggested that implementing an SDOH program now will have your facility ready for a time (hopefully in the near future) when ICD-10-CM "Z" Codes are reimbursed by payers.
Once the general session was over, attendees chose between two late-morning sessions. "Risk Adjustment for Beginners" from presenter Sherrie Lynne Thevel, CPC, CPPM, CRC, CPC-I, gave an overview of what risk adjustment is and provided a deep dive into the background of risk adjustment and its models. The session "Difference Between Models ACA, CMS, and Medicaid," a panel discussion led by Kelly Shew, RHIA, CPC, CPCO, CDEO, CPB, CRC, AAPC Approved Instructor and Kristen Viviano, MHA, CPC, CRC-I, AAPC Approved Instructor, explained the differences between the various risk adjustment models used by insurance companies. Shew and Viviano fielded a wide range of questions, and attendees walked away with a better understanding of risk adjustment model variables and when each type of model is used.
After the networking lunch, some attendees chose to join panel presenters Colleen Gianatasio, MHS, CPC, CPCO, CPC-P, CPMA, CRC, CPC-I, CCS, CCDS-O, Jennifer Hill, CPC, CPMA, CRC, and Shew for their discussion concerning "Career Opportunities." This live Q&A had no set agenda; the entire presentation consisted of the panel answering audience questions about career pathways and job opportunities. "This is your session," Gianatasio began.
A popular question asked for steps to take to find your first job when you have no experience. The panel suggested looking for contract work through risk adjustment coding vendors or starting with chart retrieval. It's a great way to get your foot in the door, said Gianatasio. Shew further suggested starting as a temp, since there is a great need for temporary workers. Hill recommended presenting your story on LinkedIn: Your profile may then show up in recruiter searches.
Another question posed was what to do when your medical office experience isn't recent, even though you are certified. Gianatasio said to stack your resume to show your experience in its best light — listing your jobs in chronological order may not show your experience to best advantage. Group your experience by type, and list your transferrable skills, as well, she said. Shew said to fill any gaps in medical work with activities or volunteering that illustrate you are project-oriented and to make it clear that you have kept your credentials current.
These were just two of the questions posed, and the rest came fast and furious for the remainder of the hour. Attendees offered their own advice and experience in the chat, as well, and each person walked away with the following tips:
Know how to search for jobs: Look for "coder one" positions or "entry level coder," etc., when you are new to the field, said Gianatasio. There are positions listed specifically for newbies on job sites. Shew recommended to search for a certification and not a job title. Hill said you can also do a search on individual insurance company websites instead of search engines to see what they call coders, as it can vary widely. Go to these sites to see what each organization calls its coders and their analytics people. Searching for the term "coder" will likely not return all the jobs you are looking for.
Keep up your network: Don't wait to network until you need to network, said Gianatasio. If you become displaced, you will need your network to find a new job. Create a network, build it, and maintain it now, so it is there when you need it. Hill suggested that networking is even more important if you don't have a mentor.
Be open to what's out there: Hill advised not to be afraid of an entry level position. Look at the company as a whole when considering a job and evaluate how you can move up later, she said. She also suggested not to limit yourself to remote positions. Working onsite can be very valuable.
Those who didn't attend the career session attended "RA Score Computations – How it Gets from Demographic to Individual Risk" given by Christine Hall, CPC, CPB, CPMA, CRC, CPC-I and Melissa Kirshner, CPC, CDEO, CRC, CPC-I, CFPC. In this session, the presenters walked through CMS' hierarchical condition category (HCC) model components to show how a risk score is built and the impact of when the complete patient story is not stated. An introduction to value-based care, a review of the components of the CMS-HCC risk adjustment model, and an overview of the business of medicine were all covered in this informative session.
The day ended with a choice between live Q&A panel session "Technology Solutions for Risk Adjustment (AI, NLP) – Why Coders Will Always Be Important," presented by Amy Pritchett, CPC, CDEO, CPMA, CRC, CPC-I, CANPC, CASCC, CEDC, and Shew, and interactive session "Compliant Provider Queries" from Gianatasio, which delved into the guidelines for a compliant query through compliant and non-compliant examples.
The Mile High City Awaits
Join AAPC in Denver, Colo., Aug. 3-5 for AAPC's HEALTHCON Regional 2022, where the brightest minds in the business of healthcare will share their most recent insights and learnings. Sessions on clinical documentation improvement, telemedicine and telehealth, revenue cycle best practices, and more will help you stay current on the latest industry changes. And if you can't attend in person, no problem! This hybrid event can be attended virtually. We hope to see you there!
Latest posts by Lee Fifield
(see all)