CMS Proposes 2023 ESRD Payment and Policy Changes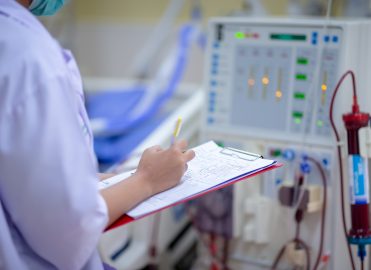 Proposed rule recommends increase in Medicare reimbursement for ESRD and other policy updates.
On June 21, 2022, the Centers for Medicare & Medicaid Services (CMS) issued the calendar year (CY) 2023 end-stage renal disease (ESRD) prospective payment system (PPS) proposed rule. The rule proposes to increase Medicare reimbursement to ESRD facilities, update the ESRD Quality Incentive Program (QIP), and fine-tune the ESRD Treatment Choices (ETC) Model that was made mandatory in 2021. If finalized, the proposed changes would take effect Jan. 1, 2023.
Reimbursement Revisions
Under the proposed rule, Medicare expects to pay $8.2 billion to approximately 7,800 ESRD facilities for furnishing renal dialysis services. The proposed CY 2023 ESRD PPS base rate is $264.09 — an increase of $6.19 over the current base rate of $257.90.
CMS projects that the updates for CY 2023 would increase the total payments to all ESRD facilities by 3.1 percent compared with CY 2022. For hospital-based ESRD facilities, CMS projects an increase in total payments of 3.7 percent, and for freestanding facilities, CMS projects an increase in total payments of 3.1 percent.
CMS is also proposing a rebasing and revision of the ESRD bundled market basket, which would be based on 2020 as the base year with a labor-related share of 55.2 percent.
The proposed rule would increase the wage index from 0.5 to 0.6 and apply a permanent 5 percent cap on decreases to the index beginning CY 2023 and also seek to ensure that an ESRD facility's wage index is never less than 95 percent of its final wage index from the previous year.
As part of its annual outlier policy updates, CMS proposes to update the outlier services fixed-dollar loss (FDL) amounts for CY 2023 using 2021 claims data, while refining its methodology for calculating the FDL amount for adults in order to more effectively target 1 percent of total ESRD PPS payments. Based on the latest available data, the proposed FDL amount for pediatric beneficiaries would decrease from $26.02 to $21.51, and the Medicare allowable payment (MAP) amount would decrease from $27.15 to $25.62, as compared to CY 2022 values. For adult beneficiaries, based on the latest data and proposed methodology, the proposed FDL amount would decrease from $75.39 to $40.75, and the MAP amount would decrease from $42.75 to $36.85.
A monitoring system for peritoneal dialysis, a post-dialysis compression sleeve, and a dialyzer are under consideration for the Transitional Add-on Payment Adjustment for New and Innovative Equipment and Supplies (TPNIES) for CY 2023. CMS is requesting public comment on whether the products meet the eligibility criteria.
Proposed changes to the payment for renal dialysis services furnished to individuals with acute kidney injury (AKI) include an update to the AKI dialysis payment rate for CY 2023 to equal the CY 2023 ESRD PPS base rate and to apply the CY 2023 wage index. The proposed CY 2023 payment rate is $264.09.
ESRD QIP Updates
CMS proposes several updates to the ESRD QIP, including suppression of several measures for payment year 2023 due to the public health emergency and adoption or modification of several reporting measures for subsequent years. (Visit the CMS fact sheet for full details.)
CMS also seeks input on potentially adding quality measures for home dialysis, expanding reporting programs to better understand healthcare disparities, and including two social drivers of health screening measures.
ETC Model Changes
The mandatory ETC Model encourages home dialysis and kidney transplants as ESRD treatments for Medicare recipients instead of in-center dialysis. Under the ETC Model, participating ESRD facilities and clinicians who manage dialysis patients receive positive or negative reimbursement adjustments on certain claims for dialysis and dialysis-related services based on the home dialysis rate and transplant rate among their assigned beneficiaries. The ETC Model went into effect Jan. 1, 2021, and will end June 30, 2027.
The ETC Model includes two payment adjustments:
The Home Dialysis Payment Adjustment (HDPA) is an upward adjustment on home dialysis and home dialysis-related claims with claim service dates between Jan. 1, 2021, and Dec. 31, 2023.
The Performance Payment Adjustment (PPA) creates upward or downward performance-based adjustment on dialysis and dialysis-related claims with claim service dates between July 1, 2022, and June 30, 2027. The PPA amount will depend on the ETC participant's performance on the ETC Model's home dialysis rate and transplant rate among the beneficiaries attributed to the ETC participant.
CMS proposes to modify the PPA scoring methodology and to clarify the requirements for qualified staff to furnish and bill kidney disease patient education services under the ETC Model. CMS intends to publish some participant performance information. Learn more about the ETC Model here.
The Final Word
CMS has proposed to add the word "functional" to the definition of "oral-only drug" starting in 2025. The addition specifies that an oral-only drug is "a drug or biological product with no injectable functional equivalent or other form of administration other than the oral form." In addition, a proposal to clarify the descriptions of the ESRD PPS functional categories aims to ensure descriptions reflect current policies and support innovation for new drugs.
---
Resources:
https://www.cms.gov/newsroom/fact-sheets/calendar-year-2023-end-stage-renal-disease-esrd-prospective-payment-system-pps-proposed-rule-cms
https://www.federalregister.gov/public-inspection/2022-13449/medicare-program-end-stage-renal-disease-prospective-payment-system-payment-for-renal-dialysis
https://innovation.cms.gov/innovation-models/esrd-treatment-choices-model#:~:text=The%20End%2DStage%20Renal%20Disease,furnished%20to%20beneficiaries%20with%20ESRD
Latest posts by Lee Fifield
(see all)