Close the Gap in Wound Repair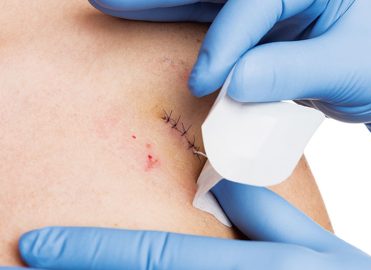 Code selection depends on your understanding of simple, intermediate, and complex closures.
Lesion excisions, as with any open wound, often require a level of repair or closure. Simple repairs are included in the excision codes (CPT® 11400-11646), but intermediate and complex closures are separately billable when medically necessary.
Per CPT® guidelines, "The excision of benign lesions includes simple repair. If the wound requires (layered) closure, intermediate, see 12051-12057; complex, see 13151-13153."
Here's how to determine when a lesion/wound closure is separately billable.
Pay Attention to the Layers
"Layered closure" refers to the layers of the skin (epidermis, dermis, subcutaneous). The guidelines for simple repair are changed in CPT® 2022, so let's make sure your understanding is current.
Simple repair (12001-12021): The wound doesn't involve tissue beyond the subcutaneous layer and requires a simple one-layer closer. Hemostasis and local or topical anesthesia is included in the code.
Intermediate repair (12031-12057): The wound requires closure of one or more deeper layers of subcutaneous tissue and superficial (non-muscle) facia. Limited undermining is needed. Single-layer closures that require extensive cleaning or removal of particulate matter are also intermediate.
Complex repair (13100-13160): This level of repair involves at least one of the following: exposure to bone, cartilage, tendon, or nerve; extensive undermining; involvement of free margins of helical rim (ear), vermilion border (lip), or nostril rim (nose); placement of retention sutures.
Note the Repair (Closure) subsection guideline changes in CPT® 2022 clarifying that codes 12001-13160 are for wound closures using sutures, staples, or tissue adhesives (e.g., 2-cyanoacrylate) individually or combined. Turn to the evaluation and management codes to report chemical cauterization, electrocauterization, or wound closure using adhesive strips as the only repair material.
Steps for Code Selection
A simple closure is not billable with other procedures, but you can bill for it if that's all the practitioner did at that site. Follow these steps for proper coding of lesion or wound repairs:
Step 1: Determine complexity – Was it a simple, an intermediate, or a complex repair?
Step 2: Determine location – What site was repaired? Just like the lesion excision codes, repair codes are grouped into anatomical areas.
Step 3: Determine size – Repair size is measured in centimeters and each code has a range of measurements.
How do you calculate the total size of multiple repairs? Add together the length of the wounds with the same complexity and location grouping. If there are wounds with different classifications or locations not in the same grouping, list the most complex repair first and the less complicated repairs second with modifier 59 Distinct procedural service appended, per CPT® guidelines.
Case Example
Patient presented to the emergency department with multiple lacerations from a knife fight at the local bar. After examination, it was determined these lacerations should be closed and only local anesthesia was necessary. The areas were prepped and draped in the usual sterile fashion. The surgeon documented the following closures: 7.6 cm simple closure of the right forearm; 5.7 cm intermediate closure of the upper right arm; 4.7 cm complex closure of the right neck; 10.3 cm intermediate closure of the upper chest.
A simple closure of 7.6 cm for the right forearm is reported with 12004 Simple repair of superficial wounds of scalp, neck, axillae, external genitalia, trunk and/or extremities (including hands and feet); 7.6 cm to 12.5 cm. Intermediate closures on the arm measuring 5.7 cm and the upper chest at 10.3 cm — the (chest) and extremities (arm) are in the same anatomic code set and are both the same complexity, so we add them up for a total of 16 cm — is reported with 12035 Repair, intermediate, wounds of scalp, axillae, trunk and/or extremities (excluding hands and feet); 12.6 cm to 20.0 cm. A complex repair of the neck measuring 4.7 cm is reported with 13132 Repair, complex, forehead, cheeks, chin, mouth, neck, axillae, genitalia, hands and/or feet; 2.6 cm to 7.5 cm.
As explained earlier, you would list the most complex repair first: 13132, 12035, 12004.
In Closing, Some Advice
Read the CPT® guidelines and parenthetical notes carefully. There are many other related services, such as debridement and lesion excision, that can be reported with wound repair in certain circumstances.
Last, but not least, always check your local coverage determinations and payer policies when reporting repair codes. It may be helpful to review these resources and then provide education to your physician(s), so they can be aware of the documentation requirements you need to code with the utmost specificity.
---
Resources:
AAPC® PMCC Curriculum
Latest posts by Jennifer McNamara
(see all)