E/M Lessons Learned
Medical decision making takes on new meaning in CPT® 2021 guidelines for office visits.
Since the release of the CPT® 2021 Evaluation and Management (E/M) Services Guidelines, AAPC has been inundated with a lot of questions about how to select a level of service for office/outpatient visits. At AAPC's HEALTHCON 2022, Chief Product Officer Raemarie Jimenez, CPC, CDEO, CIC, CPB, CPMA, CPPM, CPC-I, CANPC, CRHC, analyzed the components of medical decision making (MDM) and some of the guidelines that medical coders are struggling with in her session "E/M Lessons Learned." Here's a recap of some of the most common questions Jimenez spent time answering.
MDM – Complexity of Problems Addressed
Q: Do multiple acute, uncomplicated illness or injuries make a moderate number and complexity of problems addressed?
A: More than one acute, uncomplicated illness or injury could qualify for moderate MDM. You are never going to pick the E/M level based on one element of MDM, though; you need to satisfy two out of three elements of MDM. That said, I would say multiple acute, uncomplicated illnesses or injuries could count as moderate under the number and complexity of problems addressed because, otherwise, CPT®'s definition of a low-level MDM would say one or more acute, uncomplicated illnesses or injuries.
MDM – Data
Q: A patient has sleep apnea with CPAP and they come in for a follow-up. The provider determines compliance by downloading the smart card of the CPAP. Would this be included as ordering a procedure or independent interpretation?
A: In this instance, I would not count it anywhere because it's a type of treatment and not a diagnostic tool. Usually with CPAP [continuous positive airway pressure] machines, the download is to prove compliance; Medicare wants proof that the patient was wearing the CPAP device. However, there are some CPAP machines that download clinical data and that might change my answer.
Q: If a provider documents multiple lab results, what is the best practice for using those towards MDM when unsure if this same provider/group previously ordered the tests (without going back to review the prior notes)?
A: I think where people get confused is in the bullet points under the Amount and/or Complexity of Data to be Reviewed and Analyzed section in the Levels of MDM table. Under Category 1: Tests, documents, or independent historian(s), there is a bullet point for review of prior external note(s) from each unique source, another bullet point for review of the result(s) of each unique test, and another for ordering of each unique test. People have taken that to mean that you can get credit for the review and the ordering of the same test, and that is not the case.
The American Medical Association (AMA) released technical corrections to their CPT® E/M guidelines in 2021 to clarify that whenever a provider orders a test, the expectation is that they are going to review the results. They also know that a provider might order a test and not have access to the results until a few days after the visit. In point-of-care testing, we have the opportunity of ordering the test, performing the test, having the results, and being able to act on that information prior to the patient leaving. CPT® takes those different scenarios into account and indicates in the definition, "Tests ordered are presumed to be analyzed when the results are reported. Therefore, when they are ordered during an encounter, they are counted in that encounter. Tests that are ordered outside of an encounter may be counted in the encounter in which they are analyzed."
Basically, what the AMA is saying in the revised guidelines is that if you're billing for the interpretation, then you can't count the order for that interpretation — you're getting paid for that within the interpretation. Tests that are ordered outside of the encounter and analyzed may be counted at the next encounter, so we are getting credit ahead of time with the order for the work that's anticipated.
I wouldn't spend time analyzing this unless you notice something noted by the provider. For example, there's an abnormal result within the blood panel and the physician orders another type of test based on that abnormality. They order the test outside of a physical E/M encounter, so when the patient comes in, theoretically the provider can get credit for the analysis of the additional specimen/test. The provider may document in the note something like "Based on abnormal glucose test, further testing was done. Patient here to review results."
Point-of-care tests, like your rapid strep, have a technical-only component. "Tests that do not require separate interpretation (eg, tests that are results only) and are analyzed as part of MDM do not count as an independent interpretation, but may be counted as ordered or reviewed for selecting an MDM level."
MDM – Risk
Q: What level of risk would you assign if a provider ordered testing such as echo, ultrasound, etc.? Would this be straightforward or low risk? Can you follow the old examples under table of risk for 1995/1997 documentation guidelines for E/M?
A: The term "risk," as used in the definitions, relates to risk from the condition. While condition risk and management risk may often correlate, the risk from the condition is distinct from the risk of the management.
When you go to the MDM table and look under risk, you have examples for moderate and high. You do not have examples for straightforward and low. Per education provided by the AMA, it would be appropriate to look at the old, familiar examples when it comes to treatment options. The reason why the AMA was reluctant to include examples for low was that the complexity of prescribing over-the-counter medications is often considered low and might not be based on the other contributing factors for the patient's care. For example, a patient on medications might have more of a moderate risk when taking over-the-counter medications that could cause drug interactions.
Know that not just one thing equals the level of service; you have to meet two out of the three components.
Latest posts by Renee Dustman
(see all)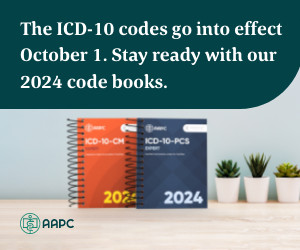 2 Responses to "E/M Lessons Learned"