HEALTHCON Regional 2022 Instructs and Enlightens
By Lee Fifield
In AAPC News
August 3, 2022
Comments Off

on HEALTHCON Regional 2022 Instructs and Enlightens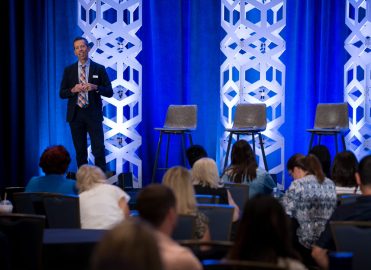 Education and fellowship brought hundreds of medical billers, coders, auditors, and other healthcare business professionals to AAPC's HEALTHCON Regional 2022 conference today. The three-day hybrid conference kicked off this morning in Denver, Colorado, and runs Aug. 3-5. As usual, the Chat Wall was filled with anticipation and enthusiasm from those attending in person, as well as lots of pictures of four-legged "helpers" from those attending remotely. Whether attending in person or online, it was clear that everyone was eager to get started.
Kicking Off the Morning
AAPC CEO Bevan Erickson began the day with his customary Conference Welcome and drew names for some amazing prizes:
Myra Simmons won the executive suite upgrade.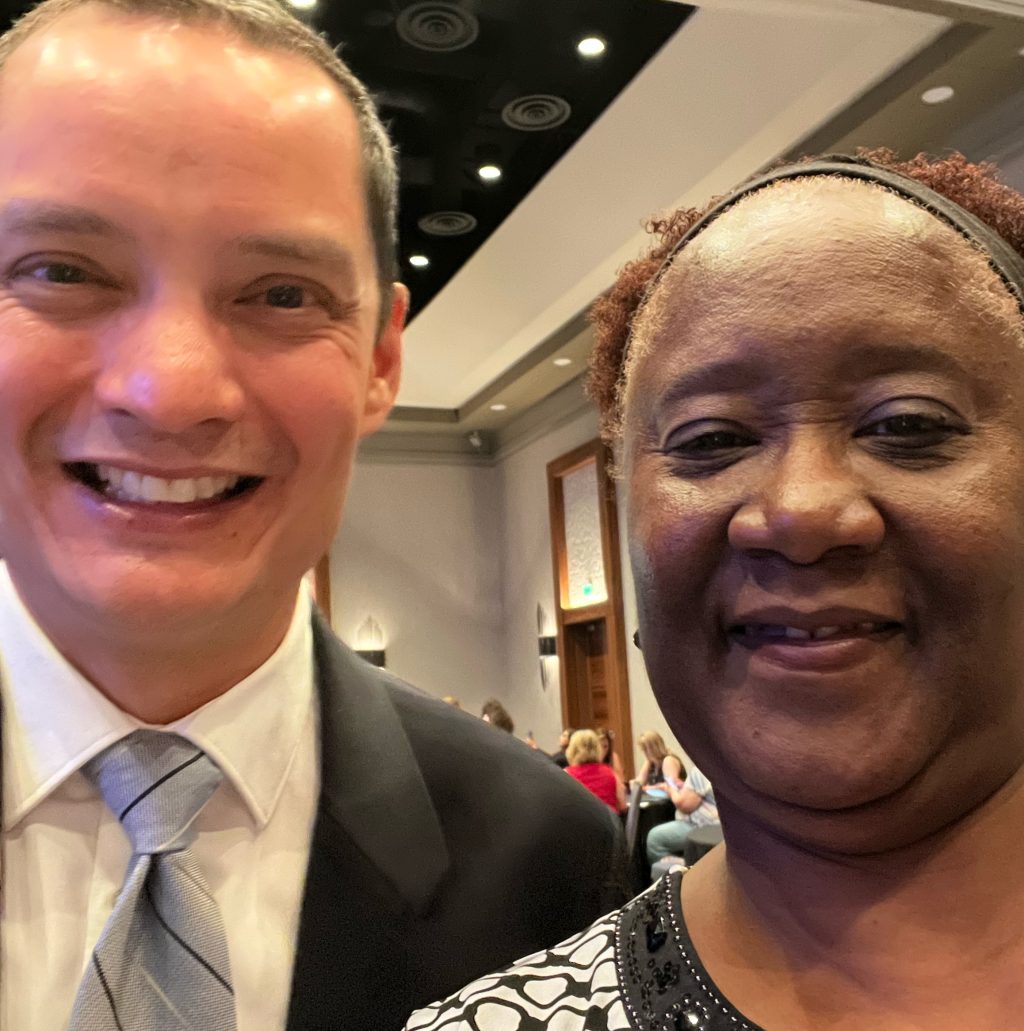 Jarrod Dyck and Michelle Viale won tickets to the 70s-themed Colorful Colorado After-Hours Celebration.
Melinda Yargee won a free registration for HEALTHCON 2023.
Erickson then dished up some Denver statistics and amusing do's and don'ts for while you are visiting, such as trying the local mountain-style pizza drizzled with honey and asking about the Denver airport's wild conspiracies.
Erickson then launched into a review of the last year at AAPC. With a membership now topping 225,000 members, last year's launch of AAPC Global, and the new business solutions website, there was plenty of ground to cover. Erickson went on to talk about what is coming for AAPC, including a hiring initiative to provide improved support, double the offered content, expanded exam locations, and placement services for students.
Erickson wrapped up his speech by discussing stress, grit, and resilience in these unsettled times, and how both mental and physical stress can be managed with focus as we not only find our way, but advance and grow.
Next up, four industry experts representing the provider, facility, and payer perspectives led a telemedicine panel that discussed best practices for navigating the ongoing changes in telemedicine and telehealth regulations. Colleen Gianatasio, CPC, CPCO, CPC-P, CPMA, CRC, CPC-I, CCS, CCDS-O, AAPC Approved Instructor, Lee Williams, MBA, RHIA, CCS, CCDS, CPC, CPCO, CRC, CEMC, CHONC, Marianne Durling, MHA, RHIA, CCS, CDIP, CPC, CPCO, CDEI, CIC, AAPC Approved Instructor, and Stephanie Sjogren, CPC, COC, CDEO, CPMA, CPC-I, CCS, HCAFA, all lent their experience and knowledge to this session that focused on audience questions.
Questions ranged from current telemedicine practices and compliance rules around such topics as incident-to and pre-op visits, to what will come at the end of the COVID-19 public health emergency (PHE). Confusion concerning providers treating patients across state lines was addressed. The panel confirmed that, firstly, performing telehealth visits are based on where the patient is located. They went on to say that billers must understand licensing/registering requirements for physicians in other states, as well as requirements (when different) for ancillary staff. Sjogren suggested healthcare staff refer to the Center for Connected Health Policy website as an excellent telehealth policy resource for all states. Sjogren also reminded attendees to pay attention to when other states have ended their PHE on a state level.
Attendees were also interested in whether the panel members have been seeing telemedicine audits in their facilities. Durling said she has been seeing audits in service lines where telehealth coverage was expanded, such as physical therapy codes. Gianatasio said she has been auditing telehealth visits that were set up to be audio/visual (A/V) and finding that many of them were not conducted as such. Both audio and video are required to bill for telehealth visits. Attendees asked whether an A/V telehealth visit that was partially completed and then the audio component dropped out due to technical difficulties could still be billed as a telehealth visit. Gianatasio said that in that instance, there is still no clear guidance.
Attendees wondered what other deficiencies the panel has seen during audits. Gianatasio referenced using evaluation and management (E/M) codes appropriately. Sjogren referred to not meeting E/M criteria just because a visit was a telehealth visit. Williams pointed to making sure time is documented within the medical record, and Durling mentioned billing telehealth appropriately with the correct service level. Providers everywhere have struggled with the differences between portal e-visits, telehealth visits, audio-only visits, point of service visits, and more.
One thing was clear at the end of the session: There is still a lot of uncertainty around compliancy in telemedicine, and there will be more to come once the states and the federal government set an end date for the PHE.
Lots to Learn
Following lunch and a visit to the Virtual Café for Tips for Successful Networking, the general sessions began. Attendees had a wide range of topics to choose from.
Amy Pritchett, CPC, CDEO, CPMA, CRC, CPC-I, CANPC, CASCC, CEDC, gave two presentations in the afternoon. In her session Is Inpatient Cardiology Giving You Chest Pains? attendees learned about assigning ICD-10-PCS codes for cardiology procedures in the inpatient facility from the operating room to discharge. In the ABCs of Ambulatory Surgery Centers Pritchett delved into the complicated world of ambulatory surgery center coding and billing, including an interactive coding simulation at the end.
Corrie Alvarez, CPC, CPCO, CPMA, CRC, CPC-I, CEDC, CEMC, gave an engaging and informative presentation on skin repairs and grafts in her session Coding Wound Repairs. She immediately drew in participants with some multiple-choice questions, followed by an overview of the integumentary system.
Alvarez began by describing basic closures and then moved on to discuss more complex closures such as adjacent tissue transfers, skin grafts, and flaps. She provided examples of various repairs, suture patterns, and materials used for these closures. Images were included to provide a much needed visual to help understand these somewhat complicated CPT® codes. The session ended with a series of practice cases.
Sandy Giangreco Brown, CPC, COC, CPC-I, COBGC, RHIT, AAPC Approved Instructor, provided perspective on Compliance Risks in the EMR, while Marcia Brauchler, MPH, FACMPE, CPC, COC, CPC-I, helped healthcare professionals learn How to Negotiate Payer Contracts Like a Pro!
The 2021 E/M guidelines have been a challenge for coders, providers, and auditors, specifically with documentation, explained Jaci Kipreos, CPC, COC, CDEO, CPMA, CRC, CPC-I, CEMC, in her session Climbing the Rocky Mountain to a Level 5 Encounter. She took attendees through a comprehensive review of the office/outpatient E/M medical decision making table, focusing on helpful examples about how providers should be documenting concepts like "chronic," "major surgery," "morbidity," and "independent interpretation." She then dove into what activities count when time is used to level an E/M encounter, complete with keywords to look for in physician documentation, as well as useful caveats. Kipreos reminded attendees about the importance of supporting a claim with diagnosis codes to prove medical necessity before offering up a diverse selection of clinical documentation examples to illustrate the points made throughout the session.
Stephanie Thebarge, CPC, CPB, CPMA, CPPM, CEMC, CHONC, broke down the Fundamentals of Credentialing: What is it, why we do it, best practices, payer requirements, and how the role of the credentialing specialist has evolved.
For those interested in E/M, two sessions were offered: Jennifer McNamara, CPC, CPMA, CRC, CPC-I, CGSC, COPC, CCS, AAPC Approved Instructor, presented E/M Documentation and Coding for Orthopedics, complete with examples and documentation tips for physicians, while Brenda Edwards CPC, CDEO, CPB, CPMA, CPMS, CRC, CPC-I, CEMC, looked at clinical documentation and how it holds up under the new 2021 E/M guidelines in her session E/M Auditing – What Does It Really Mean?
Elizabeth Deak, CPC, CPMA, CEMA, wrapped up the afternoon sessions with her presentation on Program Integrity Audits and the Special Investigation Unit. The session delved into data analytics used to identify and trigger an audit request, how to respond to the request, and how to implement post-audit findings in the provider office.
Looking Forward to Tomorrow
The day ended with mingling and networking at the welcome reception and time in the virtual café. Some thoughts posted on the Chat Wall included:
"What a great informative session!"
"I am so excited to finally meet my online connections in person!"
"I LOVE all of the networking going onto the chat wall!"
"Wow! I'm learning so much already!"
Though today was packed with great content, there's still plenty to come over the next two days. Tomorrow kicks off with an expert E/M panel ready to answer questions about 2021 E/M guidelines for office visits.
Latest posts by Lee Fifield
(see all)