Day 2 of HEALTHCON Regional Ends on a High Note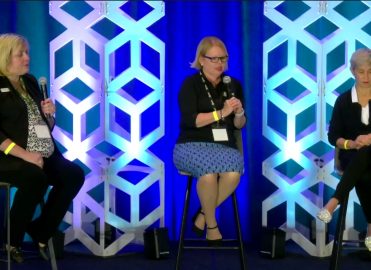 Day 2 of AAPC's hybrid regional HEALTHCON in Denver, Colo., Aug. 3-5, got off to a great start with a discussion on how to create a work/life balance — something that many people struggle with possibly even more since being resigned to work from home because of the public health emergency. The irony was not lost on the fact that most AAPC members consider conference a working vacation. And who can blame them? The Gaylord Rockies Resort & Convention Center is the perfect spot to spend three days mingling with amazing people while dining, dancing, and drinking from the eternal spring of knowledge for revenue cycle management.
Speaking of knowledge, Day 2 of HEALTHCON provided an awesome lineup of educational sessions presented by industry subject matter experts. The Chat Wall in AAPC's Conference app was filled with positive feedback.
"Listening to Rae Jimenez for Coding by Time. She is always great," Elyse McNulty, CPC, posted.
"Thank you, Jacob [Swartzwelder, CPC, CRC, CEMC, AAPC Approved Instructor], for a wonderful session on Providers' Documentation Response to the 2021 E/M Guidelines!" Kimberly Glover, CPC, CPMA, posted.
"Love this panel!" Kristin Rodriguez, COC, CDEO, CPMA, CRC, CPC-I, CEMC, said about the first general session of the day. "Such great questions and information being shared."
Start the Day With E/M Q&A
Evaluation and management (E/M) services have been a hot topic of late because of the new 2021 guidelines and CPT® code changes, so it was apropos to start the second day of HEALTHCON Regional with a panel discussion on the topic. In the first general session of the day, moderator and NAB President Colleen Gianatasio, CPC, CPCO, CPC-P, CPMA, CRC, CPC-I, CCS, CCDS-O, AAPC Approved-Instructor, and panelists Samuel "Le" Church, MD, MPH, CPC, CRC, CPC-I, AAPC Chief Product Officer Raemarie Jimenez, CPC, CIC, CPB, CPMA, CPPM, CPC-I, AAPC Approved Instructor, CCS, and Jaci Kipreos, CPC, COC, CDEO, CPMA, CRC, CPC-I, CEMC, fielded attendees' questions with expert advice.
"Some of our providers put over-the-counter meds on Rx management … That increases the visit from a 99213 or 99214 when the visit could be lower. Any suggestions?"
"How do you classify the difference between with and without additional workup?"
Most of the questions from live and virtual attendees highlighted the need for clinical documentation improvement. Practitioners "need to tell a story" in their notes to ensure proper medical coding, Dr. Church said.
Follow Up With Diagnosis Coding Insights
In the second general session of the day, "Diagnosis Coding Insights From the Experts," Gianatasio, Kipreos, Marianne Durling, MHA, CPC, CPCO, CIC, AAPC Approved Instructor, RHIA, CCS, CDIP, and AAPC Director of Education Leonta (Lee) Williams, MBA, RHIA, CCS, CCDS, CPC, CPCO, CRC, CEMC, CHONC, gave their perspectives on the rules surrounding diagnosis coding for professional fee, risk adjustment, and facility. The focus was on the 2023 ICD-10-CM Official Guidelines for Coding and Reporting.
Kipreos stressed the importance of reading the guidelines. "If you don't read those, you're probably missing some of the story."
A Day of Listening, Learning, and Laughs
Breakout sessions at AAPC's Regional HEALTHCON covered a wide variety of topics relating to medical coding, billing, auditing, risk adjustment, practice management, compliance, documentation, and more.
In the session "Physician Cost Efficiency in the MIPS Environment," James S. Kennedy, MD, CCS, CCDS, CDIP, said eligible clinicians for the Merit-Based Incentive Payment System (MIPS) will experience a +/-9 percent impact in their traditional Medicare Part B reimbursement based on their performance, 30 percent of which is derived from cost efficiency. He reviewed inpatient and outpatient episode models, including screening colonoscopies, cataract surgery, knee and hip replacements, and many others that are being assessed; emergency physician encounters (99281-85) that will be implemented in 2024; and impending changes to the inpatient and emergency department E/M leveling guidelines, all of which make a coder's job more important than ever.
Nonphysician practitioners (NPPs) are usually reimbursed at a different rate than physicians, but there are different rules for different providers, so practices should consider patient insurance when utilizing these personnel, explained Sandy Giangreco Brown, MHA, BS, RHIT, CHC, CCS, CCS-P, CPC, CPC-I, COBGC, COC, PCS, in her session "Compliance Issues with Billing for Nonphysician Practitioners." The three billing options for NPPs include the individual's own provider number, incident-to physician's service, or split/shared visit — choosing which way to bill may affect the level/percentage of reimbursement. Brown shared in-depth expertise on the intricacies of billing services provided by NPPs, from variables that affect reimbursement rates to important auditing considerations billers and coders should keep in mind.
"One thing I really want to stress is that we need to also be able to identify in the medical record who did what. … We need to be able to see who did what, where they did it, and attestation," she said.
Fun, informative, and entertaining pretty much sums up the well-attended session "Crucial Conversations (AKA What Makes a Successful Medical Practice Manager)," given by Rita Genovese, CPC, PCS.
Genovese never fails to disappoint with her interactive presentations, and this dynamic talk was no exception. She offered participants a session that was chock-full of tips and tricks to take back to the office and put into play. In addition, Genovese emphasized that what she presented is not just "a work thing," because crucial conversations happen in all areas of our life.
She displayed plenty of examples of different types of dialog and body language, both good and bad, that people tend to use. She also spoke of looking inward to see if you might be making a story up in your head about any given frustrating situation.
Highlights included Genovese describing the meaning of the phrase "The Sucker's Choice," the hardest crucial conversation she had to have in her career and one of the most common items office coworkers argue about.
In the session "E/M Office and Other Outpatient Guidelines – Risk Associated With Coding for Time," Jimenez provided some timely advice about how to code E/M services by time.
Practitioners must be able to justify the time they spend with patients, she said, but time is not a measure of competency, as some providers will be quicker than others.
Jimenez explained time-based coding requirements and what can and can't be included. For example, only time associated with a specific patient encounter can be counted. Additional time outside of working schedule (e.g., looking at chart that night, time spent dictating into record) can usually be counted. Providers do not have to itemize how time is spent, but activities do need to be captured. You need the total time for code selection, so you have to capture all the time the provider spent, minus the time spent on other billable services, Jimenez said.
In "Controversies and Hot Topics in Otolaryngology Coding," Lawrence Simon, MD, MBA, provided an advanced review of trending topics and bestowed a plethora of coding tips and advice for otolaryngology (ENT) coders to implement in their practices. Simon, who serves on both the CPT® Assistant Editorial Board and the CPT® Editorial Panel, walked the audience through new and revised codes and the evolution of proper use and guidance.
"One of the Office of Inspector General's favorite targets is modifier 25," warned Simon. "Convey the intent of the modifier." Use modifier 25 when "the doctor didn't know they were going to the procedure when they walked into the room; when the decision was made in the room."
His presentation was packed full of pointers on what to look for in the documentation to land at the right code and strategies on differentiating similar codes successfully. Attendees eagerly soaked up his sage advice on navigating coding for common ENT procedures and left the session with a better understanding of the nuances of sinus, nasal, and laryngeal endoscopic surgeries.
There were also sessions on wound healing and hyperbaric coding, anesthesia coding and billing, and documentation nuances. The session on coding and billing for rural health clinics and community health centers was popular, as were the sessions on compliance challenges for nonphysician practitioners and resident vs. student documentation.
An Evening Getting Funky With It
Following the educational part of Day 2 at HEALTHCON, attendees have the option to participate in a '70s themed dinner party hosted by AAPC, aptly named the Colorful Colorado After Hours Bash, where they can dig some groovy tunes and make serious moves. Sure hope nobody ends up with an S73.00- (Thinking of you, Bevan Erickson)!
Read about Day 1 of HEALTHCON Regional. And stay tuned for Day 3!
#AAPCDENVER22
#HEALTHCON
Latest posts by Renee Dustman
(see all)