What Coders Wish Providers Knew About CDI
September 1, 2022
Comments Off

on What Coders Wish Providers Knew About CDI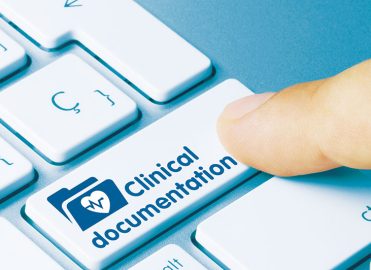 Clinical documentation improvement is achievable when everyone speaks the same language.
Faster and more accurate claim submission, reduced payment delays, and improved patient access are all obtainable for healthcare providers who take the time to improve their clinical documentation to today's standards. This is no easy task, though, partly because the standards keep changing. Let's look at what is needed for clinical documentation improvement (CDI) in 2022.
Speak the Same Language
Providers learn medical terminology in school. Rarely are they taught how the services they will provide translate into codes such as ICD-10-CM or CPT® or how they should document their services so that coders are able to make the connection. CDI starts with coders and providers working together to come to an understanding and bridge the gap between the two languages.
Use the Right Documentation Guidelines
Providers should now document office/outpatient visits based on 2021 evaluation and management (E/M) guidelines, and code selection is based on medical decision making (MDM) or time.
Documentation for a correct MDM requires knowledge of problem and data points — how to determine them, add them, and incorporate the table of risk. This is daunting, but at least the sections of history (history of present illness, past medical family and social history, and review of systems) and physical exam are no longer part of the audit process. They are only included to add quality to patient care.
With the audit process now more intensely focused on medical necessity, however, providers must not only defend the medical necessity of every test and medicine they order, but the very need of the office/outpatient visit itself. Providers may feel the reason for the office visit is obvious. To the auditor, however, it will not be obvious unless MDM is clearly documented according to the guidelines they follow.
Documentation is more difficult for providers who see patients in settings other than the office. The emergency department, hospitalized patients, and patients in nursing homes are examples of areas not included in the 2021 E/M guidelines. In 2022, providers in these arenas must abide by the 1995 or 1997 E/M documentation guidelines, which are much more complex, clerically labor intensive, and require the specific knowledge of each of those sets of guidelines. To add to the degree of difficulty, providers seeing patients in both these care areas and the office must seamlessly move from one guideline set to another.
Administrators must determine their employed providers' scope of practice. All providers' desires will vary: Some may prefer office only and some hospital only, but many specialties provide care in multiple settings. Providers need to know which of the guideline sets they are required to use and then understand how to use them. Defining the problem, or determining the specific educational need of each provider, is an essential step in CDI.
Conduct Prospective Audits to Assess CDI
In an effort to improve and protect revenue, facilities may audit their providers. These prospective audits should be conducted both internally, via a CDI specialist, and externally, via a consultant service.
But be forewarned: There are significant limitations to audits done by in-house employees; often, they are more forgiving, as support staff does not want to alienate providers. Also, individual facility errors are not corrected since they are not recognized as such. Likewise, bringing in an outside service often results in merely a pass or fail audit result. This negates the most valuable reason for the audit: to teach and improve. If providers are not given the reason why the chart failed, or an explanation for how they could have documented differently, real improvement does not happen.
In addition to understanding the "why" and "how" a chart's documentation did not match the selected E/M service level, providers must understand the premise for matching the service level to the ICD-10-CM diagnosis code. Some diagnoses deserve an upper-level office visit, while some do not warrant that level of office visit. If the documentation of any given chart matches the E/M service level, that chart may still fail an audit if the auditor feels the medical necessity for that level of E/M is not present. The auditor may feel that the chart was an over-documentation for the patient's problem, done simply to allow a higher E/M level selection.
Provider audits need to be full-service:
Match documentation with service level selection,
Show that medical necessity is present,
Match service level selection with the ICD-10-CM diagnosis code, and
Explain to providers why their documentation failed and how they could have worded it differently.
Audit, teach, practice, and re-audit to measure progress.
Get CDI Provider Buy-In
CDI also requires provider buy-in. Rarely does one learn a new way of doing things to which they are resistant. If a provider asks, "What's in it for me?" remind them that they can lose deserved revenue by failing to document a true severity of illness, as well as medical necessity. Worse, providers may be forced to return payments, pay associated fines, or suffer more claim delays and denials.
With our educational goals defined and a receptive provider atmosphere established, we are ready to proceed with the actual effort of improving documentation. By using real clinical examples as instructional tools, improvement can be expected in multiple areas. Quality of care metrics, utilization review, and severity of illness scores will give the provider and facility credit for the true complexity and cost of their patients' illnesses. When CDI is accomplished, claim submission time and accuracy is improved, delays and denials reduced, and audit exposure lessened.
Add Time to Your Day
There are techniques in documenting that, when learned and applied, will reduce clerical time spent by the provider and create more clinical time. The increase in clinical time may be used in variable ways. For example, if 30 minutes are saved per day, one or two more patients may be seen each day (5-10 extra patients per week). The clerical time saved and clinical time gained improve patient access by reducing the length of time before being seen by the provider and increase the provider's ability to add new patients.
Or, instead of using the time saved to see more patients, it can be used to reduce provider burnout. A more relaxed office pace, an earlier workday finish, and improved office morale can be satisfactory goals in themselves. Gains may include fewer errors and longer employee retention.
Establish a System for CDI
A baseline for each system and its providers must be established. Charts must be reviewed so that measurement of risk exposure, timeliness of record completion, and the efficiency of time spent in documentation can be assessed. With this knowledge base, a successful and individual plan can be developed.
---
Resource:
www.aapc.com/blog/51229-providers-and-compliance-personnel-the-new-dream-team
Latest posts by James Dunnick
(see all)