Healthcare Compliance Conference Checks All the Boxes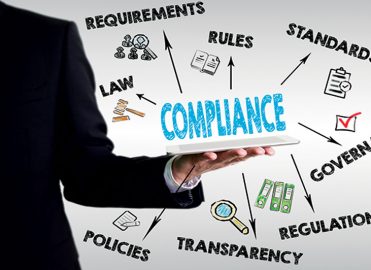 AAPC's second Collaborative Compliance Conference was held Aug. 30-31. Healthcare compliance professionals from around the country came together virtually to learn more about risk, fraud and abuse, current compliance issues, and enforcement trends.
There were many first-time conference attendees who were excited to learn something new about compliance from accomplished industry experts and network with their fellow professionals. Attendees participated in daily challenges and trivia, and with 16 sessions to choose from, everyone left armed with constructive information on how to improve compliance in their organization or for their clients.
Day 1
General Session
The first day of conference kicked off with the general session OIG Priorities, Enforcement, and Compliance, in which Senior Counsel Andrea Treese Berlin and Assistant Special Agent in Charge Thomas Brannon from the United States Department of Health and Human Services (HHS) Office of Inspector General (OIG) gave an overview of the OIG's structure, mission, current priorities, recent settlements, and data analytics, along with tips for enhancing compliance policies and procedures for coders.
The session began with Berlin asking attendees to keep three things in mind: empowerment, education, and communication. She encouraged coders to stay up to date on the latest compliance changes and not only feel comfortable educating clients on these changes, but also reporting non-compliance issues when necessary. Coders are the "last line of defense in filing accurate claims," Berlin said. "Everyone who submits or causes the submission of a claim is responsible for the accuracy of the claim, including healthcare providers and coders."
Brannon began his history of the OIG by informing attendees that every federal department has an OIG that strives to prevent and detect waste, fraud, and abuse, as well as promote economy, efficiency, and effectiveness. He stressed the use of data analysis in the OIG's compliance efforts but reminded coders that they are also vital to stopping abuse in the healthcare system. The OIG hotline receives 120,000 complaints annually. "We rely on you — we rely on the public to help us put our best efforts forward," he said.
Berlin and Brannon ended their informative session by encouraging attendees to use the OIG website (oig.hhs.gov), which is a treasure trove of information about compliance. "We could talk for three weeks straight and never talk about everything on our website," said Berlin.
Breakout Sessions
After the general session, attendees had a wide range of breakout sessions to choose from.
Attendees of the Telemedicine – Regulations session received a brief history lesson on telehealth before and during the COVID-19 public health emergency (PHE) from presenter Kyle Y. Faget, Esq., as well as insight into the future of telehealth services once the PHE ends. "We'll see state law changes — we're already seeing that with some of the commercial insurers," said Faget. "Many states stepped in and passed payment parity laws. I think we will see some other state law changes, like maybe there will be relaxation in modality requirements, and maybe more states will start joining the Interstate Medical Licensure Compact to facilitate more expeditious licensing of clinicians across states."
Faget also broke down how the pandemic changed the way providers were allowed to use telehealth to deliver care to their patients. By eliminating geographic restrictions, expanding who could bill for telehealth services, and adding more than 100 new codes to the Medicare telehealth services list, providers were able to ensure their patients received the care they needed when in-person visits were restricted. Faget also explained how the HHS-OIG is working with telemedicine companies to root out suspected cases of fraud and abuse.
In 2021 E/M Guidelines – Risk Associated With Coding for Time and Compliance Concerns for Medically Relevant History and Exam, Jaci Kipreos, CPC, COC, CDEO, CPMA, CRC, CPC-I, CEMC, gave a comprehensive explanation of what "medically appropriate history and exam" means and how that language has caused confusion about what's required for proper documentation. She then took attendees through the fundamentals of thorough documentation from the perspective of the patient, provider, legal team, and compliance team. AAPC's Chief Product Officer Raemarie Jimenez, CPC, CIC, CPB, CPMA, CPPM, CPC-I, AAPC Approved Instructor, CCS, covered the next part of the session, where she reviewed common misconceptions about how to level based on time. She went on to explain recent auditing concerns about time-based leveling, such as reporting the same time for each patient and rounding up time. Both presenters concluded by reviewing the 2023 E/M guidelines and addressed questions from attendees.
Those interested in law enforcement attended the session Enforcement Trends, Compliance, and the False Claims Act. Mike Paulhus and Kasey Ashford from the law firm King & Spaulding covered OIG enforcement trends, the current state of the False Claims Act, important legal cases, and compliance pointers for evolving enforcement trends.
In the session No Surprise Billing, Stacy Harper, JD, MHSA, CPC, answered many of the questions surrounding out-of-network (OON) billing and good faith estimates (GFE) that have arisen since the federal No Surprises Act went into effect Jan. 1, 2022. Distinguishing between the two parts has caused a lot of the confusion, said Harper, since while there is one law, there are two distinct parts to the law. Harper suggested using the templates the government created as a checklist for understanding and meeting federal requirements. She cited CMS.gov/nosurprises as a great place for these resources.
Harper spent time covering state versus federal law, the dispute process/timelines (which are much shorter under the No Surprises Act), and data collection for tracking the impact of OON and GFE on organizations. She wrapped up her session by talking about the missing pieces of the Act that are coming soon — how to best work with co-providers on a consolidated estimate and the missing regulations for advanced cost estimates for insured patients.
In the session Fraud and Abuse Anti-Kickback, Stephen Angelette from Polsinelli Law Firm gave a fraud and abuse compliance review incorporating outside counsel and in-house counsel perspectives on the role of the Anti-kickback Statute, including when it applies and the life cycle of investigations into allegations of violations. Board-certified in health law, Angelette expertly covered the impact of the Regulatory Sprint initiative relative to the Anti-kickback Statute regulatory safe harbors and current federal policy initiatives.
Michael Miscoe, JD, CPC, CASCC, CUC, CCPC, CPCO, CPMA, CEMA, AAPC Fellow, offered his expertise on Best Practices Under Attorney Client Privilege. He discussed the scope, limits, and exceptions to the rule that protects certain communications between an attorney and a client from disclosure, as well as how this rule applies to consulting and testifying experts. Attendees were also advised of the more common ways that privilege is lost or waived and what to do if privileged information is erroneously disclosed.
In Effectiveness of Compliance Programs, attendees learned the importance of developing, maintaining, and monitoring a custom compliance policy. Presenter Rhonda Buckholtz, CPC, CDEO, CPMA, CRC, CENTC, CGSC, COBGC, COPC, CPEDC, AAPC Approved Instructor, explained what it means to have an effective compliance plan, the sort of risks or hot spots compliance officers should be addressing in their compliance plan, and the pros and cons of using a templated plan. "An effective program is much more than a bunch of policies and procedures," she said. Ultimately, a compliance plan serves to mitigate risk, so your compliance plan must address the risks unique to your organization, it must be put into action, and employees must be trained to follow it. And no compliance plan is ever finished. "A healthy program changes and pivots based on risk," Buckholtz said.
In their Managing Conflicts of Interest session, Charise R. Frazier, Esq, and Josephine Nelson Harriott, JD, presented scenarios where attendees could identify possible conflicts of interest with compliance officers, board members, and executives; examine ethical quandaries for attorneys and compliance officers; and learn what actions can be taken to reduce the risk of conflicts of interest. "Employees and board members should identify issues that may be perceived as a conflict and discuss them with leadership, because perceived conflicts can be damaging to a company, as well. It doesn't have to result in something that's illegal or even improper, but just a perceived conflict can really cause damage, and so you want to be mindful of that. It's important that you hire, when you need to, independent third parties to determine what's an appropriate and fair business transaction," Frazier said.
Day 2
After a successful first day, there was plenty of momentum going into the second and final day of conference.
General Session
The second day of conference began with the general session COVID-19 Compliance Investigations, moderated by AAPC Director of Education Lee Williams, MBA, RHIA, CPC, CPCO, CRC, CEMC, CHONC, CCS, CCDS. Presenting were Christopher Parrella, JD, CPC, CPCO, CHC, who works at the Health Law Offices of Anthony C. Vitale, PA, Courtney Tito, a partner at Nelson Mullins in Boca Raton, Fla., and Stephanie Sjogren, CPC, COC, CDEO, CPMA, CPC-I, CCS, HCAFA, a director of coding and provider reimbursement at Connecticare/EmblemHealth.
Prompted by questions posed by Williams, the panelists spoke about the need for healthcare organizations to prepare for the inevitable — the end of the COVID-19 PHE. Now is the time for practices to self-audit claims related to COVID-19 testing and account for all government payouts, they concurred. They spoke of several red flags that auditors will look for such as frequency of tests, E/M levels of service, and ancillary charges. The panel members also spoke of the importance of compliance plans. "If there is evidence of good faith," Tito said, "… that will go a long way." But an unused compliance plan can get you into hotter water than no compliance plan at all.
Breakout Sessions
After the general session, attendees delved into a wide range of compliance issues.
Miscoe was back today to discuss the key components involved when Understanding the (Not So) Voluntary Disclosure Rule. He started off with a helpful history of the development of the rule as it stands today and offered an interactive experience throughout the presentation, including live questions to engage attendees. Miscoe provided details of the final rule, which included key definitions within the regulation, including "overpayment," "person," "identified," "reasonable diligence," and "credible information." He went on to answer questions about the differences between false claims and reverse false claims. Consequences of non-compliance and advice on how to report an overpayment concluded the session.
Running concurrently to Miscoe's presentation was a session led by Sheri Poe Bernard, CPC, CDEO, CRC, CCS-P, and Jeffrey B. Miller, Esq., from Granite Governance, Risk & Compliance, LLC. In their session, Current Issues and Practical Advice on Doing Risk Adjustment Right, Bernard and Miller focused on qui tam cases making the headlines lately and explained what the health insurance plans allegedly did wrong. According to an OIG report, "CMS estimates that 9.5 percent of payments to MA organizations are improper, mainly due to unsupported diagnoses submitted by MA organizations."
"Cherry-picking the diagnoses is a big problem," Bernard said. "You may code it exactly right but if you don't have a clinically valid diagnosis, you have a problem." When the PHE ends and CMS reinstates the Medicare Advantage Risk Adjustment Data Validation (RADV) program, be ready for the "perfect storm," Bernard and Miller warned.
Buckholtz also returned with her session on The Compliance Board, where she covered compliance program oversight expectations of boards, best practices in roles and responsibilities as they relate to the board, and lessons learned from boards that did not meet their compliance oversight responsibilities. Attendees came ready with lots of questions and tips, making for an energetic, informative hour.
Buckholtz explained why working with a compliance board is extremely important, including obtaining opinions and expertise from multiple people. "You want to get as much input as you can," said Buckholtz. "I'm not a doctor, I'm not a lawyer," she went on to say, and emphasized that "Engaging with expertise is extremely important." Buckholtz suggested attendees work with their board members to educate and engage them, but to be sure that compliance staff does not report to those who have "ties to the bottom line." And she advised to never work with outside legal counsel that does not have healthcare experience. If your organization is too small to have a board, Buckholtz suggested forming a compliance committee instead.
Todd Husty, DO, CEO of Medical Audit Resource Services, Inc. (MARSI) and emergency department physician by trade, gave a solid presentation on correctly documenting diagnosis and procedure codes to avoid claims denials in his session MS-DRG Validations. Dr. Husty, a self-professed champion of coders, gave multiple examples of potential documentation problems by comparing and contrasting sample cases. He further showed participants examples of how a patient could have a certain condition and still not meet all the clinical indicators that a payer requires for paying a claim. Finally, he spoke about how to challenge these types of denials with a lot of additional work and time.
In HIPAA Update and Enforcement, Astara Crews, CPC, CPEDC, provided an overview of HHS Office for Civil Rights updates and enforcements and addressed key concepts in the context of protecting the confidentiality, integrity, and availability of protected health information.
The session Opioid Enforcement and Compliance Risks, presented by CJ Wolf, MD, MEd, CPC, COC, CHC, CIA, wrapped up the day. Dr. Wolf focused on recent DOJ and OIG enforcement actions against healthcare providers, nurses, pharmacists, and pharmacies associated with illegally prescribing and obtaining opioid medications. He provided press releases highlighting actual cases and outcomes that described the various schemes that were used in an attempt to defraud.
Dr. Wolf also provided tools, resources, and compliance strategies to use when dealing with opioid drugs, such as instituting thresholds for prescribing opioids that, once met, alert the compliance officer for review, and using OIG's Toolkit for calculating which patients are at risk of opioid abuse or misuse.
See You Next Time
Thanks to all who attended and presented at AAPC's Collaborative Compliance Conference. We hope to see you next time for our virtual AUDITCON 2022 conference Nov. 3-4.
Latest posts by Lee Fifield
(see all)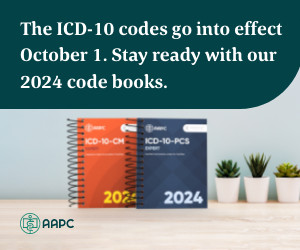 One Response to "Healthcare Compliance Conference Checks All the Boxes"