CMS Maps Out End of PHE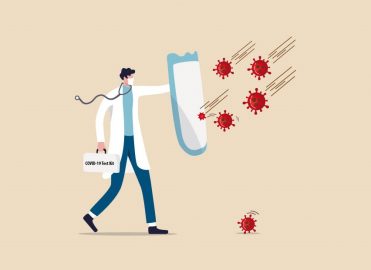 Now is the time to prepare for a return to pre-pandemic standards and practices.
After two-plus years of working under the flexibilities granted to the healthcare industry during the COVID-19 public health emergency (PHE) in the United States, the Centers for Medicare & Medicaid Services (CMS) has released a roadmap for the eventual end of the PHE.
COVID-19 PHE History
The first PHE was declared by the U.S. Department of Health & Human Services (HHS) in January 2020 and has been renewed every 90 days since. The latest renewal is scheduled to expire in mid-October. HHS Secretary Xavier Becerra has promised at least a 60-day notice before the PHE ends. Some have conjectured that the latest extension will be the last, but others think one more renewal is likely since the October end date falls within less than 60 days from now.
Whether one last 90-day extension is in the cards or not, CMS is encouraging healthcare providers to prepare for the end of the PHE flexibilities they have been operating under as soon as possible. It is essential that healthcare organizations have a plan of action and begin reestablishing previous health and safety standards and billing practices as soon as they are ready.
CMS Resources
To prepare for the end of the COVID-19 PHE and a return to normal operations, CMS has gathered the following resources to help you plan:
Extended Waivers Past PHE End
To determine whether waivers and flexibilities should remain in place or end (and which would be most useful in a future PHE), CMS is reviewing data from healthcare providers, facilities, and insurers.
Some services are already set to continue once the PHE ends. Other waivers will continue to apply for a short length of time and may be under consideration to become permanent policy.
The COVID-19 reporting requirements for staff and patients in nursing homes will continue through December 2024. Under the Consolidated Appropriations Act of 2022, the following telehealth flexibilities will continue to apply for 151 days following the end of the federal PHE:
Medicare beneficiaries can receive telehealth services from any geographic location, including their home.
Telehealth visits can be delivered via smartphone in lieu of equipment with both audio and video capability.
Medicare will cover most audio-only telehealth services that do not expressly require the use of interactive audio/visual equipment.
Certain telemedicine services will continue. They can be found on the Medicare Telehealth Services List and are marked as extending through Dec. 31, 2023. These services will be evaluated as to whether they should be added permanently to the list.
Federally qualified health centers (FQHCs) and rural health clinics (RHCs) can provide telehealth services to Medicare patients.
Physical therapists, occupational therapists, speech language pathologists, and qualified audiologists can provide telehealth services to Medicare beneficiaries.
In-person requirements for certain mental health services will continue to be waived.
Most waivers and flexibilities, however, are set to expire when the federal PHE ends. Create a plan to transition back to normal standards, coding, and billing if you haven't already, and start putting your plan into action before the end of the PHE when possible to ease the transition.
What the Future May Hold
Congress is currently considering several bills which seek to extend or make permanent key telehealth reimbursement flexibilities. The Ensuring Telehealth Expansion Act of 2021, which seeks to make permanent several telehealth flexibilities, has been introduced but has not yet been voted on by the House or Senate for approval. The House recently passed the Advancing Telehealth Beyond COVID-19 Act that would extend key telehealth reimbursement flexibilities through the end of 2024, but the act has yet to progress through the Senate.
Lawmakers, healthcare advocates, and providers alike have expressed hope that any extensions to the current PHE waivers will provide time for the depleted healthcare workforce to recover, limited disruptions to patient care, and lessened impact on communities that have been disproportionately impacted by the pandemic.
Come what may, an end to the COVID-19 PHE and a return to pre-pandemic normalcy is fast approaching. Make sure your facility is ready when it arrives.
---
Resources:
https://www.cms.gov/blog/creating-roadmap-end-covid-19-public-health-emergency
https://www.cms.gov/files/document/health-care-system-resiliency-fact-sheet.pdf
https://www.cms.gov/files/document/cms-national-quality-strategy-fact-sheet-april-2022.pdf
https://www.cms.gov/medicareprovider-enrollment-and-certificationsurveycertificationgeninfopolicy-and-memos-states-and/update-covid-19-emergency-declaration-blanket-waivers-specific-providers
Latest posts by Lee Fifield
(see all)