Make Your Voice Heard
By Lee Fifield
In CMS
September 22, 2022
Comments Off

on Make Your Voice Heard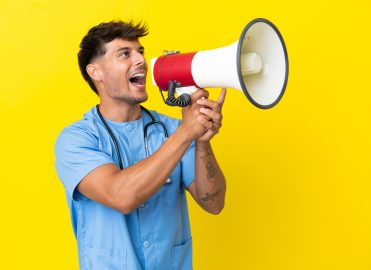 CMS seeks your input to help improve efficiency and equity within its programs.
Despite decades of research and efforts to improve health outcomes in the United States, disparities in health and healthcare continue. In an effort to make larger strides to reduce these disparities, the Centers for Medicare & Medicaid Services (CMS) released a request for information (RFI) on Sept. 6, 2022, which seeks public input on accessing healthcare and related challenges, understanding provider experiences, advancing health equity, and assessing the impact of waivers and flexibilities provided in response to the COVID-19 public health emergency.
CMS is seeking to better understand healthcare burdens on an individual and community level and the associated needs that arise from those burdens. CMS is thereby requesting information related to strategies that successfully address drivers of health inequities. "Advancing health equity is core work of the Centers for Medicare & Medicaid Services. That's why I am inviting stakeholders to help achieve our goal of an equitable and efficient health system, by working with us as we transform the healthcare experience for the individuals we serve," said CMS Administrator Chiquita Brooks-LaSure. "Health equity is embedded within the DNA of CMS and serves as the lens through which we view all of our work."
Information is Key
The "Make Your Voice Heard: Promoting Efficiency and Equity Within CMS Programs" RFI is the next step in CMS' mission to better support and serve racial and ethnic minorities, members of federally recognized Indian Tribes, people with disabilities, patients seeking substance use and mental health services, individuals dually eligible for Medicare and Medicaid, and those living in rural and underserved areas who are more likely to experience challenges accessing healthcare services, lower quality of care, and below-average health outcomes when compared to the general population.
But CMS needs the input of healthcare workers who serve in these communities to make substantive changes. The RFI aims to gather this feedback in alignment with "Executive Order 13985, Advancing Racial Equity and Support for Underserved Communities Through the Federal Government," the "CMS Strategic Plan Pillar: Health Equity," and the "CMS Framework for Health Equity (2022-2032)."
Through the RFI, CMS also seeks to better understand the factors impacting provider wellness and learn more about the distribution of the healthcare workforce. CMS is particularly interested in understanding the greatest challenges for healthcare workers in meeting the needs of individuals and the impact of CMS policies; documentation and reporting requirements; operations; and communications on provider experiences. In addition, CMS hopes to learn how specific programs (including COVID-19 programs) have benefited providers and practices.
Contribute Today
CMS encourages comments from patients, providers, clinicians, consumer advocates, and healthcare professional associations — especially comments from individuals serving and located in underserved communities — as well as those serving populations facing disparities in health and healthcare. The RFI is open for a 60-day public comment period, which began Sept. 6 and runs through Nov. 4, 2022.
Visit https://www.cms.gov/request-information-make-your-voice-heard for submittal instructions. All comments must be received by Nov. 4.
---
Resources:
https://www.cms.gov/newsroom/press-releases/make-your-voice-heard-request-information-seeks-public-comment-promote-efficiency-reduce-burden-and
Latest posts by Lee Fifield
(see all)